Bars and Nightclubs in Bermuda, Don't think the sidewalks roll up after the dessert plates are cleared. Hamilton, the East End, the West End and most hotels and resorts have bars, pubs with game rooms, clubs, and live music, entertainment, and dancing that can keep you going late into the evening.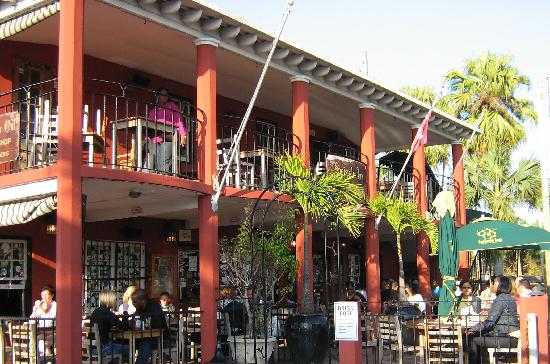 St. Georges may be quaint and historic, but after sunset, you can party 'til dawn (or at least 3 a.m.). After great English pub fare at the White Horse Pub & Restaurant dance the night away upstairs at LIGHT, the island's newest and hip nightclub, with some of Bermuda's top DJs and musicians. This is Bermuda's only nightclub located at the water's edge. Ladies Night is every Tuesday. Wednesday nights are "S.I.N." nights. (Service Industry Night). Everyone's welcome (18 years or older)! LIGHT is open Monday – Thursday from 10 p.m. until 3 a.m. Live entertainment provided day and night at the White Horse Sports Bar, live satellite sports coverage of your favorite sports teams and gaming machines.
The Deep, at Elbow Beach outside the city of Hamilton is another great dance option. The Deep Lounge and Nightclub features a brand new dance floor, upgraded technology including high definition TV for sporting events and a state-of-the-art sound system. A cozy relaxing environment on weekdays turns high energy entertainment lounge on the weekends. For information, call the hotel at (441) 236 9884. The bar is open from 12:00 pm until midnight and a snack menu is available from 2:30 pm – 11:00 pm.
Dining in Hamilton? Stop in for a drink and good conversation with friends in this chic laid-back urban retreat. Opus is sexy, cozy and sophisticated, enjoy a tasse of espresso or a glass of wine. 4 Bermudiana Road, Hamilton Tel: 441 292 3500
Fresco's Restaurant & Wine Bar, tucked off Chancery Lane, offers fine Mediterranean fare with a Bermuda twist. The wine bar is open from 5 p.m. to 1 a.m., Monday through Saturday. Frescos boast the most extensive selection of fine wines in Bermuda! Two Chancery Lane, Hamilton Tel: 295-5058
Bermuda Bistro has live entertainment (in Beach Season). Party and dance until 3 a.m. every night. Follow European and U.S. sports action on five flat screen TVs. 103 Front Street, Hamilton Tel: 292-0219
In this hip and tres chic Barracuda Grill, with its glowing amber-coloured, resin-topped sidebar, you enjoy martinis or one of more than 16 wines served by the glass. 5 Burnaby Hill, Hamilton Tel: 292-1609 (above Hog Penny)
Be sure to visit the venerable Hog Penny Restaurant & Pub, Hamilton's oldest licensed establishment, in business since 1957. As restaurateurs will tell you, the Hog Penny inspired Boston's Cheers pub of TV fame. This is a favorite spot for locals and visitors alike. 5 Burnaby Hill, Hamilton Tel: 292-2534
The Pickled Onion is an upscale-but-casual with its classy, fun martini-style bar is a popular hangout for locals getting off work or out for a fun night on the town. Featuring live entertainment seven nights a week in season, the award-winning Pickled Onion overlooks the harbor on Front Street. Come and see why it won five Best of Bermuda awards. 53 Front Street, Hamilton Tel: 295-2263
Also in Hamilton, Cafe Cairo on Front Street serves food and drinks where you can dance until 3 a.m. Escape from the ordinary for the cuisine of Egypt, Lebanon, and Morocco. Recline on plush cushions of a Bedouin tent-style dining room. Let your senses be seduced by authentic rhythms of the regions, belly dancers, a Sheesha pipe of fruit tobacco and Turkish coffee. Located at 93 Front Street, Hamilton.
At Bermuda's only bistro-on-the-beach, Mickey's Bistro enjoys a casual dinner under the stars. The menu is simple but satisfying. Everything is always fresh and delicious and never more so when enjoyed at supper time, underneath the stars with a refreshing ocean breeze. Located at the Elbow Beach Hotel. Opening Hours are seasonal (April – December). Dinner: 6:30pm -11:00pm Bar service: 10am – 1am. Dress code is smart casual for evening.
An absolute must…a Bermudian tradition! Your vacation, moreover, wouldn't be complete without a night out at Bermuda's oldest pub and restaurant, The Swizzle Inn in Bailey's Bay. Be sure to leave your card or a message on the pub walls, which are covered with graffiti from previous "swizzlers." Also can also visit the "new" Swizzle Inn on the South Shore, not far from the Fairmont Southampton. Bailey's Bay Tel: 293-1854 / Warwick Tel: 236-7459
Peg Leg Bar at the elegant 275-year-old Fourways Inn, offers a sedate and charming spot for after dinner drinks. There is an extensive selection of Cuban cigars from Cohiba, Partagas, Montecristo, Romeo y Julieta and Upmann and Punch as well as a large selection of fine ports. Resident pianist makes this a memorable experience. 1 Middle Road, Paget Tel: 236-6517
Henry VIII Restaurant and Pub, a landmark on South Shore Road in Southampton, has been welcoming guests for almost 30 years. Henry VIII delights locals and visitors with the island's best live entertainment line up. Featuring some of Bermuda's top entertainers, Henry's offers nightly entertainment in the high season. Current entertainment programming features DJ Uncle, a local favorite known for spinning groovy beats, and Dave Bootle, a talented keyboard vocalist and humorist who always amuses his audience with upbeat musical acts and witty jokes.
-DJ Uncle on Monday and Tuesdays. Swing to the Music of the 60's & 70's. From 9:30 PM – 1 AM in Henry's Oakroom Pub.
-Dave Bootle on Wednesday-Sunday. Guaranteed to liven up your night! From 9:45PM – 1AM in the Oakroom Pub.
If your staying at the Fairmont Southampton, you needn't go far. Jasmine is the place for the Quintessential Martini. Elegant and relaxing, Jasmine is the ideal spot for meeting, greeting or simply relaxing. In the evening Jasmine steps up the pace from 6:00 p.m. to 1:00 a.m. with live entertainment for your listening pleasure.
Also on property at the Fairmont Southampton, The Cellar – an excellent choice, where you will discover the unique and lively atmosphere of an Old English Pub. A favofavoritece for both locals and guests alike, The Cellar is located adjacent to the indoor pool at the Willow Stream Spa. While enjoying your favourite cocktail, you can watch sports, play a game of pool on a custom cherry wood table (pull the drapes for privacy) or dance the night away with the best in live, local entertainment.
Open Tuesday to Sunday from 9:00 p.m. to 3:00 am.