Belize is the second smallest country in Central America, on the Yucatán Peninsula,bordering Mexico and Guatemala. With only 5 million inhabitants it offers a spectacular mixture of cultures, a variety of activities to choose from and a natural diversity that is hard to beat.
Belize, a former British colony (Colony of British Honduras), gained full independence as late as 1981 following 20 years of negotiations between Guatemala and Great Britain regarding border issues. It is said that the first settlement was established by shipwrecked English seamen in 1638.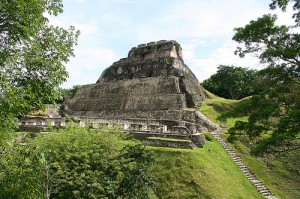 Belize's inhabitants are as diverse as its history. They are a mixture of 49% Mestisos, 25% Creoles, 11% Mayas and 6% Garifunas. Garifunas are a fusion of West African slaves and the Carib Indians from St. Vincent. Additionally there is a large Mennonite population near Orange Walk.
In contrast to its Central American neighbors, Belize's official language is English; however, because of its mixed population, Spanish is heard just as often, as well as Creole, a modification of English that is spoken in all of the Caribbean countries.
Despite its size, Belize offers a breathtaking and diverse landscape. From the tropical forest in the North, along the Steppe and river landscapes of the interior to the agricultural South with its endless coconut plantations.
The northern part of Belize is generally flat, with low hills to the west. Lamanai, near Orange Walk, is a stunning example of the countries Mayan history and advanced civilization. Its remote location makes it an interesting and adventurous trip to the past. If you love bird watching and untouched nature, the northern coast boasts the Shipstern Nature Reserve, a protected habitat for the country's abundant wildlife.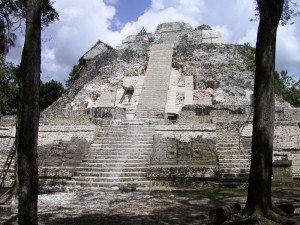 Another huge Conservational area is the Rio Bravo Conservation and Management Area. The prohibition of hunting in this area has allowed its animal population to thrive and the tourists to enjoy close encounters.
In the western part of Belize (Cayo District), San Ignacio, you find a comparable setting: Mayan ruins in a lush tropical rain forest, wild streams, hidden caves and Nature's best. Here you can admire Caracol, the biggest Mayan site, as well as the impressive ruins of Xunantunich.  Both are on the connection routes between Belize and Guatemala. This District is also home to the capital city Belmopan.
The Belizean islands offer yet another natural phenomenon; the world's second largest coral reef is right offshore. Divers from all over the world are attracted to the islands: Ambergris Caye, furthest north, Caye Caulker, a backpacker's travel destination and further south Lighthouse Reef and Glover´s Reef. Here you will also find the former Colonial capital Belize City.
Southern Belize is dotted with picturesque Garifuna villages, as well as some more laidback travel destinations, such as Placencia with its fine white beaches.