The Upper East Side isn't really known for its culinary fare, but that doesn't mean that there aren't more than a few good restaurants deserving of recognition. Neighborhood locals routinely stay close to home, visiting mainstays like Beyoglu when they're craving a Mediterranean meze platter fit for a king, or Toloache for those days when a shot of good tequila is needed to wash away the day.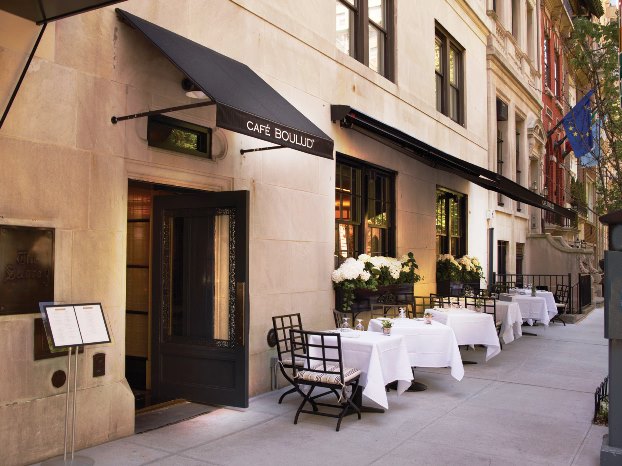 Aside from these neighborhood haunts, top chef Daniel Boulud has also made the Upper East Side his home, building up not one, but two iconic eateries: Daniel and Cafe Boulud. Both heavily French, and yet perfectly approachable and unpretentious, his restaurants even draw stubborn downtowners a little further north.
Among other things, the Upper East Side offers the perfect backdrop for an after dinner stroll, and is often more accommodating to child-toting moms and dads than some of the swankier spots elsewhere in the city. What Soho is to models and the financiers who love them, the Upper East Side is to professionals who've grown up and settled down, while still fiercely maintaining their discerning palates.
Below, we dive in to 10 of the best restaurants on the Upper East Side, whether you're looking for a quick bite, or a multi-course Michelin affair.
10   Jones Wood Foundry
Jones Wood Foundry has a communal table made of gnarled wood, long chesterfield banquettes and a cozy front bar that encourage a convivial atmosphere among the Brit expats and foodies who flock here. They come for the company and the food, dishes like bangers and mash with caramelized onion gravy or a bacon-wrapped tuna loin served with potato puree.
In the summertime, try to score the one of the coveted tables at the hidden inner courtyard. Word of warning: The bar doesn't serve liquor, just wine and beer, but it does mix up wine cocktails, such as the lovely First Bloom with Sauvignon Blanc, elderflower, lemon juice and club soda. (212-249-2700)
9 Beyoglu
Regulars consider this meze joint in the East 80s one of the neighborhood's best deals, and rightly so. The hot and cold mezes are perfectly sharable for groups of all sizes, and each dish offered is its own unique brand of flavorful sensation.
While hummus and tabbouleh comprise the more familiar choices, adventurous palates chomp at the bit to try the sardines wrapped in grape leaves. Main courses include a variety of tasty doner kebabs, including chicken, lamb, striped bass and swordfish. For dessert, is there any other option than the baklava? You won't walk away disappointed after finishing up your feast with this sweet treat. (212-650-0850)
8 Heidi's House
Heidi's House on the Side of the Road (yes, that's the full name) is one of those restaurants that's hidden in plain sight. It seems neighborhood locals have kept this place under wraps for years, but no more! Heidi's menu is short and concise, but that just means there's literally no way you can go wrong.
The mac and cheese is off the charts, though be forewarned it'll take at least 25 minutes to make its way to your table. If you don't have time to wait, you'll have to choose either the burger, the pasta of the day or the paella. For dessert, regulars say the chocolate souffle is about as good as it gets. (212-249-0069)
7 Toloache
Not quite taqueria, but not quite upscale Mexican, Toloache deliciously functions somewhere in between the two. You'll find your fair share of staples like guacamole, ceviches and tacos on the menu, but look a little closer and the ingredient list could throw you for a loop.
For example, closer inspection of the taco offerings includes a Oaxacan-style dried grasshopper topped with the requisite onion, cilantro and salsa verde. Hungrier diners can opt to dig in to the dry-aged rib-eye, sauced with a 7-chili tequila glaze and chimichurri. And let's not forget about the most important part of Mexican night: margaritas. 100 different tequilas and mezcals are stocked up behind the bar, so there's no worries here about running dry. (212-581-1818)
6 Café Boulud
Daniel Boulud, proprietor of the famous "Daniel" restaurant, also owns the stylish Cafe Boulud. The menu is comprised of four sections, each with a different focus. La Tradition features classic French preparations, with items like foie gras terrine, roasted duck breast, and chocolate souffle; La Saison highlights the freshest meats, seafood, fruits, and vegetables of the season. Le Potager is a vegetarian's dream menu, while Le Voyage takes an international approach with dishes from around the world.
If you're short on weekend time, Boulud's L'Express menu dishes up baked goods, parfaits and boiled eggs with quickness. However, our recommendation would be to sit down, relax and amble your way through a more proper tasting. (212-772-2600)
5 Flex Mussels
With over 20 different types of mussels on the menu, Flex pairs these PEI bi-valves with sauces that pay homage to yes, the French tradition, but also to India, Thailand, Italy – even Copenhagen. While there's a collection of salads on the menu, this isn't the spot for anyone who's not prepared to plan their meal mainly around mollusks.
Decor is minimal, but ambient enough to act as a proper backdrop for throwing back beers and sucking shells. Surprisingly, you shouldn't skip dessert here. Regulars swear up and down about the salted caramel donuts, so hold out on ordering that second helping of truffle fries. (212-717-7772)
4 Sushi of Gari
Located in the East 70s, this handsome little eatery is one of the area's more upscale places to grab a bite. As you may have been led to believe by the name, much of the sushi here is seasoned with their spice of choice – you guessed it: pink gari. Saunter up to the counter and place an order for your favorite rolls, but pay attention, as you can run up a tall bill pretty quickly.
If sushi isn't your speed, try one of the cooked dishes, like shrimp tempura or chicken and vegetable udon. Or, if you're down for giving up the reigns, allow us to recommend the omakase – chef's choice and always delectable. (212-517-5340)
3 Candle Cafe
Founded in 1984, Candle Cafe is one of the leading vegan restaurants in New York City. Dedicated to bettering the health of their patrons and the planet, the restaurant was one of the very first doing farm-to-table, excluding the use of damaging pesticides or preservatives. Their organic, vegan cuisine is focused on sustainability, eco-friendly practices, local farming and compassion for all animals.
Luckily for all of us, it's also delicious. Since their humble beginnings nearly thirty years ago as a health food store, Candle Cafe has expanded to three locations in Manhattan: two on the Upper East Side and one on the Upper West. (212-472-0970, (212) 769-8900)
2 Daniel
This Central Park stunner is still sparkling after all these years. First opened in 1993, the fine dining institution has introduced impeccable French fare courtesy of Michelin mainstay Daniel Boulud to two decades of Upper East Side diners. The restaurant received a significant facelife from a 2008 redesign by Adam Tihany (One & Only Cape Town, Dinner London), bringing a fresh energy to a dining room filled with the expense account-wielding, Brioni suit- and Hermes scarf-wearing set .
By all counts, Boulud's fare is as unrelenting as ever, with signature dishes like roasted halibut, served with Thai basil and a mellow yogurt-curry sauce, providing an indulgent argument for white tablecloth fine dining. (212-288-0033)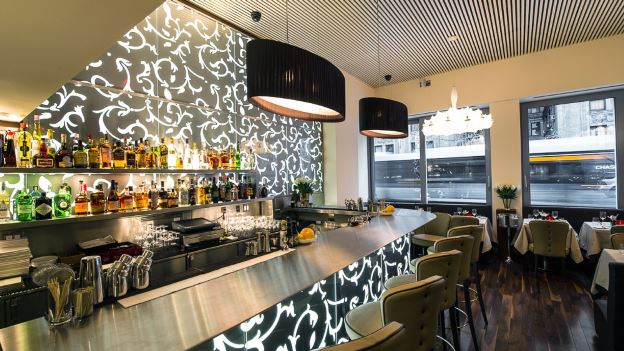 1 Ristorante Morini
Sister restaurant to Osteria Morini in Soho, Ristorante Morini is located on the Upper East Side and dabbles in the various regional cuisines of Italy. Upon entering, your attention will undoubtedly be drawn the filigree bar, an unexpectedly loud announcement to dinner, especially as the rest of the white table-clothed dining room is timid by comparison.
Regulars revel in Morini's pastas, of which you'll find classics like tortellini with ricotta and mascarpone, or orecchiette braised with fennel sausage, broccoli rabe and chilies. For a more upscale culinary rendezvous through the Italian countryside, opt for the gnocchi with black truffle – reviewers have called it a little piece of heaven. (212-249-0444)
---
About Andrea Duchon
Andrea Duchon was bitten by the travel bug from an early age, and has lived in New York, Seattle, Cleveland and Sydney, Australia since 2007. When she's not traveling or planning a trip, you'll likely find her eating tacos while throwing darts and watching the Cleveland Browns.
Read more about Andrea Duchon here.
Connect with Andrea via: Blog | Facebook | Instagram | Twitter
---