Best Restaurants in the Upper East Side of New York City
The Upper East Side isn't really known for its culinary fare, but that doesn't mean that there aren't more than a few good restaurants deserving of recognition. Neighborhood locals routinely stay close to home, visiting mainstays like Beyoglu when they're craving a Mediterranean meze platter fit for a king, or Toloache for those days when a shot of good tequila is needed to wash away the day.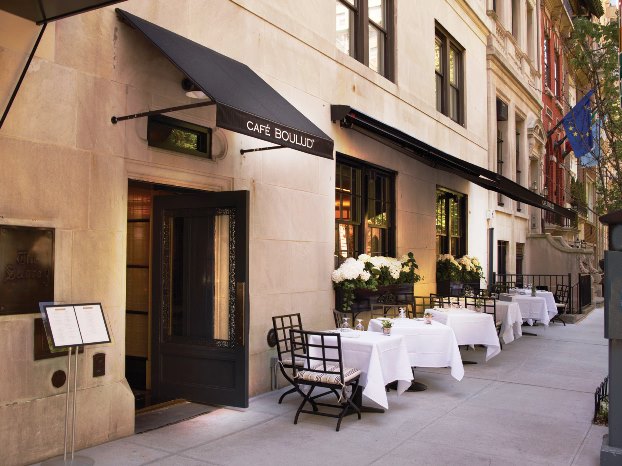 Aside from these neighborhood haunts, top chef Daniel Boulud has also made the Upper East Side his home, building up not one, but two iconic eateries: Daniel and Cafe Boulud. Both heavily French, and yet perfectly approachable and unpretentious, his restaurants even draw stubborn downtowners a little further north.
Among other things, the Upper East Side offers the perfect backdrop for an after dinner stroll, and is often more accommodating to child-toting moms and dads than some of the swankier spots elsewhere in the city. What Soho is to models and the financiers who love them, the Upper East Side is to professionals who've grown up and settled down, while still fiercely maintaining their discerning palates.
Below, we dive in to 10 of the best restaurants on the Upper East Side, whether you're looking for a quick bite, or a multi-course Michelin affair.
10   Jones Wood Foundry
Jones Wood Foundry has a communal table made of gnarled wood, long chesterfield banquettes and a cozy front bar that encourage a convivial atmosphere among the Brit expats and foodies who flock here. They come for the company and the food, dishes like bangers and mash with caramelized onion gravy or a bacon-wrapped tuna loin served with potato puree.
In the summertime, try to score the one of the coveted tables at the hidden inner courtyard. Word of warning: The bar doesn't serve liquor, just wine and beer, but it does mix up wine cocktails, such as the lovely First Bloom with Sauvignon Blanc, elderflower, lemon juice and club soda. (212-249-2700)
Categories: Abacos, New York, New York City, Upper East Side
Tags: Aging of wine, Aroma of wine, Bandra, Best Restaurants, Beyoglu, Cabernet Sauvignon, Café Boulud, Candle Cafe, City Vacations, Daniel, etraveltrips, Flex Mussels, Heidi's House, Jones Wood Foundry, New York City, New york city dinning, New York City Restaurants, Osteria Morini in Soho, Pinot Noir, Ristorante Morini, Sauvignon Blanc, Sushi of Gari, travel, Upper East Side, White wine