Knocking off Bucket-List items in the Windy City
As professional travelers, we are frequently asked, "What's your favorite destination?" Of course, we find it impossible to answer that question. Every place we visit becomes a part of us in its own special way. It's like asking me to chose between wine and bacon, or asking Sandi to choose between coffee and cookies. The question is simply too broad.

Still, if you were to ask me to choose my favorite destination in the United States for checking things off your Bucket List, I would answer, "Chicago!" The city is layered enough with history, architecture, sports, shopping, art, museums, parks, and food to keep Bucket List enthusiasts engaged for days.
Whether you're a Bucket List veteran or virgin, Chicago has something worthy of your interest. Here are some of our suggestions to guide you on your quest. Just don't ask us to pick a favorite.
Visit the SkyDeck at Willis (Sears) Tower
When the Sears Tower opened in 1974, it was the tallest building in the world. Today it is called the Willis Tower and offers some of the most spectacular views of Chicago and Lake Michigan from its SkyDeck. For an extra thrill (and an extra wait in line) you can step out on to one of the retractable glass balconies suspended 103 stories above South Wacker Drive.
Catch a Cubs game at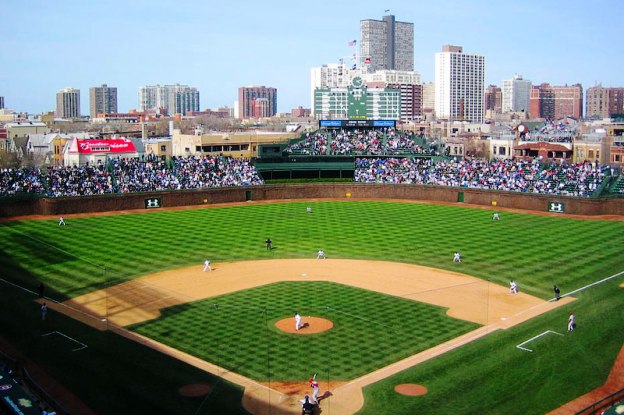 Field
Even if you're not a baseball fan, you're sure to have a blast at the iconic Wrigley field. The park is the second-oldest ball park in the major leagues. This, combined with the passion of Cubs fans makes any visit an for an unforgettable experience. Though the Cubs haven't won a World Series since 1908, Cub pride is prevalent in the neighborhood as businesses and fans alike adorn themselves in Cubs paraphernalia. You even can see fans watching the games from rooftops of buildings outside the stadium walls. As a Bucket-List bonus, you'll want to eat a Chicago style hot-dog while at the game. Or drink Old-Style beer.
The glass balconies of the Willis Tower SkyDeck
Eat Chicago-style pizza
While in Chicago you've got to at least sample a Chicago-style deep-dish pizza. Though Pizzeria Uno largely is credited with having invented the deep dish pie, there are plenty of places where you can gorge your inner glutton. Check out some of these suggestions from our fellow Expedia Viewfinder blogger, Beth Whitman.
Shop the Magnificent Mile
Chicago's Magnificent Mile is one of the best-known shopping districts in the entire world. The sheer volume and variety of shops make this 13-block stretch of North Michigan Avenue a shopper's paradise.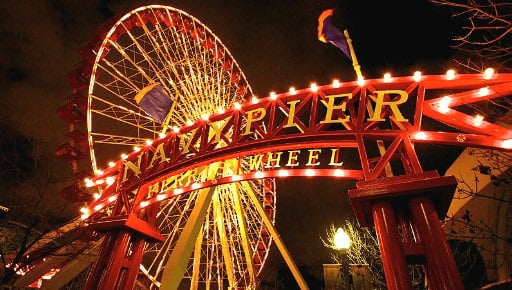 The Navy Pier observation wheel
Ride the Navy Pier observation wheel
If you've never been to Chicago, you definitely want to make your way over to Navy Pier. The more than 50-acre development on Lake Michigan is one of the city's most popular attractions. Amid the pier's parks, gardens, shops, and restaurants is a 150 foot observation wheel that offers sweeping views of the city.
Take a skyline cruise 
Chicago has one of the most beautiful skylines of any modern city; the view is particularly picturesque from Lake Michigan. There are a variety of boat tours departing from Navy Pier. Though the earlier tours offer the best lighting for photographing the city, our favorite tour is the evening dinner cruise, during which the lights of the city reflecting on the lake are absolutely magical.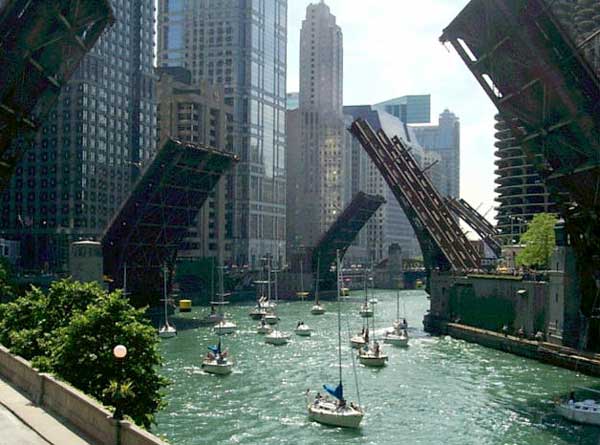 Embark on a train adventure
Chicago's Union Station is the third-busiest rail terminal in the United States and is a major hub for Amtrak. Though most of our journeys begin at the airport, we met in Chicago to embark on a cross-country train trip that turned out to be its own Bucket List adventure of a lifetime.