Gaining in popularity as a new Italian resort is Cefalu', a quaint little village nestled between a rock and a beautiful beach, on the northern coast of Sicily with tons of Sicilian charm. Long a favorite vacation spot for many Europeans, Cefalu' is quickly becoming known outside of Europe as a great place to spend a vacation. After all, would Club Med put a resort somewhere that wasn't worth visiting?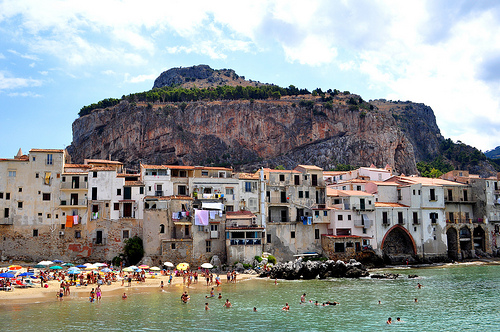 Still maintaining much of its original medieval charm as a fishing village, the tourism industry is now becoming a major factor in the city's economy. Hotels, pubs and cafés are easy to find. There are many excellent restaurants to choose from in this town, as getting lost down an alley-way can lead you to a nice hidden jewel of a place to eat.
The town seems to jettison itself out of the mountain and into the sea, with its houses right upon the water. The beach in Cefalu' is worth a visit, and is one of the unique selling points of the town. With golden brown fine sand, it is one of the most sandy beaches in all of Sicily, and stretches from the older part (near the historic center) down to the newer Club Med.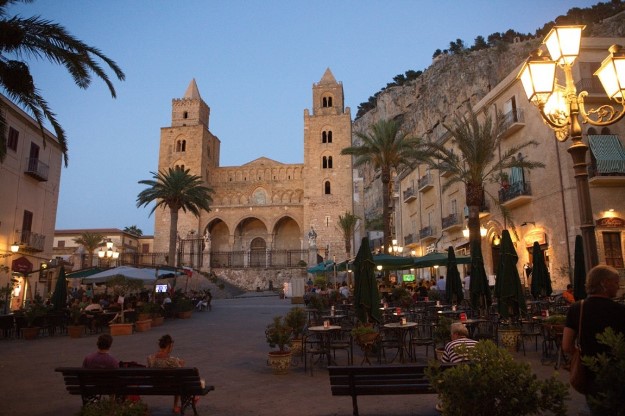 Walking along the "lungomare" you can find some lush and tropical vegetation. Keep in mind that during the summer, the beach will be crowded. If you are in good shape, you can climb to the top of the "rock" or "la rocca" and witness some spectacular views of the town and the red roof houses along with the Mediterranean (Tyrrhenian Sea) where the vegetation is lush with citrus, including blood oranges, cactus figs, almond and olive trees, etc.
You can also visit the Temple of Diana, an ancient structure with Greek and Roman characteristics, which possibly dates back to 5th Century B.C., along with other remnants of a medieval fortress. Make sure you wear good hiking boots and bring plenty of water. Before dinner you can partake in one of Italy's most favorite past-times, and that is the "passegiata", or stroll along the quaint and narrow cobblestone streets stopping in some of the small "piazzas" or squares. It is a great place to people-watch, or to savor some of the historic sights and trendy little shops.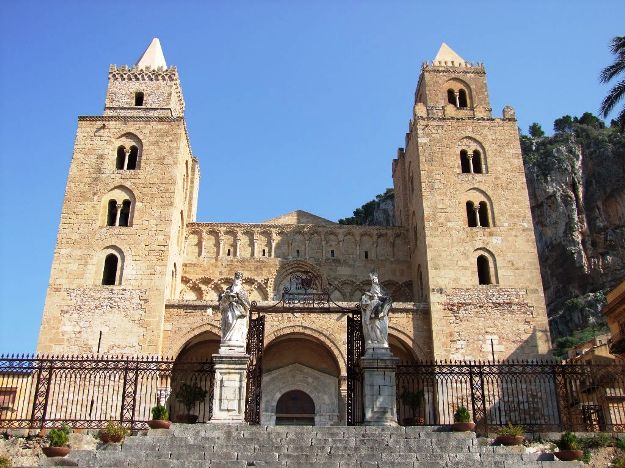 Another major attraction is the cathedral, built in 1131 by Roger II, probably as a result of a power struggle with Pope Innocent II. The mosaics are noteworthy, although not as much as Monreale (outside of Palermo). The Norman cathedral does have some Gothic influence along with Byzantine or Arab characteristics that were alive in Sicily at the time the church was built. And at night, when it is lit against the backdrop of the mountain, it really is a fabulous sight to see. So don't miss your chance to discover one of Sicily's best-kept secrets, Cefalu'.
It won't be long before Americans discover that this is truly an excellent place to vacation, because it truly is spectacular. Whether you are a first-time traveler to Italy, or even a seasoned veteran, you should not miss the opportunity to visit Cefalu'.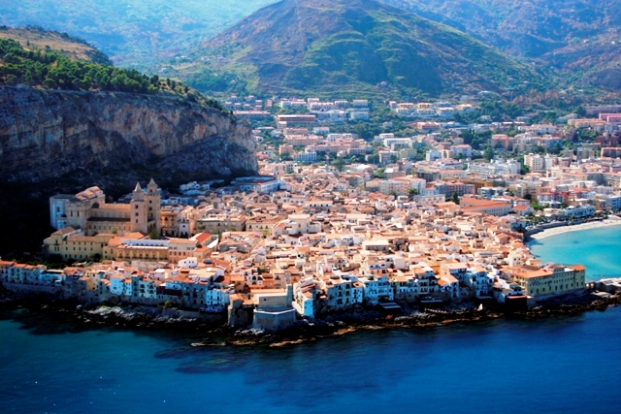 Getting There
You can get to Cefalu' from Palermo by Autostrada 20 (about 45 min to 1 hour), or by train (usually hourly) from Palermo Centrale along the Palermo-Messina line. From Messina, the train ride is about 3 hours. You can also get there by boat from Palermo or the Aeolian islands (usually seasonal).
There is a port on the Eastern side of town, just on the "other side of the rock". Hotels Can be expensive in July and August. Make sure you book early. Many hotels will be closed from November through Easter.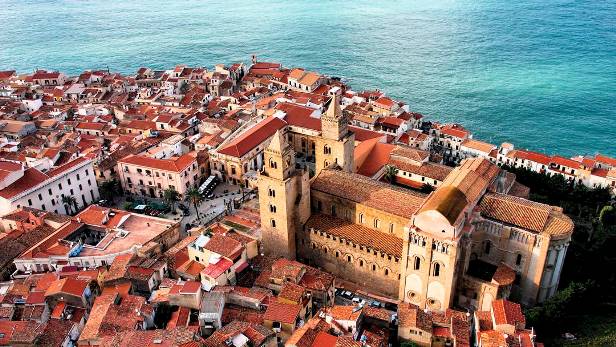 Getting around
Depending on where you stay, you won't really need a car to get around town because mostly everything is in walking distance. However, a car does come in handy if you want to see some of the beautiful Sicilian countryside outside of town (i.e. Le Madonie). Day trips
Palermo – the boisterous Sicilian capital, plenty of shopping, art, history, etc.
Le madonie – beautiful mountain park, snow-capped in the winter, excellent way to get back to nature.
Taormina – Sicily's other resort town, much more renowned