Reconnecting and rejuvenating in coastal California. My husband and I took a trip to Carmel-by-the-Sea without our teenage children so we could enjoy some much-needed couple time—catching up, reconnecting, and generally remembering why we chose to marry each other in the first place.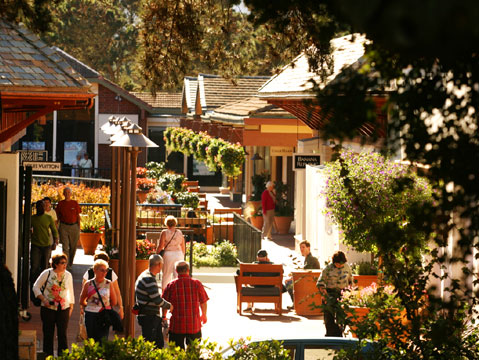 Interestingly, I felt closest to my husband on our romantic vacation to Carmel when we weren't aloud to talk.
The silent treatment occured at Refuge, an outdoor sanctuary for hydro-thermal therapy, just 10 minutes from downtown Carmel. Visitors follow a specific cycle of stints in a toasty sauna, steam room, relaxation room, and several outdoor hot, warm, cool, and cold pools set amid rock waterfalls and plenty of green landscaping. It's dubbed "America's first co-ed relaxation spa." Indeed, I'd taken part in hydrotherapy rituals at spas before, but never with my husband, and never outdoors in such a soothing setting surrounded by towering oak trees and rolling hills.
Silence—and bathing suits—are de rigueur at Refuge. While in the so-steamy-I-can-barely-see-you eucalyptus steam room, I'd tap my husband's leg and point that I was ready to plunge into the coldest outdoor pool (the pool was described by a spa attendant as having water as cold as "an icy alpine river"). Just try keeping silent after ducking your head under 46-degree water!
Viewfinder Tip: Don't bother looking for numbered street addresses in Carmel; there are none. Businesses are described "at Mission and 6th," for example.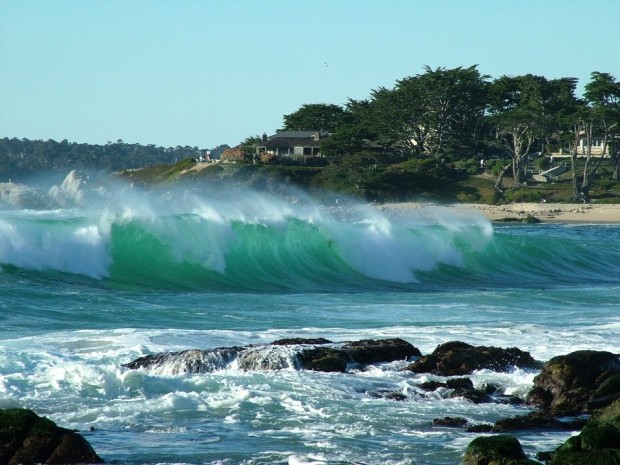 Admittedly, my husband and I did whisper to compare notes a bit, especially when we found ourselves alone and reclining in loungers in a relaxation room with piped-in instrumental music. This spot for repose, explained the spa attendant, was a key part of the cycle for achieving maximum physical, mental, and spiritual well-being benefits: It was important to take 15 minutes for meditation or self-introspection (or napping) in a warm room after exposure to extreme heat and extreme cold. And this was absolutely my favorite part: Being "forced" to lie down and do absolutely nothing.
Even better, my husband isn't near the spa junkie I am, so he wasn't accustomed to pampering himself in this way—or sitting still for 15 minutes. I was delighted that he, too, enjoyed slowing down the pace for some soaking and steaming. Our entire experience at Refuge reminded me how much I appreciate his willingness to go with the flow and accommodate me and my wishes on vacation.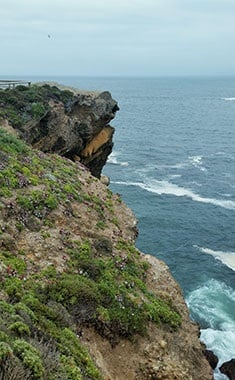 Craggy coast near Carmel
We'd scheduled other favorite activities that are more aligned with our our style—strolling expansive Carmel Beach; hiking and spotting harbor seals and sea lions at nearby Point Lobos State Reserve; and drinking plenty of wine, thanks to the 14 tasting rooms within a square mile in downtown Carmel. We especially liked the intimate space serving both Blair Estate and Shale Canyon Wines (two for one!), as well as Vino Napoli restaurant with its Pèpe Winery flights and full Italian menu of tapas, salads, pasta, and pizza.
Making it incredibly easy to explore the new-to-us, charming hamlet of Carmel was our choice of lodging at the downtown, Mediterranean-style Cypress Inn, about eight blocks from the beach and just one block from the bulk of those aforementioned tasting rooms. Co-owned by film legend Doris Day, an ardent advocate of animal welfare, the hotel not only has some nostalgic 1950s and 1960s movie memorabilia in the lobby, it's incredibly pet friendly. In fact, at the lobby lounge's daily "Yappy Hour," locals and guests are encouraged to bring their four-legged friends for socializing with other canines.
We didn't vacation with pets, but we appreciated the boutique Cypress Inn for its comfortable rooms (our ground-level room with king bed and pretty mosaic accents faced a tiny courtyard), the complimentary WiFi (always a plus), and the included breakfast spread, featuring hot-from-the-oven popovers. Our dinner at on-site Terry's Restaurant & Lounge featured salads, small plates, and sides for sharing, as well as my first foray into sampling lightly breaded and pan-seared sand dabs, a delicate (and delicious) fish I'd never heard of, caught off the coast of nearby Monterey.
Also on the menu, of course plenty of refreshing adult conversation. As much as we appreciated that silence, we also love to connect with words.