Enjoy citywide fun for everyone, outstanding accommodations, eclectic shops, unique dining and a variety of world class attractions in Chattanooga. And when you're ready to soak in some nature, you'll be surrounded by breathtaking mountain vistas. There are so many things to do in Chattanooga that you'll find it takes several days to fit them all in. Start planning your next Tennessee vacation in Chattanooga today!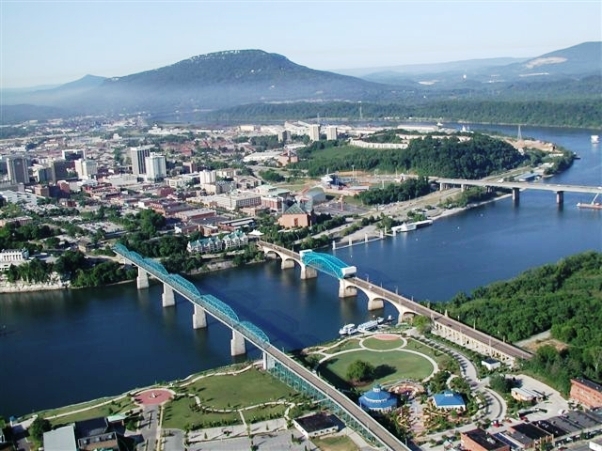 Attractions such as the Tennessee Aquarium, Lookout Mountain, Civil War battlefield sites, the African American Museum, and the Appalachian Trail bring thousands of people to the area, as do events like the Riverbend Festival, Bessie Smith Strut, Fall Color Cruise, the Creative Discovery Museum for children, and the Southern Writers Conference. Chattanooga is the home of NCAA Division I-AA national football championships and hosts the national softball championships every year.
Chattanooga Must-Sees
Explore two realms in one at the Tennessee Aquarium. The River Journey glimpses alligators and otters; Ocean Journey features sharks and penguins.
Find global cuisine inside a Colonial Revival mansion, admire a sculpture garden and watch artists work in the Bluff View Art District. There's much to see inside River Gallery; outside, enjoy views of the river and downtown.
Meet farmers and buy their fresh goods at the Chattanooga Market. Farmers, woodworkers, jewelers and others sell their creations. Musicians perform live, and locals celebrate such simple delicacies as strawberries.
Take in the sights and story of Chattanooga via the Tennessee River aboard a grand riverboat.
Brave the incline railroad to the top of Lookout Mountain, and discover Rock City's craggy lookouts, swinging bridge and gardens. Go underground and thrill at the towering limestone "curtains" of Ruby Falls with its 145-foot waterfall. Don't leave the mountain without an iconic birdhouse.