Myrtle Beach in South Carolina is undoubtedly a fabulous place for the entire family. Whether jumping from a pirate boat, playing miniature golf, looking for seashells on the beach or riding the SkyWheel that looks out over Myrtle Beach, kids and adults alike are sure to have endless fun. Plus there's shopping, dining and entertainment that will excite anyone.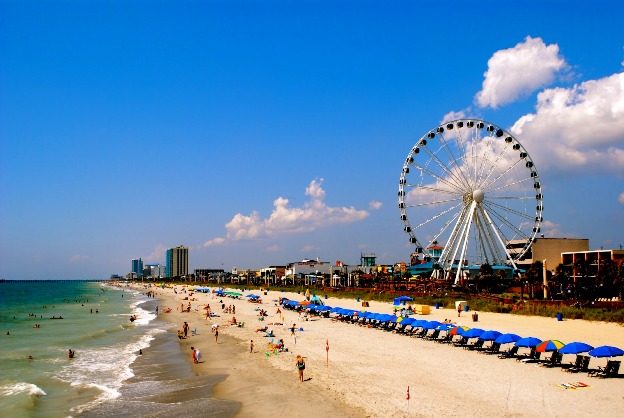 In low season (November to February), hotels and resorts offer tempting deals. These affordable, off-season options make it an even better destination for families.
The 1.2-mile Boardwalk
The 1.2-mile Myrtle Beach Boardwalk is breathtaking and boasts activities and attractions for all ages. Located on the oceanfront, the Myrtle Beach Boardwalk is also home to variety of shops and restaurants. This is where you'll find the SkyWheel, a huge Ferris wheel where you take off in a comfortable, climate-controlled cabin and catch an unforgettable view of the beach and the city beyond. The boardwalk has many shopping and entertainment options; it's really the go-to place for family amusement!
Beautiful Beaches
Of course, no mention of Myrtle Beach would be complete without talking about the beaches. The beaches of Myrtle Beach are part of the "Grand Strand," a 100-kilometer stretch of beaches on the east coast. There are pristine and well-maintained beaches as far as the eye can see.
Your family might enjoy hunting for shells and playing in the waves at Myrtle Beach State Park. For a small park entrance fee, you can enjoy a wide beach, nature trails, surf fishing or a fishing pier, camping and more. Huntington Beach State Park also has a gorgeous beach, fishing and camping, and boasts fantastic bird watching, hiking trails, a nature center and the beautiful National Historic Landmark called Atalaya Castle, the Moorish style winter home of sculptor Anna Hyatt Huntington and her husband, philanthropist and Spanish scholar, Archer Huntington.
A few miles from the boardwalk is Broadway at the Beach, a massive entertainment complex where you'll find even more attractions. There are movie theaters, an aquarium, the Myrtle Beach Pelicans baseball field, a water park, a nostalgic amusement park, and miniature golf, among many other attractions. And, of course, at Broadway at the Beach, you'll find everything you need for all levels of shopping and dining. If you're looking for the perfect place to have a lot of fun with the entire family, Broadway at the Beach is it!
Golf
Experience the exhilaration of Myrtle Beach golf and enjoy the thrills of some of the world's most challenging golf courses, in Myrtle Beach, South Carolina. Tee off on North, South or Central Myrtle Beach golf courses, each designed to protect the natural habitat and wildlife indigenous to the area. Technically challenging and aesthetically beautiful, our greens have been created by world-famous architects — including Arnold Palmer, Jack Nicklaus, Robert Trent Jones, and Greg Norman. Some of the most spectacular golf courses in the area.
After dark, the nightclubs and bars open their doors to push the fun to the max. Choose from many options including a lively nightclub, a piano bar or a stand-up comedy club – fantastic nightlife for the adults!
Myrtle Beach is the perfect place in South Carolina to find diverse entertainment and activities for the entire family – a truly unique and spectacular experience!
Visit Myrtle Beach
www.VisitMyrtleBeach.com