Gaudis Temple the Sagrada Familia, Barcelona Spain
Antoni Gaudi's Temple of the Sagrada Familia is translated as the Temple of the Holy Family, but the original design was not begun by Antoni Gaudi. The original designer of this Catholic Church resigned shortly after it had been started, and what was intended to be a traditional Gothic church design was changed once Gaudi was given permission to change the original plans as he wished. Gaudi took over the project at the end of 1883, yet 43 years later it was still incomplete with only one single bell tower constructed.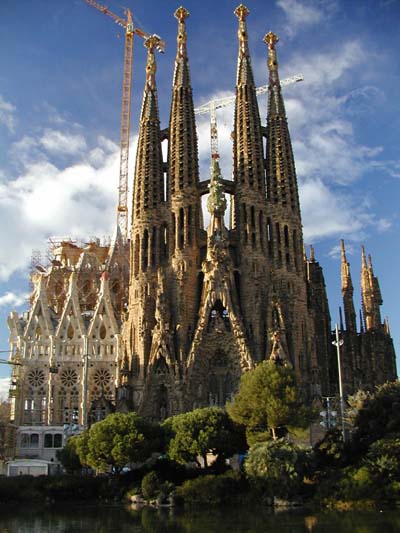 Gaudi was 32 years old when he took on the project and dropped his other work to focus on it, and he was 73 years old when he died in 1926 after being hit by a tram. The church almost became his life's work, and one wonders what other wonders he would have left us had he not focused on this unfinished building. We do not know what the ultimate plans for it were, because they were destroyed during the Spanish Civil War.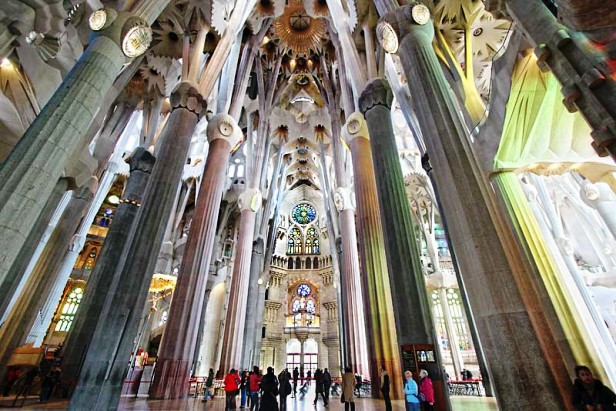 Work recommenced in 1952, and is still continuing although at a very slow rate. The idea is that it should be completed in time for the centenary of his death in 2026, and a large part of why it is taking so long is that it is, and always has been, an expiatory church. This means that it is funded only from donations.
The first part of the church to be finished, the Nativity Facade appears initially to be a strange mish-mash of figures. Closer investigation reveals the saints and a mixture of plants and birds, both Catalan and from the Holy Land. The Holy Family and the nativity together with angels are shown in a very special way. You have to see it to understand it.
Categories: Abacos, Barcelona, Europe, Spain
Tags: Antoni Gaudí, Barcelona, Catholic Church, Gaudi, Holy Family, Romantic getaways, Sagrada Família, Sanctus, sightseeing, Spain