Antoni Gaudi's Temple of the Sagrada Familia is translated as the Temple of the Holy Family, but the original design was not begun by Antoni Gaudi. The original designer of this Catholic Church resigned shortly after it had been started, and what was intended to be a traditional Gothic church design was changed once Gaudi was given permission to change the original plans as he wished. Gaudi took over the project at the end of 1883, yet 43 years later it was still incomplete with only one single bell tower constructed.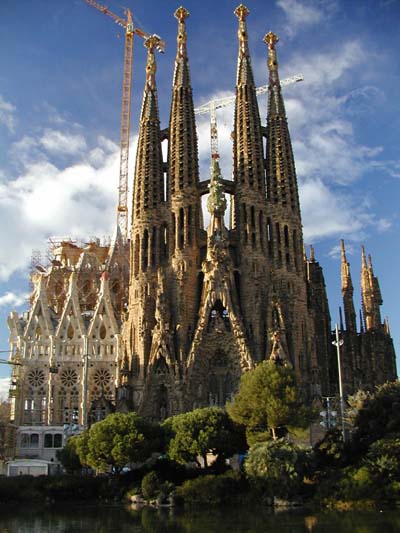 Gaudi was 32 years old when he took on the project and dropped his other work to focus on it, and he was 73 years old when he died in 1926 after being hit by a tram. The church almost became his life's work, and one wonders what other wonders he would have left us had he not focused on this unfinished building. We do not know what the ultimate plans for it were, because they were destroyed during the Spanish Civil War.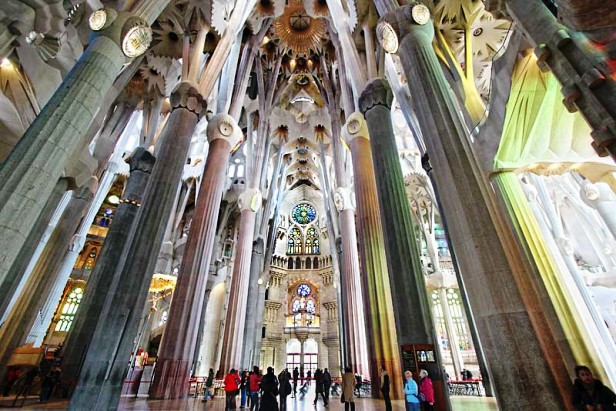 Work recommenced in 1952, and is still continuing although at a very slow rate. The idea is that it should be completed in time for the centenary of his death in 2026, and a large part of why it is taking so long is that it is, and always has been, an expiatory church. This means that it is funded only from donations.
The first part of the church to be finished, the Nativity Facade appears initially to be a strange mish-mash of figures. Closer investigation reveals the saints and a mixture of plants and birds, both Catalan and from the Holy Land. The Holy Family and the nativity together with angels are shown in a very special way. You have to see it to understand it.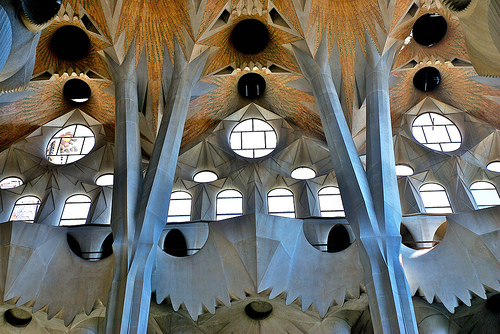 Another finished part is the Passion Facade, eventually completed by a Catalan sculptor known as Joseph M. Subirachs. His work has been the subject of a great deal of controversy and argument because it is the complete reverse of Gaudi's with angular lines and harsh figures as opposed to the more natural soft design of Gaudi. Some prefer it, but many do not and you can judge for yourself. It presents very few of Gaudi's trademark design styles, and the difference is very apparent; each can make his or her own choice as to which they prefer.
Another completed part of the Sagrada Familia is the crypt which was finished by the original architect on the job, Francesc de Villar, who eventually resigned and enabled Gaudi to take it on. As a mark of respect to Antoni Gaudi, he is entombed within a chapel in the crypt. The building now hosts a museum devoted to the church in which some of the original designs are displayed including some of Gaudi's original drawings.
The plans are to construct a total of eighteen towers, with one dedicated to each of Jesus and Mary, the four evangelists and the twelve apostles. Of these only 8 are completed, four above each of the Nativity and Passion facades. Each spire is laid with mosaics in ceramic and is marked with Latin text saying "Sanctus, Sanctus, Sanctus, Hosanna in Excelsis".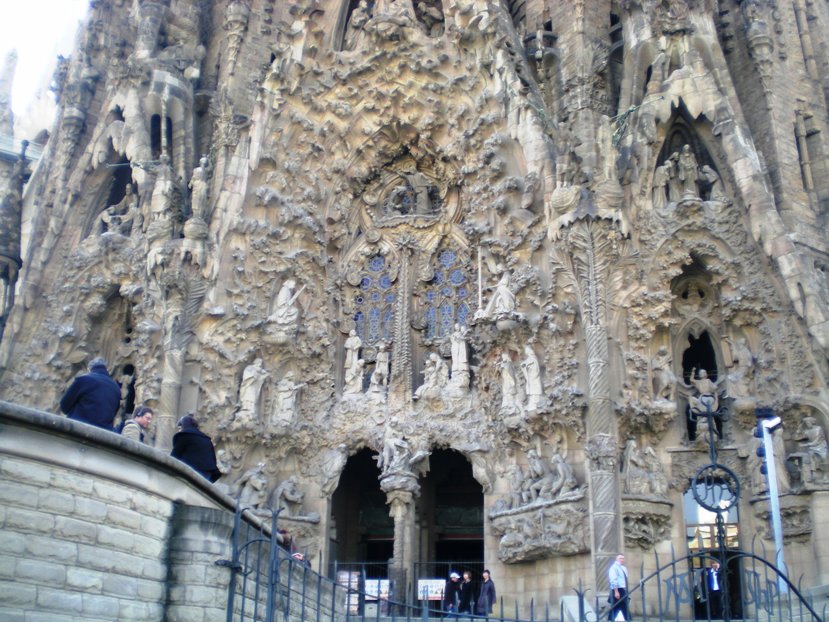 You can get to them by means of a spiral staircase to each, or by means of an elevator that will transport you right to the top of each spire. It's well worth doing to see the work on the spires close up, and the views across the city are magnificent. Make sure you have your camera because you'll kick yourself if you leave it. You don't get this kind of experience very often, being so close up to a building to which Gaudi devoted so much of his life.
You will find all the usual souvenir stalls and gift stores around the whole area, and you won't have any excuses for not returning back home with some great mementoes of your visit to the Sagrada Familia.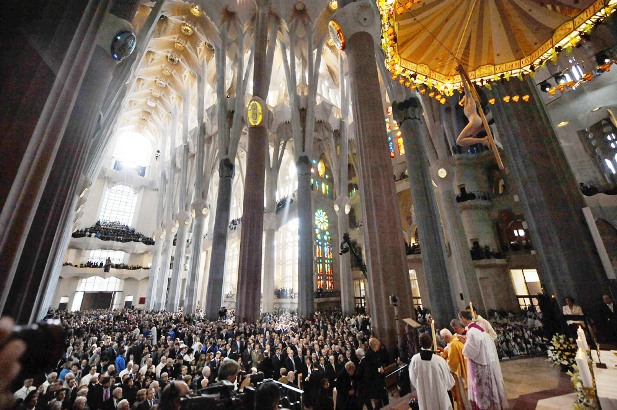 Here are few tips to help you get the most from your visit:
1. La Sagrada Familia can become very crowded fairly quickly, so you should try to get here early. There is plenty to see and it can take most of the day if you want to pack everything in.
2. Audio guides are available if you want them, but while it is highly recommended that you do, you will need some ID such as a passport because you will likely be asked to surrender it temporarily as a security deposit.
3. Dress properly: sleeveless shirts and shorts are not permitted. This is a Catholic Church and should be treated with respect.
4. La Sagrada Familia is beautifully illuminated at night, and is a fabulous time for photographs. Try to visit it at least once at night when the lights are shining on it.
5. Finally, make sure you book your accommodation in advance. Although there are many excellent Barcelona holiday rentals available, it pays to have yours booked during the city's busy tourist season.
For hotel in Barcelona Spain click the link below
https://www.etraveltrips.com/eTravelTrips/hotels_list_details.php?image=6983