With so much to offer, from breathtaking land and seascapes to adventure to total relaxation, the islands of the Caribbean make the perfect vacation destination for people of many diverse interests. A trip to this particular region of paradise can be tailored specifically to couples, families or even solo travelers. Here are some of the most popular destinations for a Caribbean vacation, including a little background information of each of these uniquely diversified tropical islands.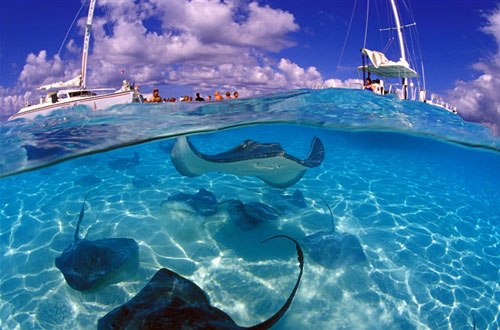 Touting some of the best scuba diving in the world are the British influenced Cayman Islands. A set of three islands, each with their own unique flavor and scenery, offer a perfect blend of refined culture and outdoor adventure.
Swim with dolphins or even stingrays. Pet a sea turtle.
Those who really want to experience the magic and mystery of the Grand Cayman can take an evening submarine tour.
Extraordinary diving, snorkeling and fishing lie just offshore of the islands of Turks and Caicos. These islands are rumored to be the home of the best beach in the world.
Unspoiled, uncrowded and extremely hospitable to tourists, these islands are among the best destinations in paradise.
The multi-cultural ancestral heritage of Jamaica has helped to make it the fascinating, if not enchanting, island vacation destination it is today. The more daring among us will enjoy hiking up waterfalls, caving and cliff diving. Others may prefer exotic bird watching or a well-deserved respite on one of Jamaica's many pristine beaches.
Whether you're looking for water sports, adventure, culture and history or relaxation and romance, you can find it in the Dominican Republic. This independent nation on the island of Hispanola is a popular destination for honeymooners as well as spring breakers, and everyone in between.
Colonial architecture meets Caribbean flair on the largely undiscovered island of Curacao. A colorful mix of multiple cultures comes together in this island paradise, as locals and tourists casually intermingle. Curacao features world class diving and snorkeling, wind surfing, caving and the ultimate in rejuvenation on its pristine, sugar sand beaches.
The grouping known as the Virgin Islands is actually comprised of over 100 islands, though only about 10 of them are inhabited. As a tourist destination, the Virgin Islands fall partly under U. S. ownership, and partly under British rule. Though each island has its own, unique personality they all share a rich and culturally diverse history. Sailing, golfing, sea kayaking and, of course, lounging on the white sand beaches rate among the top things to do in the Virgin Islands.
The islands of the Caribbean are very diverse, each one boasting its own charm, its own breathtaking landscapes, its own unique culture and local flavor. No matter which one you choose to visit, a memorable experience most surely awaits. If you have the opportunity to visit several of these islands, so much the better. All of these Caribbean vacation destinations also have a few things in common, however. Like sand, surf and that amazing Caribbean sunshine that has the power to rejuvenate the very soul of a person.