Cape May is the oldest seaside resort in the U.S., but its real claim to fame is its juxtaposition of Victorian country-town atmosphere and prime Jersey Shore location. In the mid-1800s, it was a place for the elite to flee the summer heat, its salty air and cool breezes drawing holidaymakers such as Abraham Lincoln, P. T. Barnum and Henry Ford. Scores of homes were built during this period, of which some 600 survived the great fire of 1879 and the century of development that followed.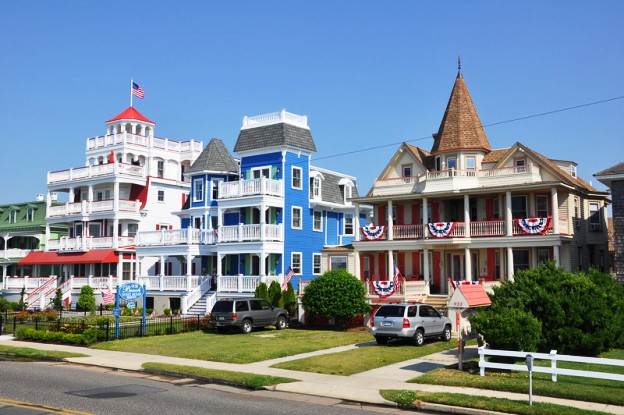 Today, Cape May is a rarity—the whole town has National Historic Landmark status, its 2.5-square-mile historic district lined with grand old dowagers whose gingerbread excess and wedding-cake colours now house shops, cafés, boutiques, galleries and gaslit inns. Victorian frou-frou abounds from the boardwalk to the backstreets, all best seen via a rented bicycle or one of the horse-drawn buggies that congregate around the Washington Street pedestrian mall.
The Cape May Migratory Bird Refuge, run by the Nature Conservancy, is a top spot for viewing rare seabirds. More than 400 species of migrating birds pass through annually.
Midway between the beach and the mall, the Virginia Hotel first opened in 1879 and continues to offer a sublimely Victorian hotel experience, with outstanding service. While the building's exterior is maintained in pristine period detail, the 24 guest rooms are furnished in an updated classic style. The hotel's restaurant, the Ebbitt Room, is consistently ranked among the state's finest, serving regional American cuisine with international accents.
Nearby, the Mainstay Inn was among the town's first B&Bs, and remains one of its undisputed gems. A dignified Italianate manor dating back to 1872, it offers 14-foot ceilings, eight-foot chandeliers, and airy rooms that mix museum-quality antiques with 21st-century amenities. A stone's throw away, the Chalfonte has been serving guests since 1876, and with its wraparound veranda and Victorian details is one of the most photographed buildings in town. Simply furnished rooms in the main hotel and two cottages have ceiling fans and louvred doors to stir up the sea breezes.