Hotel Santa Caterina – Amalfi Italy
A late 19th-century liberty style villa immersed in the beautiful scenery of the Amalfi Coast, an elegant seaside residence surrounded by the perennial blue of the Mediterranean sea and sky, by luscious bougainvillea and by lovingly cultivated olive groves and fruit orchards. This is Hotel Santa Caterina of Amalfi, a special place to experience the finest of Italian hospitality and lasting sensations of wellbeing.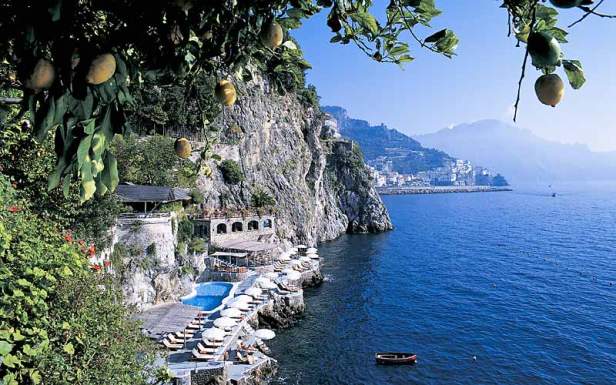 The Hotel Santa Caterina has since transformed into one of the Amalfi Coast's oldest grand hotels. Owned and managed by the same Gambardella family for more than four generations, the property is also a personal expression of local style. Interiors are embellished with 19th-century antiques and hand-painted ceramic tiles, and even more grand are the exteriors with centuries-old gardens and sweeping views of the Bay of Salerno.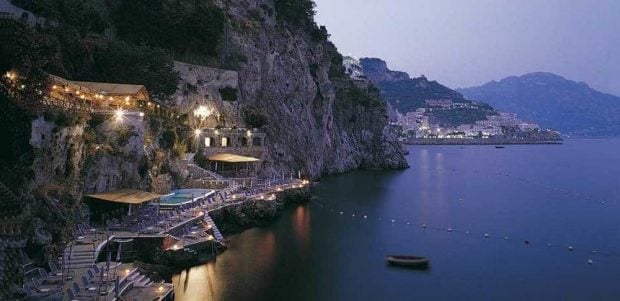 Elevators cut into the rocks sweep guests to a private beach club complete with a large saltwater pool. The romantic setting amidst orange groves and bright pink bougainvillea has not been lost on big names: Elizabeth Taylor and Richard Burton stayed here, as did Angelina Jolie and Brad Pitt.

Guest Rooms
Classic Italian interiors, quintessentially Mediterranean architecture and the style of the villas of Amalfi: all of Hotel Santa Caterina's rooms are spacious and filled with light, with floors in antique hand painted majolica, marble bathrooms with brass fixtures, and balconies with view over the sea of Amalfi or the garden.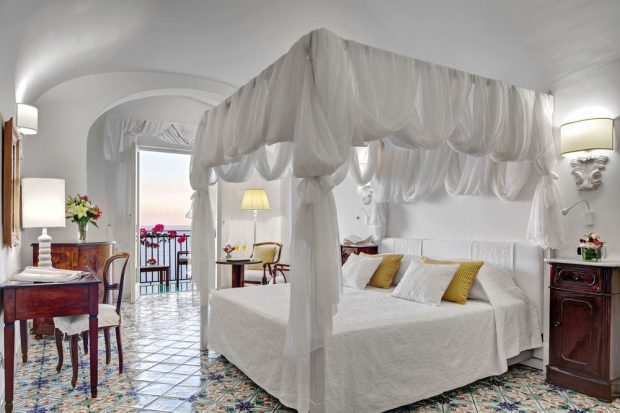 Thirty-six Standard, Superior and Deluxe bedrooms, thirteen Junior Suites, Executive Junior Suites and Suites are located in the main building. The secluded Garden Suites are, as the name suggests, located in the garden area of the hotel. An additional 17 accommodations between deluxe rooms, juniors suites, suites and Senior Deluxe suites are situated in the hotel's Villa Santa Caterina and the recently acquired Villa Il Rosso.
Categories: Abacos, Amalfi, Europe, Italy
Tags: Amalfi, Amalfi Coast, Amalfi Coast hotels, Amalfi coast vacation, amalficoast, Angelina Jolie, Beach Vacation, Boutique Hotels, etraveltrips, Historical site, Hotel, Hotel Deals, Hotel Santa Caterina, Italian cuisine, Italy, Italy Hotels, Italy Travel, Italy Vacation, Luxury Hotels, Mediterranean Sea, Olive, Positano, Romantic getaways, Salerno, Santa Caterina, vacation