If you are like thousands of other people in North America, you are looking to make your dollar go farther. A road trip to Baja California can be an inexpensive vacation that will still offer you adventure and fun in the Mexico sun. A road trip will allow you to visit out-of-the-way destinations that are far more affordable than the typical resort package vacation. Driving will also give you the freedom to explore at your leisure and get away from the tourist crowd. All of these destinations meet the criteria of being inexpensive and completely gorgeous, ideal for an inexpensive Mexico road trip destination.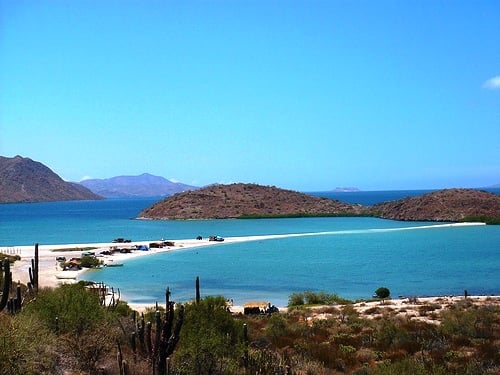 Bahia de San Quintin
The Bahia de San Quintin sits on the west side of the Baja peninsula in a plain surrounded by seven extinct volcano cones. It is composed of three large, interconnecting bays, the Bahia San Quintin, Bahia Falsa and the Bahia Santa Maria. The dramatic landscape is host to a complex coastal environment. Visitors here enjoy fishing, clamming, surfing and diving. Accommodations are inexpensive but rustic; so do not come to San Quintin looking for luxury rooms. You will find, however, a number of well equipped, and reasonably priced, rooms that offer a laid back charm in a quiet and peaceful environment. Check out the Old Mill Motel, just south of Don Eddie's Landing, which offers both hotel rooms and an RV park. Also, the recently remodeled Desert Inn/La Pinta Hotel offers nicely decorated and quiet rooms all within walking distance from the beach.
Mulege
This quiet oasis town in central Baja is a historic mission town that boasts a historic Spanish mission, built in 1705, where services are still held today. The Rio Santa Rosalia runs alongside the town and offers excellent kayaking in the estuary, where visitors can witness a prolific display of birds and other wildlife. Diving and snorkeling here are excellent, as the reefs are home to a colorful array of coral fish, including angelfish, damselfish, parrotfish, the green moray eel, and three varieties of lobster. There are many inexpensive places to stay here, including the Hotel Las Casitas and the Hotel Terrazas. The Hotel Serenidad (serenidad.com) is a bit more expensive but offers spacious grounds that include a pool, restaurant, bar and tennis court.
Cabo Plumo Beach Resort
On the east cape of the Baja Peninsula, about 26 kilometers south of La Ribera, is the secluded coastal area known as Bahia Pulmo. The calm waters of the Sea of Cortez are full of reef building coral. White sand beaches and stoic boulders line the waters and make for excellent scenery. In the midst of this secluded area lies the eco friendly Cabo Plumo Beach Resort. Solar powered palapas will cost you between $60 and $125 a night, with special rates available by the week or by the month. All come with either kitchenettes or full kitchens, which are perfect for preparing your fresh caught fish for dinner. The resort is run by a young American couple who have deep roots in the Cabo Pulmo area.
So if you're looking for a beautiful, interesting, and out of the way affordable vacation destination this summer or anytime, check out these amazing spots in Baja. You won't be disappointed.