La Cala Golf Resort – Costa del Sol Spain
La Cala Resort is situated within the golf valley of Mijas, only 30 minutes drive from the Malaga Airport and 80 minutes from Gibraltar. Being close to the Mediterranean, La Cala beach is just 10 minutes away. Infact from the 11th hole of Campo Asia golf course at La Cala, you are provided with breathaking panoramic views of the resort, Mijas village and the Mediterranean. The resort itself is surrounded by rolling holls and mountains whilst the magnificent five star hotel at La Cala was built in an Andalusian architectural style.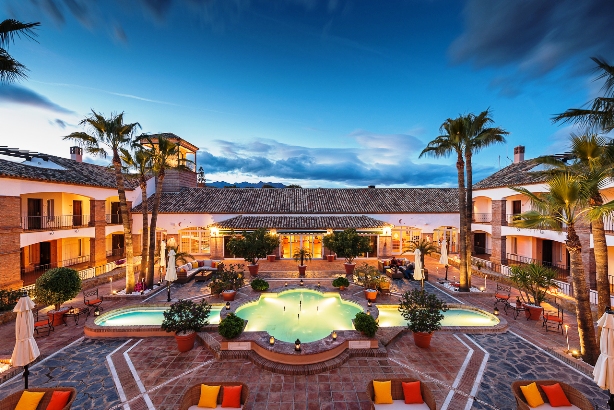 The three championship 18 hole golf courses at La Cala have been designed and created around the hotel and clubhouse to produce some of the finest overlooking views of Campo Asia golf course.
La Cala Five Star Hotel
The five star hotel at La Cala Resort provides its guests with superb dining facilities. At the resort you will find many bars and La Terraza, the hotel restaurant with unforgettable views of the swimming pool and golf course. With glorious weather you are able to enjoy your breakfast, lunch and dinner outside on the terrace or enjoy the views from inside the restaurant.
Enjoy the themed evenings twice a week to incorporate a varied menu. The hotel also has a lobby bar that has become a great place for guests and La Cala residents to meet. Open until the early hours this bar proves popular and during selected evenings live music is provided.
During the summer drinks are also served on the Andalusian patio for guests to enjoy the weather with their refreshments. The swimming pool has a poolside bar that opens during the summer months whilst those who are relaxing and pampered in the Caracala spa can enjoy a refreshing drink from the cafe located inside the spa.
Categories: Abacos, Costa del Sol, Europe, Spain
Tags: Costa del Sol, Family vacations, Gibraltar, Golf, Golf course, Golf Vacation, Hotel, La Cala, La Cala Resort, Mediterranean Sea, Mijas, Resort, Resorts, Romantic getaways, Shopping, sightseeing, Spain, travel deals, vacation