The beautiful island of Lanzarote is well known as a sunshine destination as it has been attracting visitors from around the world for many decades now. Its delightful climate is a real bonus as even if you are suffering from the winter blues you only have to hop aboard one of the many flights from the UK's main airports, and chances are, four hours later you'll be stepping off the plane into glorious sunshine.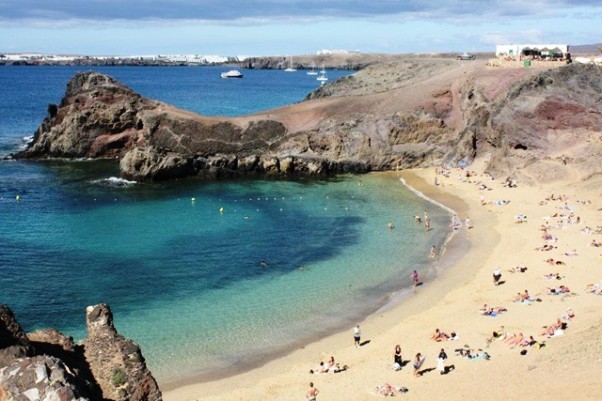 But aside from the outstanding weather and lazing on the beach, the island has plenty more on offer to entice anyone that prefers a bit more action out of their holiday or winter break. So let look at what else the island has to offer the thrill seekers and sports enthusiasts out there.
Lanzarote Rock Climbing and Abseiling
As you can imagine, given its volcanic past it's not surprising that the island possesses a number of peaks just waiting to be scaled by those with experience (and the appropriate travel insurance of course). You can either join an established group or for the more experienced you could even go "freelance" and find your own challenges. The rock composition is quite varied and sharp in places so make sure you are sufficiently equipped and wear appropriate clothing.
Mountain Biking
Sticking with the mountain theme you could also try your hand at mountain biking. You can either hire a bike and go off on your own little adventure on the islands many roads or even to Timanfaya National Park, And if you are a real "fitty" you could even try the iron man course. This is definitely not for the faint hearted though.
Alternatively, there are a number mountain biking tours to suit all ages and abilities, and you can even hire racing bikes on the island if you prefer sticking to the well maintained roads.
Scuba Diving
From the heights of the mountains to the depths of the seas now (there's nothing like a contrast). Lanzarote is a popular diving destination as well, and as such is home to a variety of diving schools that are both PADI and BSAC certified for added peace of mind. The island has a magnificent variety of marine life and the Atlantic waters are crystal clear so visibility is excellent. Depending on your skill level you can go for a casual dive in the shallower waters, whilst those with more experience may want to try their hand at wreck diving.
On The Surface
On the surface however water sports enthusiasts will be in their element as apart from the normal waterborne activities that you can experience in most coastal resorts, such as speed boating, riding the waves on high speed banana's and ringo's and of course snorkelling and swimming. There are a host of other things to try as well.
One of these is surfing, and if you have ever fancied trying your hand, but can't quite bring yourself to experience the cold British waters. Or simply can't afford to jet off to the Hawaiian Islands, then Lanzarote will be ideal for you. With a whole host of excellent surfing beaches, serious waves and excellent weather there is simply no excuse not to take to the boards.
Alternatively Lanzarote is home to a number of kite surfing schools too. Kite surfing will definitely take your breath away as you could end up spending as much time in the air as skimming the waves at breathtaking and exhilarating speeds.
Lanzarote has so much to offer those looking for a sporting holiday or break that there is simply too much to cover in one article. So the only way to experience it all is to pay the island a visit, and find out why visitors return year after year.