Mango Bay's Resort all-inclusive luxury resort on St. James, Barbados  offers the perfect combination of personalized attention with the ease of an all-inclusive holiday, set amongst the tropical glories of lush gardens, white sand beaches, beautifully-landscaped pools, and the wide vistas of the Caribbean. Each of the six classes of rooms, including private apartments and a penthouse suite, boasts a private balcony or patio and garden or ocean views.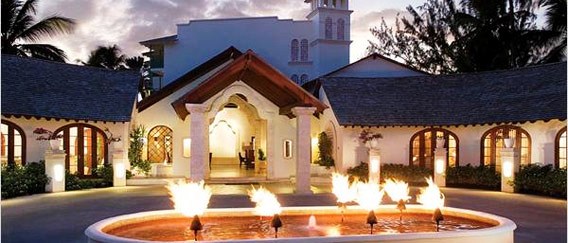 With so much to do, though, you won't be spending much time there; options include scuba diving, water skiing, Hobie-Cat sailing, and snorkeling, as well as a number of land activities and off-site excursions, both by sea and by land for an exciting and enchanting holiday..
Guest Rooms and Amenities: Small, but unique and luxurious, visitors will feel as if they are entering an island estate home when they walk into the lobby of Mango Bay. A vacationer can enjoy a day of relaxation on his or her personal balcony and canopied lounge, which are features of each guest room. The units are also equipped with microwaves, coffee pots, and easy chairs. The resort's penthouse suites offer an outstanding view of the ocean from their own wrap-around lanai.
Guests may select outdoor or indoor dining where they can choose buffet style fare, or Caribbean cuisine. Visitors can indulge in international foods and a wide variety of cocktails and imported beer, as well. Mango Bay also caters to vacationers who like to participate in exercise while on vacation, and a state of the art fitness center is located next to the hotel's lobby.
Guests can choose to utilize bicycles, treadmills, or free weights to burn off extra calories.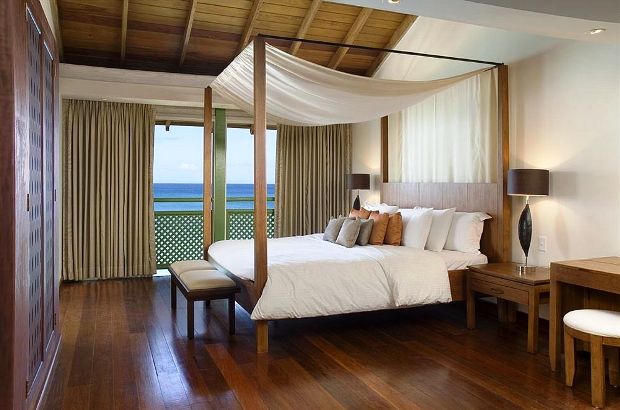 All-Inclusive Mango Bay Restaurant and Bar
Located on the beach, Mango Bay's restaurant offers open-air or indoor, air-conditioned dining. Meals are a mix of buffet and table d'hote options and feature a fusion of Caribbean and international cuisine.
Live music is provided nightly and the bar serves a full range of alcoholic and non-alcoholic beverages, including Gordon's and Gilbey's gins, Smirnoff vodka, St. Remy brandy, Dewars whiskey, Cockspur and Mount Gay rums, and Crisma rum cream.
As you might expect from a pricey resort, dress code applies: Coverups required for breakfast and lunch, and for evening, elegant casual is the rule, with no shorts or jeans allowed. Exception is Friday night barbecue when smart shorts (no cargos) and three-quarter length pants are allowed.
Restaurants: Located along the beachfront, Mango Bay's restaurant offers the choice of either open-air or air-conditioned dining. Meals are a mixture of buffet and table d'hote options and feature a fusion of Caribbean and International cuisine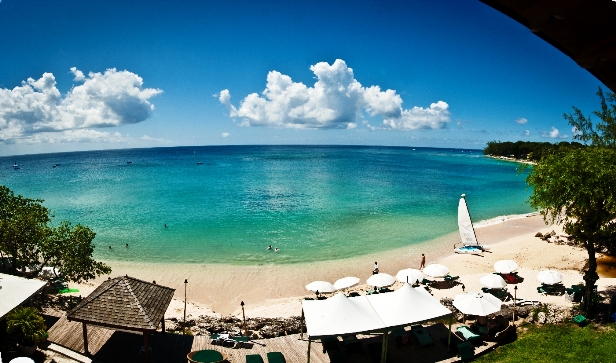 Mango Bay Activities
Included activities are water skiing, kayaking, snorkeling, pedal boats, Hobie Cat sailing, a glass-bottom boat ride, a catamaran trip to snorkel with turtles, and a trip into Bridgetown. There is one free-form freshwater pool at the hotel, open from 6 a.m. to 8 p.m. daily.  There is a mini-gym next to the lobby with a variety of equipment, including free weights. A spa is onsite as well, with treatments available at extra cost.
Landmarks and Attractions: Those who wish to visit attractive and unique cafes, boutiques, shops, and art galleries, may wish to consider a trip to the fashionable Holetown district, which is a mere 5 minutes walk from the Mango Bay resort.
Additionally, one can visit Bridgetown, the historical capital city of Barbados. Bridgetown is located just 30 minutes from the resort, and those interested in educational landmarks or exploring island history will not want to miss a day trip to this intriguing city.
Additional Tips: Barbados' climate does not change much throughout the year, however, April and May are regarded by many fans of Barbados as the perfect time to visit the island. September and October are considered hurricane season so one must proceed with caution if he or she chooses to travel to Barbados this time of year.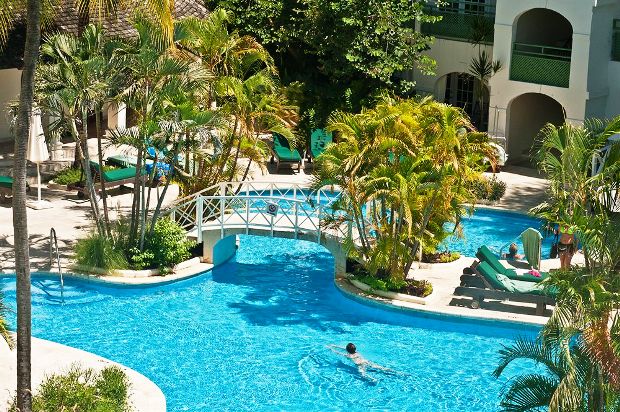 The peak season on the island is from December to May, and visitors must keep in mind that this means they must share the island with a higher number of people if they choose this time of the year for their vacation. Additionally, the dating scene is quite lively during these months, as is the entertainment scene.
However, if one wishes to avoid the evening crowds, he or she should consider having dinner before 8pm. Those who wish to visit the island during high season should strive to make their reservations a minimum of two to three months in advance, especially with regard to all-inclusive packages.
Mango Bay has long been a popular location for wedding ceremonies, and honeymoon trips. The hotel employs specially trained staff who will provide all the necessary services to ensure a memorable wedding and honeymoon for visitors who have their hearts set on an island ceremony. Considering all it has to offer, most vacationers would agree that a Mango Bay all inclusive vacation is the ideal choice for anyone who enjoys hassle free relaxation under the tropical sun.
Mango Bay
2nd St.
Holetown, Saint James, Barbados
Phone: +1-246-432-1384
Website: www.mangobaybarbados.com
Rates start at $595
Save
Save
Save