With over 6.5 million visitors a year, North Avenue Beach is Chicago's busiest. It's no wonder why — the wide, sandy shore and outlook are perfect for gazing at the clear, blue waters of Lake Michigan. North Avenue Beach also plays host to professional beach volleyball tournaments, as well as the annual Chicago Air and Water show. Even in the winter time the beach is worth a visit, as its vantage point provides one of the best views of downtown Chicago.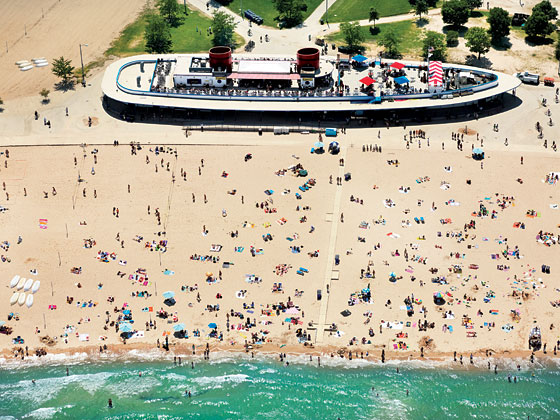 Hey, is that a dry docked ocean liner? No, it's actually the North Avenue Beach House! Open during summer months, the 22,000 square foot beach house provides a number of amenities and services. Sports equipment rental, concession stands, a fitness center, outdoor showers, as well as Castaways Bar & Grill, the only place in Chicago you can sip on a frozen margarita on the Lake Michigan shore.
The $7 million North Avenue Beach House is permanently docked along one of Chicago's most popular stretches of lakefront. The sleek, new ocean liner-inspired building is decked out in a crisp blue and white. Boasting one of the best views in the city, the new beach house has upper decks and portholes for looking at the magnificent horizon or the multitudes of bikers, runners, walkers and rollerbladers streaming down the redesigned lakefront trail.
The original, nearly identical beach house that stood at North Avenue Beach since the Great Depression was classified as a landmark building. However, the PBC received permission to take down the outdated structure in order to build a better facility that serves many more interests.
For hotels in Chicago click the link below
https://www.etraveltrips.com/eTravelTrips/hotels_list.php?vresort_name=&ifacility_id=&vcountry=&vstate=&vcity=chicago&search_rosort=search