Play a great round of golf in the middle of a desert Phoenix Arizona
With over 200 golf courses and more than 300 days of sun on average annually, the greater Phoenix metropolitan area—known more poetically as the Valley of the Sun—has become one of America's most popular winter destinations. With its unmatched combination of exceptional golf, stunning desert scenery and luxurious hotels and resorts, the Valley is without equal in the country. Lovingly manicured fairways (surrounded by cacti and desert scrub), lake-size swimming pools and towering palm trees are ringed by jagged mountains and random rock formations seemingly from the dawn of time.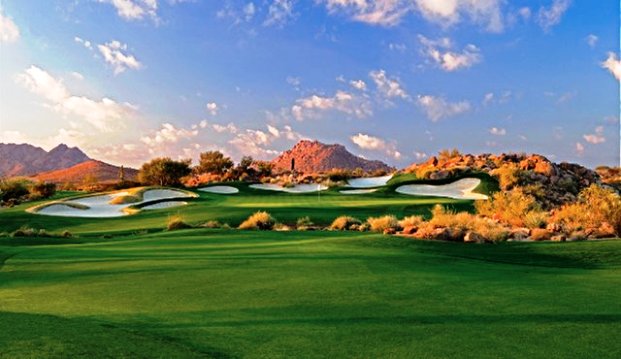 Many resorts and courses are concentrated in and around Scottsdale, also the best place in the area for shopping and dining, and rated by the Robb Report as America's best place to live. Outstanding golf facilities cement Scottsdale's reputation as the golfing mecca of the U.S. Troon North is home to the two top-ranked daily fee courses in the state: the Monument course, designed by Tom Weiskopf and Jay Morrish, and Weiskopf's Pinnacle course.
Perhaps the state's best examples of desert courses, they are considered highly challenging for golfers of all levels. The Grayhawk Golf Club has the Tom Fazio-designed Raptor course, known as one of the state's most difficult, and the Talon course, designed by David Graham and Gary Panks, and famous for its tough 13th hole, nicknamed 'Heaven or Hell'.
In addition to the courses at the Boulders and the Phoenician, a host of first-class resorts and hotels in the Valley cater to golfers and non-golfers alike. The Camelback Inn, opened in 1936 at the base of Mummy Mountain, has two championship 18-hole courses and 453 guest rooms, some with sundecks and private pools, and a spa whose adobe-mud purification treatment is well worth experiencing. It's also Arizona's only resort with a chapel, built of adobe in 1959, in case you want to make this your honeymoon.
Categories: Abacos, Arizona, Phoenix, Scottsdale, USA
Tags: Arizona, Arizona golf, Camelback Inn, Camelback Mountain, etraveltrips, Golf, Golf Vacation, Jay Morrish, Phoenix, Phoenix Golf, Scottsdale, Scottsdale Arizona, Scottsdale golf, Tom Fazio, Tom Weiskopf, TPC of Scottsdale, travel