The name 'Shenandoah'—a native word meaning 'daughter of the stars'—has long been attached to the mountainous region in western Virginia; to the fertile, 200-mile-long valley west of it; and to the lazy river that flows between them to the Potomac. Although memories linger of some of the worst fighting of the Civil War, today the Shenandoah—all of it—is one of the state's most enchanting regions.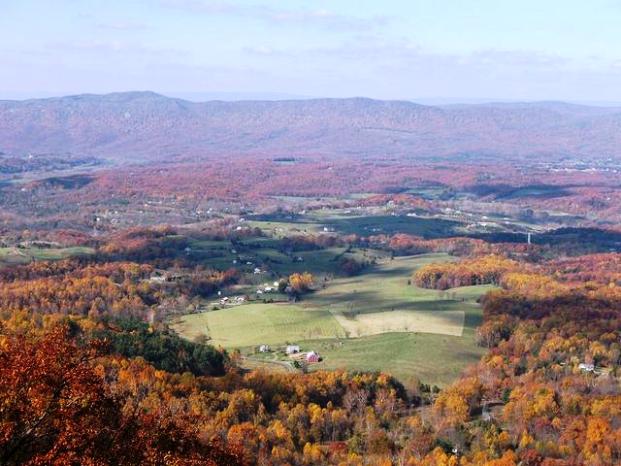 Shenandoah National Park, a nearly 300-square-mile patch between the Allegheny Mountains to the northeast and the Blue Ridge Mountains to the southeast, is one of the country's most popular parks. Herbert Hoover, riding on horse along the crest of the Blue Ridge, was said to have remarked: "These mountains are made for a road." That came to pass in 1939 with the completion of the 105-mile Skyline Drive, which offers views that Hoover called "the greatest in the world". It winds among some 60 rugged peaks, running alongside the Appalachian Trail for about 100 miles and connecting up with the Blue Ridge Parkway at the park's southern border; from there the parkway continues all the way to Great Smoky Mountains National Park in North Carolina.
Most visitors are content with the endless views over hazy farmland from the roadway's 75 balcony-like scenic overlooks, but those looking to get off the beaten path will find close to 500 miles of hiking trails. Like the hardwood forests of New England, the Blue Ridge Mountains are home to sycamores, hickories, oaks and maples that in autumn put on a breathtaking display of colour. Skyland Resort was founded in 1894 at the park's highest peak and still offers spectacular views and comfortably rustic accommodation, plus Shenandoah staples like fresh trout and country ham in its restaurant.
Of the valley's many limestone caves, the most impressive are the landmark Luray Caverns. They're one of the most-visited caves in the East, with nearly translucent stone drapery, a 170-ton fallen stalactite, and the 2,500-square-foot Dream Lake, which is less than six inches deep. The caverns' 'stalac-pipe organ', which uses electronically controlled rubber mallets striking natural stalactites to produce tones, covers 312 acres, earning it a listing in Guinness World Records as the world's largest musical instrument.
Visit the Shenandoah Valley website