Snorkeling in Harbour Island Bahamas
Harbour Island (part of the Eleuthera Island group) is one of the finest vacation getaways in all of The Bahamas. Harbour Island snorkeling opportunities are exceptional and varied, and the island itself is the hub of coral reef snorkeling (and scuba diving) for the entire North Eleuthera area.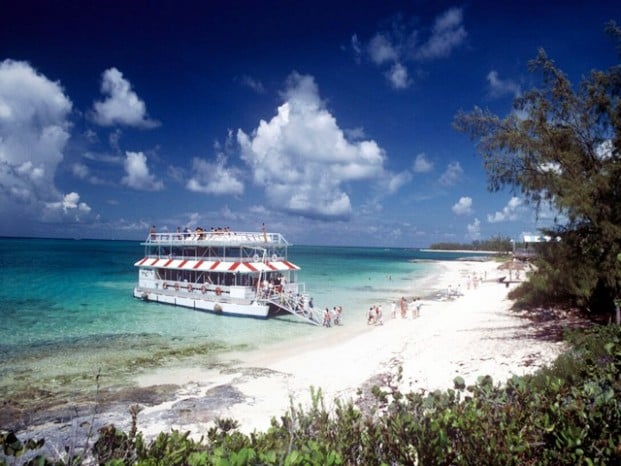 Harbour island Snorkeling Environment
An extensive and well-developed fringing reef system runs the entire length of the east-facing coast of Eleuthera, but most of this reef system is not readily accessed. Harbor Island is an exception to this generality, with many fine snorkeling sites for coral reef exploration but a short swim or boat trip from shore.
There are basically two choices when it comes to Harbour Island snorkeling on coral reefs of the area. One can snorkel either the exposed (windward) eastern coast where the main fringing reef and large hotels are situated, or (alternatively) the protected (leeward) coast which is far less developed in terms of tourism infrastructure, but has sparser and smaller coral formations.
Under calm conditions, your best Harbour Island snorkeling option is to visit reef sites off the eastern shore. The reef formations here are far more extensive, varied, and complex than on the lee side of the island, and when accessible can rival the very best of Bahamas snorkeling opportunities.
Many of the reefs along the eastern shore are shallow enough for great snorkeling, even for beginners. These reefs can be accessed either right from the beach or via a snorkel boat tour. The main reef comes closer to shore at the far ends of the world famous pink sand beach here, so if you plan to snorkel from the beach that's where to go.
Categories: Abacos, Bahamas, Caribbean, Harbour Island
Tags: Bahamas, Beach Vacation, Caribbean, Harbour Island, snorkeling