Stowe – Vermont's Premier Skiing Resort
Stowe, Vermont is one of my favorite ski destinations! It's located in northern Vermont just 45 minutes east of Burlington, Vermont's largest city, and easy to get to via air, car, or train. This quintessential small New England town is replete with over sixty restaurants, pubs, spas, and lodging establishments. Whether your budget is economy or luxury, you'll find it in and around Stowe.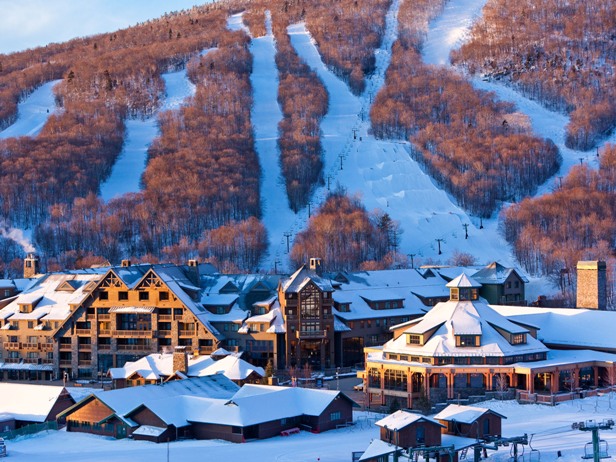 Stowe Mountain Resort, located on Mount Mansfield, is the premier skiing & snowboarding resort on the east coast with a 4,395 foot summit elevation, 2,160 foot vertical drop, 48 trails serviced by 13 lifts, and a whopping 333 inches of annual snowfall. Their recent opening of Stowe Mountain Lodge, a mountainside five-star luxury hotel and spa, further exemplifies their reputation as being the East's premier skiing & snowboarding resort.
The Mountain
Skiers and snowboarders come from around the world to experience Mt. Mansfield's storied terrain, comprised of Mount Mansfield and Spruce Peak. The terrain is predominately intermediate, with 16% rated beginner, 59% intermediate, and 25% advanced. On Mount Mansfield, An eight-passenger gondola services Gondolier, Perry Merrill, Chin Clip, and the Cliff Trail. The Perry Merrill trail is a great run and lots of fun!!!
For a relaxed yet distinctively elegant lunch, the Cliff House at the top of the Gondola lift features fine dining within a rustic interior and spectacular panoramic-view seating of the surrounding alpine peaks. If you're not watching your calories, grab a waffle (or two) coated in chocolate from the Waffle House at the base area or just as you get off the Gondola at the summit.
The downside to northern Vermont is that it can get very very cold and windy, and Stowe is no exception. Twenty degrees below zero off the summit is not all that uncommon. If you're lucky enough to visit Stowe during one of those cold spells, the upside is that you'll have the mountain all to yourself, but it will be so cold that you'll have to limit yourself to the main runs around the Gondola so that you don't turn into a frozen ice cube on the ride up the mountain.
Categories: Abacos, Stowe, USA, Vermont
Tags: Adventure Travel, Family vacations, Mount Mansfield, New England, Shopping, Ski Vacation, Spa Vacations, Stowe, Stowe Mountain Lodge, Stowe Mountain Resort, Stowe Vermont, Trapp Family Lodge, Vermont