Baton Rouge the Capital City of Louisiana stands proudly on the banks of the Mississippi River. It was founded back in the 1700's and is still steeped in history. Over the centuries, it became a major inland port and shipping activity today continues to bring wealth to the city through trade in oil and gas.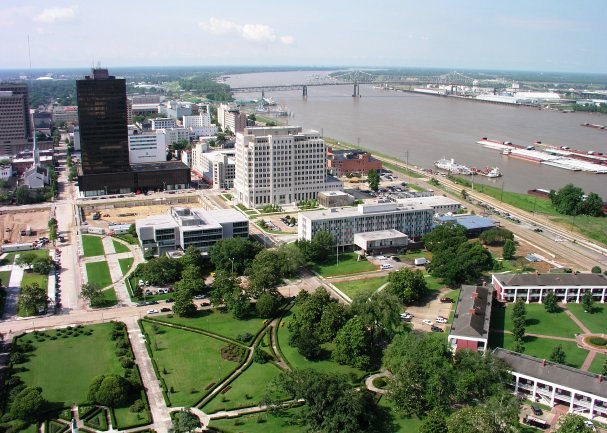 The city is home to the Southern University and the Louisiana State University, which add character to a southwestern district that is characterized by upbeat shops, as well as lively restaurants and nightclubs.
Being built in a low-lying area along the Mississippi River requires more flood protection than the Istrouma Bluff naturally provides – the city fathers have added an extensive levee system to better protect the riverfront and low lying farming areas.
Highland Road is the central hub of city life and offers visitors even more in terms of stunning shops, boutique cafes, and up market restaurants serving local traditional delights. The main tourist information office conveniently provides extensive detail about attractions in Baton Rouge, providing travel maps, leaflets, event and general travel information about every conceivable attraction.
The Louisiana State Capitol, which is an art deco skyscraper, is also the region's tallest building, and dominates the skyline, rising gracefully over large, generously landscaped gardens.
The Old State Capitol that overlooks the Mississippi River is an equally impressive edifice. Decorated in neo-gothic style it is home to a museum dedicated to the fascinating history of Louisiana and Baton Rouge.
Other popular tourist attractions:
Baton Rouge Casino Riverboats – a series of repro riverboats tied up along the riverbank and providing a uniquely scenic and relaxing form of gambling.
St. Joseph's Cathedral – this historic church was founded over 250 years ago and is decorated in a wealth of historic furnishings.
A visit to Baton Rouge is incomplete without enjoying the region's unique blend of Cajun and Creole cuisine that should bust your taste buds open.
Blue Bayou Water Park – an exhilarating water park complete with waterslides.
Baton Rouge's Enchanted Mansion Doll Museum – offering a spectacular array of dolls and other toys from the nineteenth century.
The spectacular Old Governor's Mansion – it contains period furnishings and is also the headquarters of the Foundation for Historical Louisiana.
Magnolia Mound Plantation Homes provide a fascinating insight into times gone by:
Magnolia Mound Plantation – a gorgeous eighteenth century Creole-style house that includes a museum.
Baton Rouge's Mount Hope Plantation – where Gone With The Wind was filmed. It is a perfect example of a classic antebellum house.
San Francisco Plantation – a grand 19th-century Louisiana plantation home near Baton Rouge. It contains a huge collection of artifacts and furnishings from a bygone period.
Baton Rouge has a great deal more to offer than a few old dusty buildings and is an ideal introduction to the State of Louisiana.