The Georgia Aquarium and Downtown Atlanta
The opening of the Georgia Aquarium  elicited such excitement and intrigue as the new one in Atlanta did in 2006. The $250 million (£162 million) gift of Bernard Marcus to the city where his company, Home Depot, began, it is the world's largest aquarium. Located in downtown Atlanta, traditionally the domain of office workers, not tourists, it is a nine-acre state-of-the-art facility with a staggering eight million gallons of both fresh and salt water that contains more than 100,000 different animals, representing over 500 of the planet's marine species.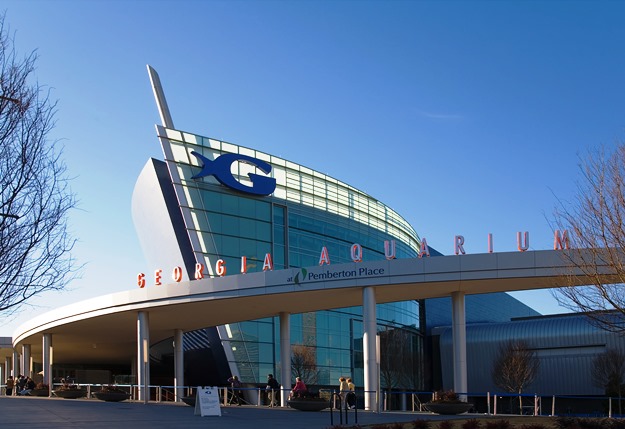 The aquarium is divided into several marine-life areas. One of the most popular, perhaps owing to its appearance in sultry Georgia, is the Cold Water Quest, a habitat for creatures that thrive in the world's icier seas. Here, you'll see beluga whales, California sea lions, African black-footed penguins, a giant Pacific octopus and Japanese spider crabs. The Ocean Voyager is another crowd pleaser, where stingrays, whale sharks (the largest species of fish in the world) and groupers swim gracefully through a 100-foot-long saltwater tunnel.
Next to the aquarium is the brand-new World of Coca-Cola Pavilion, an exuberant tribute to the world's most popular soft drink. You can then wander around the 21-acre Centennial Olympic Park, the focal point for the 1996 Summer Olympics, and walk to the CNN Center (the Cable News Network's studio headquarters), where a behind-the-scenes tour is a uniquely Atlanta experience.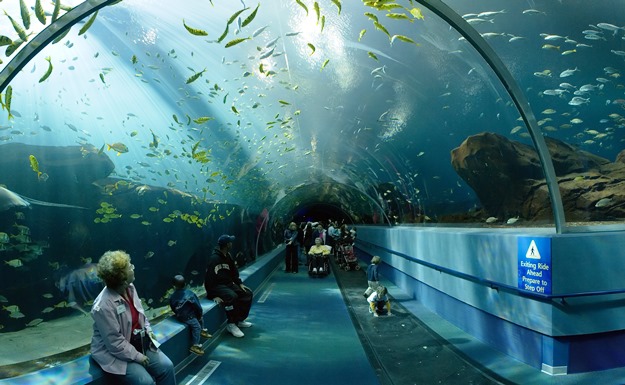 If all this walking and gawking has you feeling hungry, make the short drive to the world's largest drive-in, the Varsity, open for business since 1928. There's seating for 800 people, who consume some two miles of hot dogs and 300 gallons of chili every day. Servers traditionally bark "What'll ya have?" to customers, who respond with orders for cheeseburgers (topped with pimento cheese), barbecue pork sandwiches, crisp onion rings and hulking chili cheese dogs—with a gigantic cup full of Coca-Cola, the local drink of choice.
Categories: Abacos, Atlanta, Georgia, USA
Tags: 1976 Summer Olympics, 1996 Summer Olympics, 2004 Summer Olympics, Aquariums, Aquatic animal, Atlanta, Atlanta metropolitan area, Behind-the-scenes tours, Centennial Olympic Park, CNN, etraveltrips, Family vacations, Georgia, Georgia Aquarium, Southeast, travel