Take a quick look at hotels in the Arlington area, just to see what is available in one of the United States most popular cities. The Arlington Holiday Inn located on 1311 Wet N Wild Way in Arlington, Texas is a hotel located in the heart of the city close to the ballpark and many other cool places.
This hotel is halfway between Dallas and Fort Worth offering the holiday maker a great position in which to explore some great locations and attractions. This hotel offers the traveler for work or holiday makers some great features such as the indoor pool and hot tub.
It has a fitness centre and wonderful outdoor guest patio. So if you want to work out or sit outside and read your newspaper while enjoying a good cup of coffee this hotel could be the one for you. If you have business in Dallas or are in town to see the Rangers or Cowboys then the Holiday Inn at Arlington is a great choice. Priced reasonably this hotel won't cost you to much while allowing you to enjoy your time away from home while on business or vacation.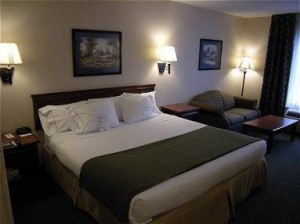 With 147 rooms that are brand new; you can have a suite or even a whirlpool suite, there is a choice for everyone. To help you gain the best from your stay, they hold a weekly managers' reception. All rooms have high speed internet access so you can keep in touch wherever you are. For the person that does business over the internet having high speed internet is a must. Many business men and women will not stay in a hotel without it.
All rooms have a microwave, refrigerator and coffee maker.
There is a work desk should you need it in each room. You get a free newspaper delivered to your room each morning for your enjoyment. They give you a direct dial phone which allows you free local calls. For the family, they can offer a crib and individually controlled air conditioning. You can request rooms that connect and some rooms have a rollaway bed/cot.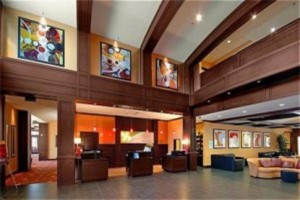 All rooms are non-smoking. Stereo and colored televisions with cable are set features in each room. The suites have whirlpool and are large two roomed with a separate living area and wet bar. The hotel has a Sporting News Grill and bar, where they offer breakfast and dinner among large plasma TVs offering you the chance to catch your favorite team playing. If you wish they have room service from 6a.m.