The Lodge at Woodloch features 58 rooms over 3 floors accessible by elevator. The first true luxury destination spa to open in over 10 years is here – The Lodge at Woodloch. This extraordinary respite for mind, body and spirit is nestled in Pennsylvania's lake region – easily accessible from anywhere in the Northeast.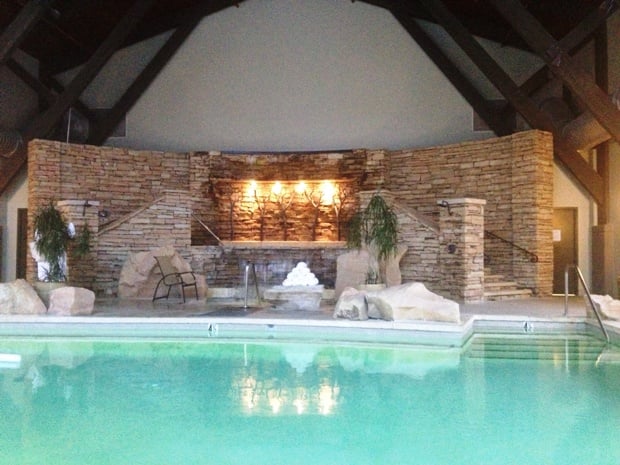 You will find superb amenities with every conceivable choice for contentment and challenge available to you. A stay at our luxury spa resort offers the opportunity to learn and grow, strengthen and beautify, relax and reflect. It's all possible at The Lodge at Woodloch – where every day is a fresh awakening. The Lodge at Woodloch offers a private 15-acre lake for row boating, kayaking and fishing.
Guest Rooms at The Lodge at Woodloch:
There are 58 rooms at The Lodge, all with terraces and views. Lakeside rooms overlook stands of oak, maple and linden ending at the lake; on the other side is a view of a landscaped rock garden and waterfall. (When the leaves are off the trees, you can see the parking lot from the south.) All rooms at The Lodge are similarly furnished—comfortable and pleasant. There are flatscreen TVs on the wall and every room has wi-fi. Only the junior and one-bedroom suites have bathtubs. Marble showers are spacious enough for a couple.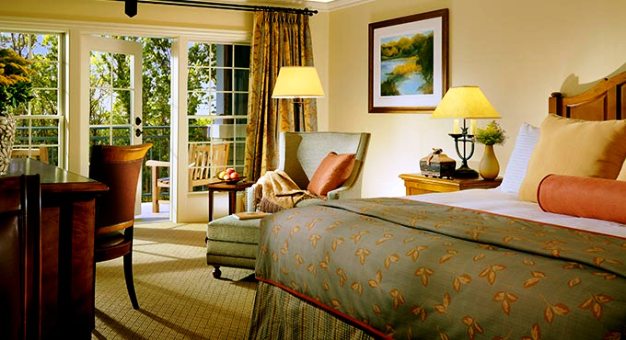 Dining at The Lodge at Woodloch:
Dining is a treat at Tree, The Lodge's restaurant, where there is live music every evening. And it is not the typical spa menu, with calorie counts and fat grams numbers in your face. Tree offers a lively menu that features fresh ingredients (organic when possible), beautifully presented. Portion sizes are on the smallish side (but not small) and there are offerings for meat lovers as well as aficionados of good desserts. Tree's scrumptious breads are home-baked, as are its pastries. For those who want to make Tree's healthy cuisine at home, there are entertaining cooking demonstrations.
Spa at The Lodge at Woodloch:
The spa is large and comfortable, offering many different treatments. Even couples who eschew hands-on treatments are likely to appreciate the setting. The sauna has a windowed wall that looks out into the forest. The day one of us used it, a deer leaned against the glass to warm itself. The glass-enclosed pool has two waterfalls that provide a massage for those sitting under them. Outdoors, there's a heated whirlpool just outside the pool that can be used in any weather.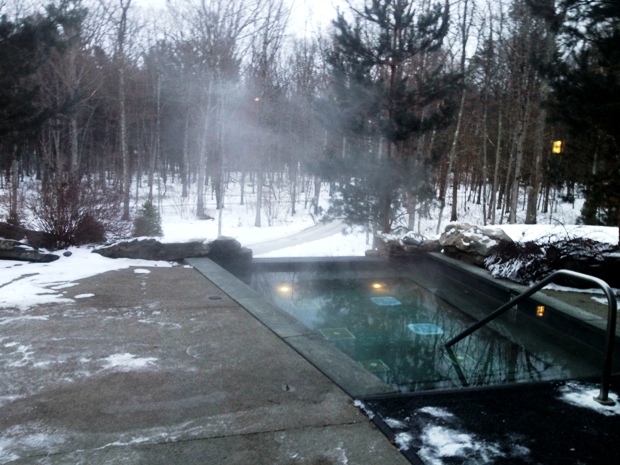 Amenities
All packages include: lavish accommodations, 3 gourmet meals daily, use of all spa and fitness facilities including the Personal Spa Concierge, and access to classes, special programming, and outdoor activities
Private, spacious verandas with woodland lake or rock-garden waterfall views
Flat-panel LCD televisions with DVD/CD player
Luxury bedding with down comforters
High-speed wired and wireless Internet
Telephones with voice-mail message system
Refrigerator
In-room safe
Iron and ironing board
Room service during meal periods
Maid service twice daily
Complimentary morning paper available
Complimentary self-service laundry facility
Dry-cleaning and laundry service available upon request
Razors And Shaving Cream
Plush Terry-Cloth Robes
Spa Sandals
Blow Dryers in All Guest Rooms & Grooming Area and Curling Irons In Grooming Area
Shampoo, Conditioner, Hand Lotion and Other Grooming Amenities
Tote Bags & Water Bottles
Please note that children under the age of 16 are not permitted.
The Lodge at Woodloch
109 River Birch Lane
Hawley , PA 18428
United States
1.866.953.8500
www.thelodgeatwoodloch.com