Nestled in Manhattan's Upper East Side, The Surrey hotel is both a familiar destination and an unexpected delight. We offer our guests authentic service, cultural inspiration and singular experiences at every visit. Exceptional moments at The Surrey extend well beyond your accommodations.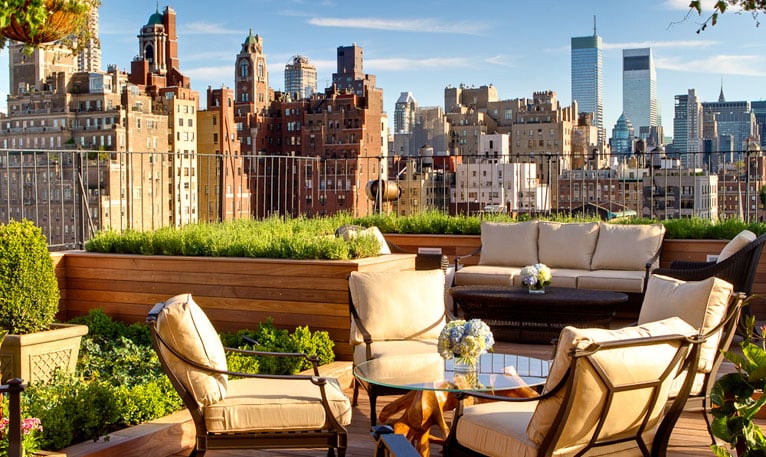 Whether you prefer entertaining in the private roof garden, indulging in a relaxing massage at the Spa or dining at your favorite table at Café Boulud, personality and personal preferences inform our service from the moment you make your reservation. Built in 1926 as a residence hotel, the original Surrey was home to many of New York's most eccentric celebrities over the years. JFK. Bette Davis. Claudette Colbert. Famous faces who recognized the allure of exceptional, discreet service.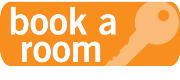 In re-creating The Surrey,  collaborated with acclaimed interior designer Lauren Rottet and paid special attention to maintaining the integrity of this history while modernizing what has become New York's most intimate address. Rottet's inspiration was a New York City townhouse passed down through the generations, the keeper of a lifetime of memories.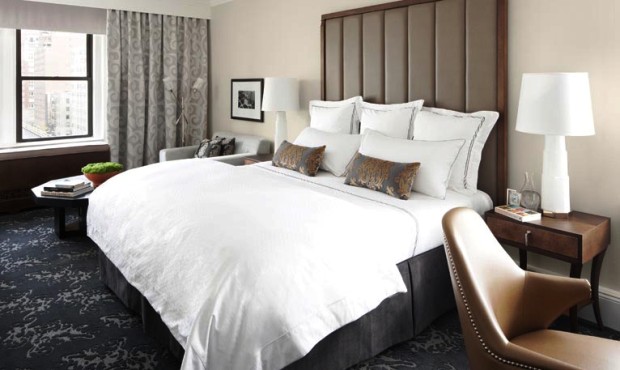 Accommodation:
With white walls, white bed linens, a white TV armoire and sheer white pull-down shades, decorative serenity figured large in our room's DNA. And it worked. If comfort is the ultimate luxury, our Deluxe "salon," ie a room that isn't a suite, had luxury in spades, with soft Sferra sheets, thick Pratesi robes, coffee table books stacked in the bedside tables and, the ultimate luxury, a king-size Duxiana bed that was truly heavenly. The luxury didn't extend to space.
Though not small, at 330 square feet the room wasn't especially large and felt full with a sleek ebony desk, slightly scuffed, a comfortable club chair with footstool, a TV armoire/bureau and that bed eating up the space. The closet, billeted in a handsome build-in wood hutch that included a bar, was also less than large, but we liked the mirror insets on the doors.
The look blended traditional elements (bedskirt, curtains, carpeting, tassels) with contemporary style (chocolate leather rectangular headboard; a white-skirted table lamp we loved). In short, the room sang in perfect tune with the classy, polished style of this Upper East Side neighborhood.
Even the bathroom had perfect pitch. The look was updated Downton Abbey – white marble, a generous washstand and an elegant mosaic tile inset on the marble floor. Though outfitted with a stall shower instead of a tub, the shower was generous with a stationary shower head and a hand shower, both excellent. We also liked the bathroom speaker so we could hear the TV when we washed up.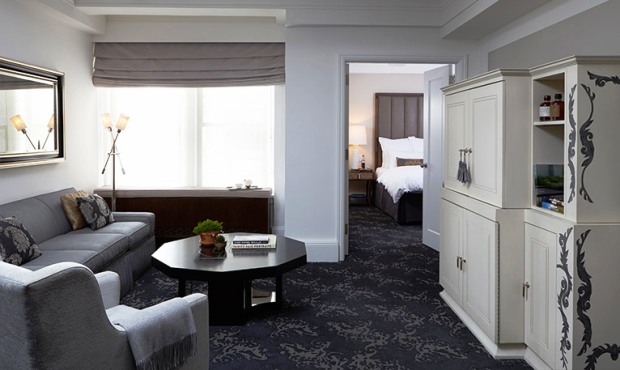 Bar and Dining:
Definitely not a poor relation, Café Boulud, the hotel restaurant, is a more relaxed, low-key incarnation of Daniel, uber-chef Daniel Boulud's flagship restaurant. The haute nouvelle French cuisine, with seasonal inflections, is as stylish as the clientele, who tend to include more locals than hotel guests. (It's a rich, pricey canteen if you're having all your meals there.)
The décor marries clean, modern lines with tradition (white tablecloths, fresh flowers on the tables). We breakfasted on a superb Peeky Toe Crab Benedict ($19), one of the best, most imaginative Benedicts we've ever eaten. Café Boulud cooks up room service and also supplies the nibbles at Bar Pleiades, the hotel's gorgeous black and white bar. With a spacious back room of tables whimsically numbered, elegant velvet chairs and the odd bold-face name socialite in the crowd, the bar is good looking and amusing. We gave the food a 10 (juicy beef sliders, an excellent arugula salad) but the drinks a 6 – too stingy. But the Old Fashioned is appealing if you like sexy drinks and don't mind paying  $22.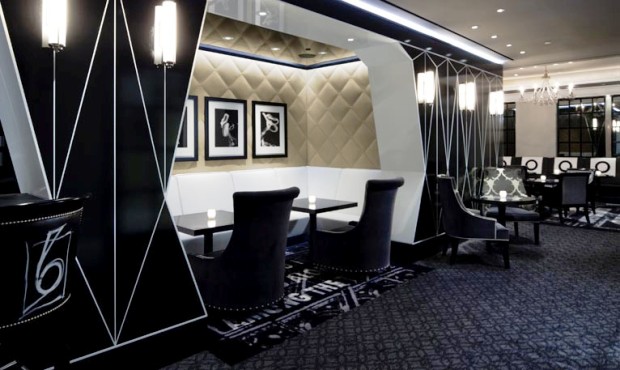 Amenities:
In addition to minibars, rooms come with a selection of small batch libations in full-size bottles, and you can request a bartender to come up and mix drinks. WiFi ($15.95 a day) free in the lobby. Pets allowed ($75 a day). Good-looking full-service spa with five treatment rooms. The fitness center, accessible with a keycard, is clean and well-equipped. The private roof top garden comes with a butler. Lauratonatto bath products.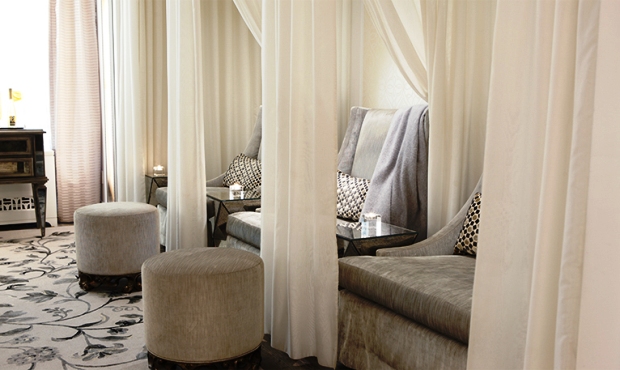 Private Roof Garden
Perched peacefully on the 17th floor overlooking the Upper East Side and Central Park, the seasonal private rooftop garden at The Surrey is a true oasis. A tranquil, elegant setting for relaxing, a romantic evening or for business entertaining, the seasonal garden features light food by Café Boulud and numerous signature cocktails including our freshly muddled lemonade with your choice of fresh fruit and herbs.
Things to do in the neighbourhood
The museums. The landmarks. The shopping. Experience the very best of New York, easy walking distance from your home away from home on East 76th Street. Explore the galleries, upscale boutiques and restaurants on famed Madison Avenue. Stretch your legs in the natural beauty of Central Park. Take in a new exhibit at the Met. Endless options—all conveniently located in one of Manhattan's most exclusive neighborhoods.
Extremely desirable if you crave the established silkiness of Manhattan's Upper East Side. Though on a residential side street, the hotel is steps from a stylish stretch of Madison Avenue populated by shops (the new Ralph Lauren, Frederic Malle's fragrance boutique, Morgenthal-Fredrics eyeglasses, cool pharmacy Zitomers), fine art and antiques galleries and the Whitney Museum of American Art.
The hotel is also near Fifth Avenue's Museum Row, a formidable line-up including the Metropolitan Museum of Art, the Frick Collection, the Guggehneim, the Jewish Museum, the Cooper-Hewitt and more. Midtown shopping is walkable if you like walking (Barneys, Bergdorf Goodman, Saks, etc) and easily reached by bus (stops are a block away) if not.
Though most nearby restaurants are pricey, Madison boasts coffee shops like Viand and Five Guys and deli-like outposts like Dean & Deluca. Lincoln Center is a cab ride away across Central Park. The subway station is several long blocks away. But taxis cruise Madison Avenue regularly.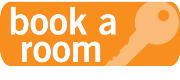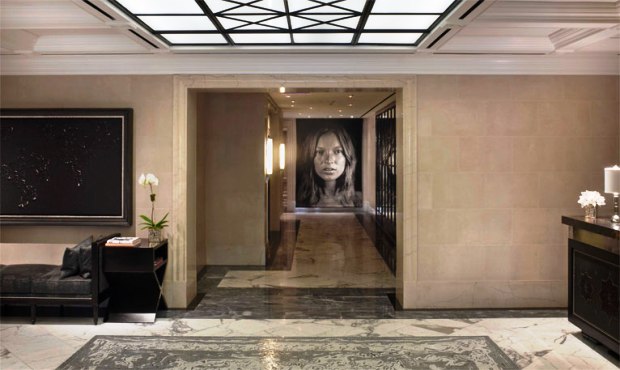 The Surrey
20 East 76th Street
Upper East Side 10021
PHONE: 1.877.999.0680
Visit the  Website thesurrey.com
Save