Road Trips and BBQ were made for each other. Folks in the south are known for cooking up some of the best BBQ on the planet. The passion and pride of Southern pit-masters rival that of any NASCAR or college football fan. In the Bible Belt, there are just about as many BBQ joints as there are churches and just as many different styles of BBQ as there are religious denominations. Whenever you are road tripping through the south, you're sure to find something to your liking. Here are 10 iconic, can't-miss BBQ joints we've encountered that are worth the detour. You'll be in hog heaven!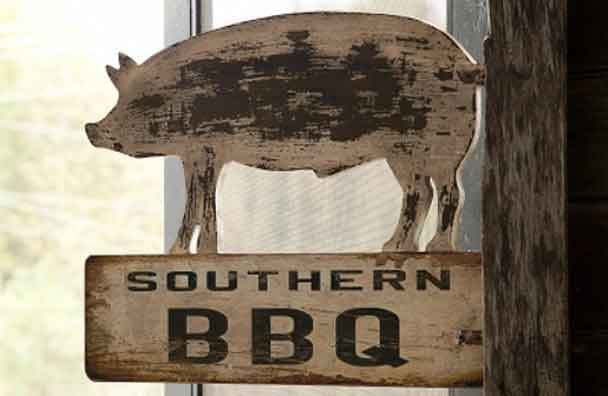 Alabama
The original Dreamland Bar-B-Que, in Tuscaloosa, has been visited by celebrities, athletes, politicians, and a slew of football coaches. The ribs are slow-cooked over hickory wood, basted with a mixture of vinegar and Dreamland's secret sauce, and served with a loaf of white bread for sopping. Be sure to save room for the banana pudding. If you're there on a football game day, you may have to wait two to three hours for a table, but it's worth it.
Archibald's BBQ, in Northport, is a small cinder-block shack built in the backyard of owner, George Archibald, Jr.  It's been in business for more than 50 years. The restaurant isn't much to look at, but I dare you to drive past it with your windows down and not stop in; the aroma is absolutely seductive. The meat is basted only with water as George believes in letting the smoke do most of the flavoring. There is a reason that Archibald's BBQ has been featured in USA Today, Southern Living magazine, and on "Good Morning America."
Big Bob Gibson Bar-B-Q, in Decatur, has won numerous awards and competitions for producing pork perfections. But what lands Big Bob on our list is the Bar-B-Q Chicken topped with Gibson's legendary White Sauce—a blend of mayonnaise, lemon, vinegar, horseradish, cayenne, salt, and pepper. If you've never tried an Alabama-style white sauce then there's no better place to give it a go than the place that invented the stuff back in 1925.
Georgia
Fat Matt's Rib Shack is a must for any BBQ-lover passing through Atlanta. BBQ and the blues are perfect pairing, and Fat Matt's serves up their lip-licking Q to live blues music every night of the week. Some of Atlanta's finest blues musicians perform in front of a Mt. Rushmore-inspired mural depicting blues legends B.B. King, Robert Johnson, Chuck Berry, and Muddy Waters instead of presidents.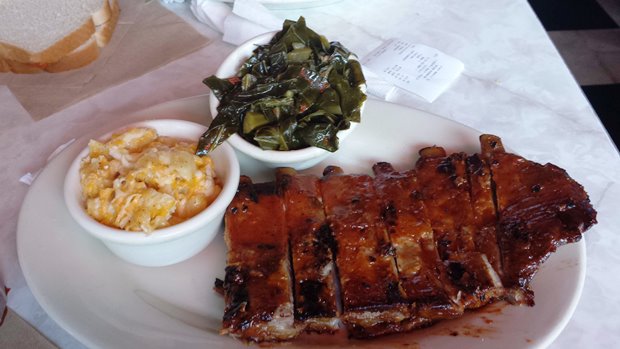 Mississippi
The Shed, in Ocean Springs, looks like a building with aspirations of becoming a shack. But as often the case in the BBQ world, the best food comes from the most unassuming places, and this joint is no exception. The Shed has been featured on the Food Network's "Diners, Drive-Ins, and Dives," and on the Travel Channel's "Man vs. Food." The combination of award winning whole-hog BBQ with live music makes The Shed the ultimate party atmosphere.
North Carolina
Wilbur's Barbecue, in Goldsboro, is an absolute must for anyone wanting to experience eastern North Carolina BBQ at its best. Presidents George H Bush and Bill Clinton have dined at Wilbur's, where whole hogs are slow-cooked over hardwood coals and moistened with apple cider vinegar seasoned with red chili flakes. Wilbur's vinegar-based sauce may just change your perception of what BBQ should be. You may never eat pork with a sugary tomato-based sauce again.
Viewfinder Tip: Read online reviews to find a BBQ joint that prepares pork to your preference. The key factors to look for are how it is cooked, how it is seasoned, and whether the sauce is mustard-, tomato-, or vinegar-based.
South Carolina
Sweatman's BBQ, in Holly Hill, specializes in cooking whole hogs over oak, hickory, and pecan wood for 12-14 hours a pop. By cooking the whole pig, chefs are able to keep the meat moist, and get it to absorb the flavors of the bacon and fat. Sweatman's has been featured on a number of Travel Channel shows and does enough business on Fridays and Saturdays that it is not necessary to open other days of the week. Plan your trip accordingly.
Tennessee
Wherever you drive in the state of Tennessee, do yourself a favor and take a detour to Memphis—even it it's hours out of your way. Memphis is the BBQ center of the universe and is home to some of the most legendary BBQ joints in the world.
Charlie Vergo's Rendezvous is located in an alley across the street from The Peabody hotel in the heart of downtown Memphis. Famous for its dry-rub ribs, Rendezvous is the synonymous with Memphis-style BBQ. The ribs are basted with vinegar during cooking, and the dry rub is applied just before they're brought to your table. They are so addictive, you'll want to eat them the bone.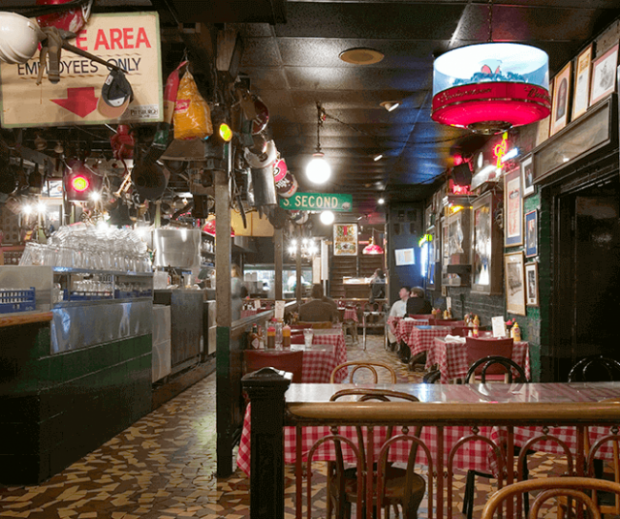 Southern BBQ comes in a wide variety of styles
Payne's BBQ is located in what appears to once have been a service station. Don't let its looks deceive you. The pulled pork topped with Payne's mustard cole slaw makes one of the best BBQ sandwiches you'll ever put in your mouth. If you give it to go, be sure and grab plenty of napkins—you're going to need them.
Interstate Barbecue was rated by People as second-best in the nation. Founder Jim Neely prefers cooking in a closed pit as this strategy tends to keep much of the moisture in the meat. Two of the more creative items on the menu, the Bar-B-Q Spaghetti and the Bar-B-Q Nachos, are not to be missed.