Take a tour of Empire State Building in New York City, United States . It is perhaps the most famous building in America, but certainly in New York City. The Empire State Building was the tallest building in the world for forty years. Since its construction in 1931, it has been an important part of the city's skyline. This 102-story, 1,050-foot tower has left its mark on American pop culture.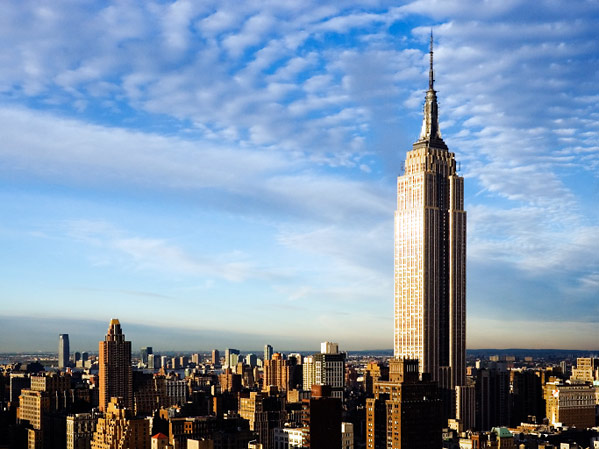 Empire State Building facts
• The Empire State Building is one of the most famous skyscrapers in the world, built in just 18 months during the Great Depression, it was the world's tallest building from 1931-1972.
• It's original cost, including the price of land, was $40,948,000, a very low figure for a building of this size even at that time. The building itself cost only $24,718,000.
• The Empire State Building was built on the former site of the Waldorf-Astoria Hotel.



• The shape of the Empire State Building was inspired by its developer, John Jakob Raskob, who is said to have pulled a pencil from his drawer, held it up to his architect (William Lamb), and asked "Bill, how tall can you make it so that it won't fall down?"
• The observation tower at the top of the Empire State Building was originally intended to be a dock for mooring airships. However, after several futile attempts at mooring a zeppelin in the strong winds present at 1250 feet, the idea was scrapped.
• On a Saturday, July 1945, a B-25 bomber crashed into Empire State Building's 79th floor, which housed the Catholic War Relief Services. Only 14 people died and the Empire State Building reopened 2 days later.
• The top of the Empire State Building is lit up at night in different colors to celebrate various holidays. For a long time after Sept. 11, 2001, it was continuously lit red, white, and blue.
• The height of the antenna has been decreased from 448.7 meters (1472 feet) to 443.2 meters (1454 feet).
• After 09.11.2001, it regained its title as the tallest building in NYC, lost from the destruction of WTC twin towers. It will be surpassed by One World Trade Center in 2013.
• The 86th floor observatory is visited by 3.5 milllion people every year.
• Member of "World Federation of Great Towers".