Occupying an entire city block, this Art Deco landmark is every bit the Grande Dame you would expect. The Waldorf Astoria has combined luxury with a wealth of amenities and services. This 42-story Art-Deco hotel, located in mid-town Manhattan, beckons New Yorkers and visitors alike. An official New York City landmark since 1993.
The Waldorf Astoria is synonymous with elegance and grandeur, boasting recent renovations totaling in excess of $300 million and renewing the splendor that as long made it an international icon. For some, a stay at the Waldorf Astoria Hotel in New York is almost as fundamental to an authentic Big Apple vacation as seeing the Statue of Liberty or sipping a Manhattan cocktail.
Opened in 1931, this Art Deco building maintains an enviable reputation as one of the finest hotels in the world, with luxurious fixtures and fittings, individually designed rooms and king-sized marble bathrooms.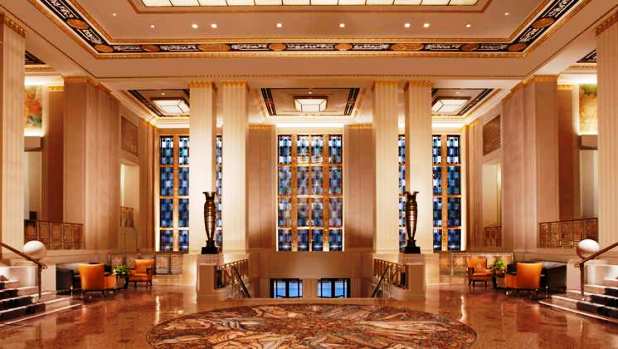 You'll follow in the footsteps of U.S. presidents, heads of state, socialites, and celebrities when you enter the Waldorf Astoria New York's opulent lobby. As you pass through the Park Avenue entrance, stop to admire the circular Art Deco floor mosaic created in 1931 by French artist Louis Rigal.
The 42-story hotel offers 1,416 guestrooms and suites, and no 2 are the same. At the end of a day of meetings or exploring the city's sights, you'll be relieved to sink into a bed with a plush pillowtop mattress and triple sheeting. All guestrooms and suites have flat-screen TVs with premium and international channels. All rooms offer high-speed Internet access (surcharge).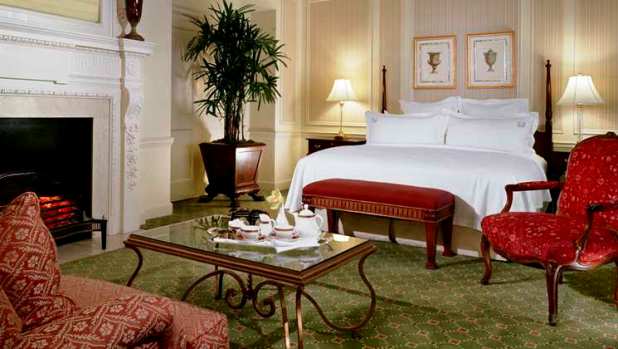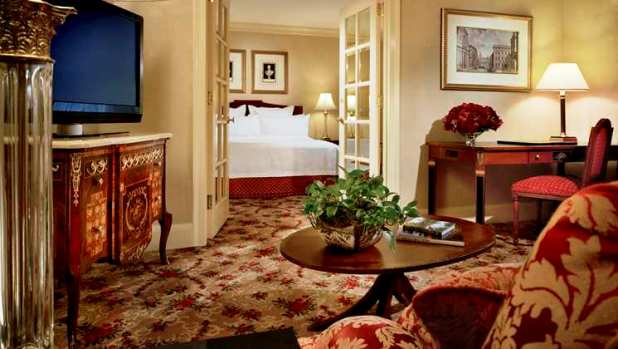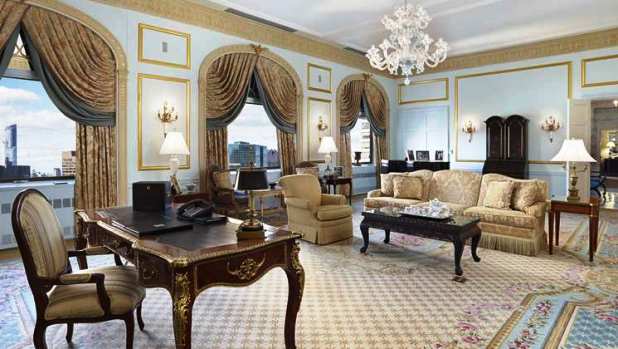 The Waldorf's lobby is home to some of New York's most celebrated restaurants and lounges. Peacock Alley is renowned for its extravagant brunch, and Oscar's American Brasserie specializes in the Eggs Benedict – a dish, by most accounts, that was invented at this hotel. Rub elbows with the city's elite at Bull and Bear Steakhouse's mahogany bar, or sample a steak. Room service is available 24-hours a day.
The Waldorf Astoria also holds its own when it comes to fine dining – two very well-known dishes, the popular Waldorf salad as well as Eggs Benedict, were invented in the Waldorf's kitchen. Weary travelers can book a treatment at the Guerlain Spa – imbibing in the Pure & Radiant Back Treatment or the Scalp Massage and Reflexology sessions – while shoppers are amply catered for at the boutiques surrounding the lobby.
Restaurants
Peacock Alley was inspired by the promenade that once connected the original Waldorf and Astoria hotels. Located in the heart of the main lobby, the restaurant features a bar, discreet lounge and private dining salon. Marrying a classic and warm ambience, it offers guests and New Yorkers alike a Power Breakfast, an à la carte lunch menu, a unique selection of small plates and traditional dinners.
Oscar Brasserie – Sample Waldorf favorites such as Eggs Benedict and Waldorf Salad at this iconic restaurant, named for Oscar Tschirky, the maitre d' who defined the concept of epicurean public dining. Also try omelets and pancakes for breakfast, and for lunch, salads and Manhattan's best burger.
Bulls and Bears – The New York Times cites the mahogany bar at Bull and Bear as one of the world's three greatest.  Sip libations at one of the most historic and well-recognized bars in New York City.
Bulls and Bears Steakhouse – Since opening in 1931, Waldorf Astoria New York has been a favorite gathering spot for Manhattan's financial and Wall Street elite. At the Bull and Bear Prime Steakhouse, the former men's club, the magnificent bronze statues of a bull and a bear stand behind the bar, representing the significance of the bar in the financial life of the city.
The legendary mahogany bar at Bull and Bear has been cited by The New York Times as one of the world's three greatest.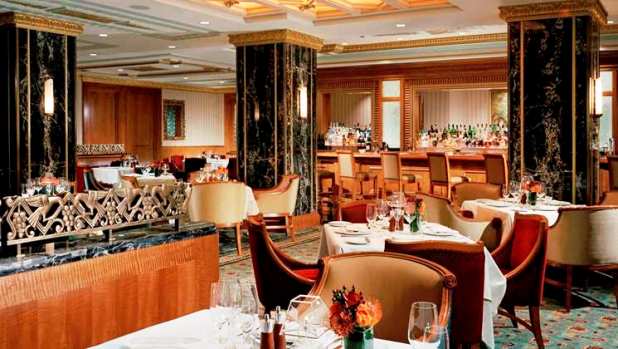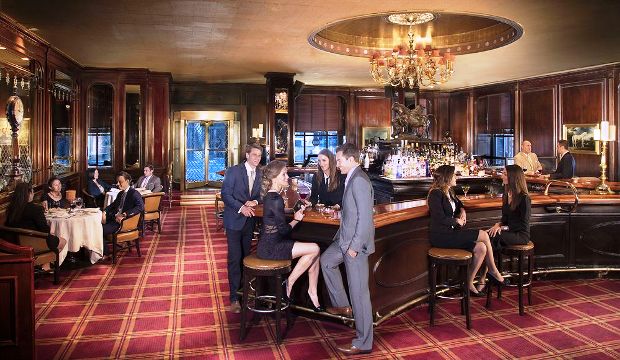 Spa and Fitness
Indulge in a wide range of services at The Guerlain Spa, including men's treatments and makeup application. Expert aestheticians soothe away stress and tension with cleansing facials, stimulating massages and invigorating body therapies.
Two 24-hour fitness centers help guests maintain or begin an exercise routine. The fitness center on the 19th floor is conveniently adjacent to the Guerlain Spa.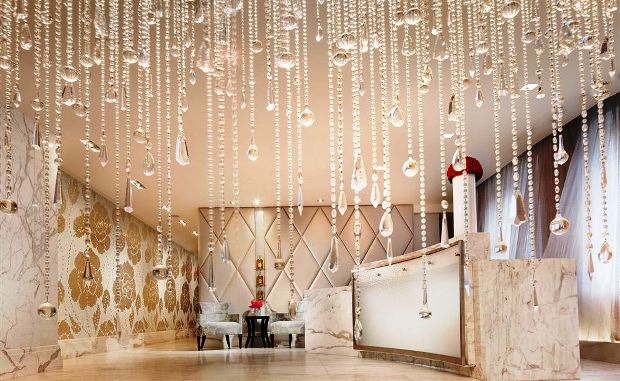 The Waldorf Astoria offers a wide array of guest services, including concierge, a multilingual staff, a full-service business center, wireless Internet access, a full fitness center and spa, a beauty salon and laundry/dry-cleaning services.
Amenities include:
24 hour room service
high-speed Internet access
beauty salon
business center
concierge services
cribs available
currency exchange
express check-out
florist
ATM
gift shop
wheelchair accessible
ice machines
indoor parking
lobby bar
lounge
meeting room facilities
newspaper delivery
newsstand
theatre desk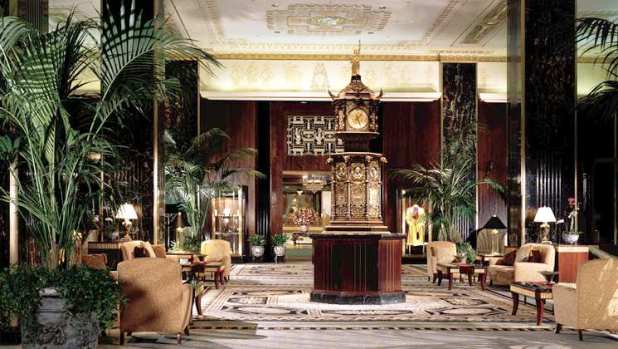 Location
The coveted Park Avenue location is just 2 blocks from Rockefeller Center and its famous ice-skating rink. After a twirl on the ice, head to Fifth Avenue, where luxury shopping includes Bergdorf Goodman, Tiffany & Co., and the flagship Saks Fifth Avenue – all within a 15-minute walk of the Waldorf. If your tastes lean more toward culture than couture, the Museum of Modern Art is a 10-minute walk from the hotel.
In the evening, take your pick of New York's nightlife – the latest Broadway musical, a concert or Knicks game at Madison Square Garden, or dinner at a 5-star restaurant – all just a short walk or taxi ride way.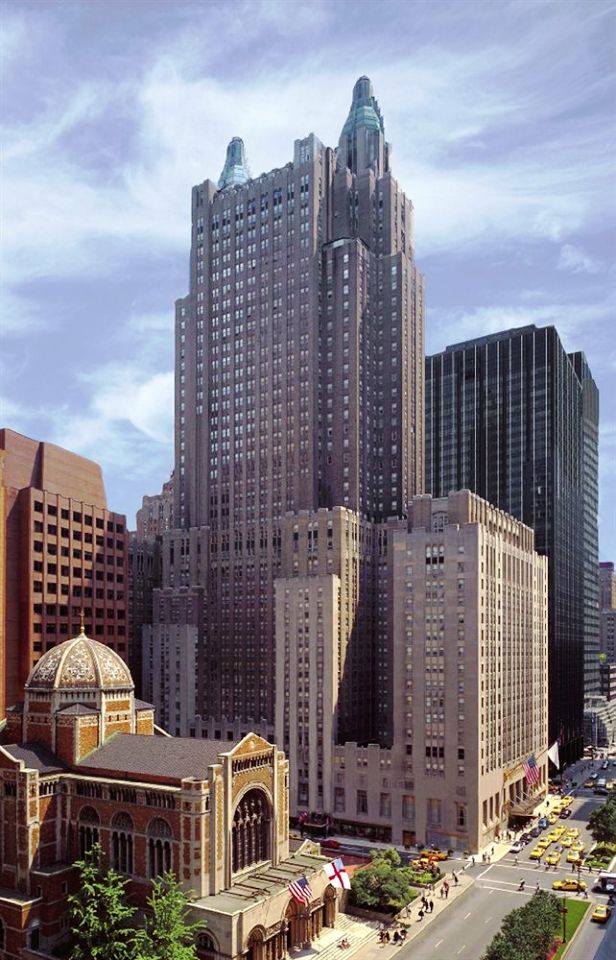 Waldorf Astoria
Address: 301 Park Ave, New York, NY 10022
Phone:(212) 355-3000
Hotel class: 5 stars