Yosemite National Park is one of the most visited parks in the U.S.A. It is here where Ansel Adams shot his most famous photographs after he fell in love with the awe inspiring landscape, the steep cliffs and the magnificent waterfalls.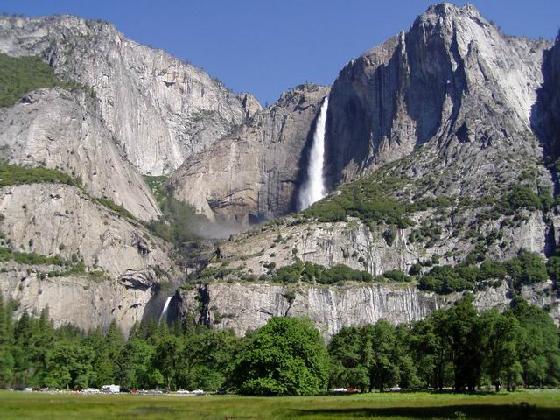 Yosemite is like no other place I have ever visited. I have been to the Park many times and it is still my favorite destination. Every time I come to visit it looks different and something new waits to be discovered. It is not surprising considering the size of the Park (750000-acre, 1200 square miles). While most of the over 4 million visitors only see Yosemite Valley, the park has much more to offer. Mountain Climbers try their skills on the 3593 foot (about 1100m) vertical granite wall of El Capitan and Rafters ride the wild waters of the Merced River. The park draws a large crowd of professional and hobby nature and wildlife photographers.
Location
The park is located about 200miles (3 hours) east of San Francisco (Airport Code: SFO) in the heart of the High Sierras. From San Francisco take I-580 east, I-205 East, I-5 North (2.2mi), CA-120 east. Follow CA-120 into the park.
Shortly before getting to the part where CA-120 winds up the mountain, there is an older road that goes right. If you don't miss this road, you can cut off maybe 10minutes going up a steeper, straighter road. If you have a camper in front of you, you will appreciate this shortcut (Craig Hadfield emailed me and let me know that its called "Old Priest Grade") Don't try this in summer with an older car though.
If you are coming from L.A. you will most likely enter the Park on CA-140. CA-140 meets CA-120 in Yosemite Valley.
From the east, you can enter on CA-120. You have to cross Tioga Pass, which is not always open (see below).
The park entrance fee is $20/car. If you plan to visit at least 2 other parks within a year, you should consider buying a National Park Pass for $50. It does not include State Parks.
Prices have changed since this article was written. Now the Pass costs $80 the entrance fee is unchanged.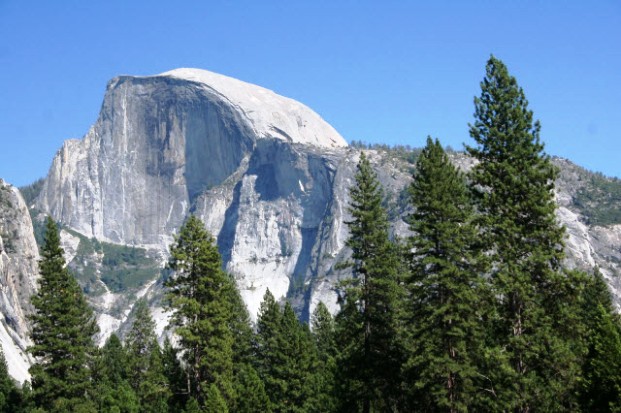 Yosemite Valley
Yosemite Valley is unquestionably the most visited part of the park. During the summer month of June, July, August and maybe September the valley is full of visitors. Traffic jams are a common occurrence. Don't let this discourage you from visiting the Valley. If you take a short hike along the many trails you can avoid the crowds easily. If you have only one day to visit Yosemite, this is definitely the place to go. It is also the only place in Yosemite where you can buy food. Free shuttle busses are available to get around. The bus stations are marked in the Newspaper that you will get at the entrance station.
The best time to visit the Valley is February through late May. In February the roads may not always be open due to snow. Call 209-372-0200 for current conditions (209-372-4726 for recorded information). Most likely you will not be allowed access without carrying snow chains.
During these months the Waterfalls are usually full from the snowmelt, making this the best time to visit the valley. There will be no traffic jams during this time.
In February one can visit a natural phenomenon unique to Yosemite. The angle of the sun during this month is just right to backlight the Water of Horsetail Fall, making it the only natural Firefall known to me. It took me a few visits to the park in order to capture this (see photograph), because February often has a thick cloud cover, preventing the suns rays from hitting the fall. If you happen to be around while the sky is somewhat clear (It is best to have clouds above but not on the horizon where the sun sets, so the clouds can reflect the sun), it is a spectacle not to be missed.
A favorite hike leads to the top of Nevada Falls.  This is a moderate hike that most people should be able to accomplish. On this hike, you can get away from the crowds in the valley, even though this is one of the more popular hikes. You will be rewarded with spectacular views and waterfalls with rainbows.
To see a rainbow, you should have the sun behind you and the waterfall in front of you.
Make sure you take plenty of water with you and don't drink the water of the stream as it has not been purified and may contain bacteria (I have seen many people do this as they ran out).
You can get a description of all hikes at the visitor center.
Very short hikes, like the one leading to Mirror Lake are even suitable for elderly people.
Very stressful hikes like the one leading to the top of Yosemite Falls (North Americas highest Cascade (2400 feet, 720m)) is only for the fittest.
If the Nevada Fall hike is too long for you, try hiking to the Top of Vernal Fall. You can stand on top of the fall and watch the millions of gallons of water rushing down 317 feet.
Two trails lead up to the fall. The one closer to the water is steeper and very wet, as the mist will wash over it constantly. It's fun during a hot day though. If you are at the base of Vernal Fall during sunset you can see a rainbow forming across the fall (the sun rays should still hit the base of the fall – see photo). The last time I set up my tripod and waited around for about 90min. At the end of that 90min a crowd had formed around me, trying to figure out what I was waiting for. When the rainbow showed up, people couldn't get their cameras out fast enough.
Probably the most popular hike leads to the base of Yosemite Falls. It takes about 5 minutes on foot to get here. If you are not into the longer trails, why not. I don't care much for lots of people dancing in front of my camera. Yosemite Falls are much more impressive from Cooks Meadow (see 4th photo in this article).
A favorite places to shoot photos are (in order of importance):
Tunnel View (El Capitan and Bridalveil Fall beautifully frame the valley)
Horsetail Fall (in February)
Halfdome from Sentinel Bridge (with Merced River in the foreground)
Valley View (a classic)
Vernal Fall
Nevada Fall
Mirror Lake (almost dried out, you have to hunt the reflections)
During the summer month, waterfalls can be either dry or being reduced to a mere trickle. The valley will then appear less appealing. Since this is also the time when most people visit the park, I usually visit another place in Yosemite.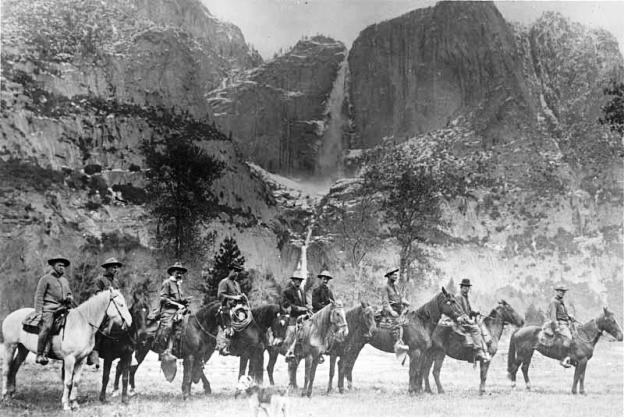 Glacier Point Road and Mariposa Grove
Glacier Point Road usually opens in late May (later in years of heavy snow fall) and closes in November. It is a 32-mile drive from the visitor center to Glacier Point itself (the end of the road). Plan for many stops and hikes though, as you will have some of the most spectacular views from up here. You could also hike up here, on the four-mile trail. Believe me, you don't want to try this. The elevation is not to be underestimated. If you don't have wings, you should be here by car anyways and if the road is not open so be it, but don't take my word for it.
About halfway to Glacier Point, there will be a bunch of cars parked. This is where you can find the Trail Heads to Taft Point and Sentinel Dome. Taft Point is an easy 1.1-mile hike that offers spectacular views of El Capitan, Yosemite Falls and Cathedral Rocks from high above. The best light from up here is in the morning. The trail is quite pleasant and leads through a mossy forest. You can still find snow up here in May and Wildflowers in June. Standing at the railing and looking down a 1-mile cliff can make you feel really small and insignificant. So if you have problems with your ego, don't go there, take the trail to Sentinel Dome.
Sentinel Dome offers you a spectacular 360-degree view of the Park. The hike covers more elevation that the one to Taft Point.
Continue your drive towards Glacier Point. Shortly before reaching Glacier Point you will arrive at Washburn Point. This is the best place to get a Birdseye view on Vernal Fall and Nevada fall. In case you did make it up to the top of Nevada Fall and feel proud about it, look again and see how small of a distance it looks like from up here.
If you have binoculars you can make out hikers on the trail and on top of Vernal Fall.
This is another popular spot for painters. If you are unlike me, always chasing the perfect light, you should take some time and relax while you enjoy the beautiful view, since Glacier point is more crowded.
Arriving at the huge parking lot of Glacier point, it is still a 3-minute trail from here.
At Glacier Point you can see almost the whole valley from about 1-mile up. Glacier point is another popular spot for sunset pictures. Come early though, as the best spots fill up quickly. The horizontal lighting of half-dome brings out its weathered face beautifully.
Mariposa Grove
Mariposa Grove is Yosemite's largest grove of giant sequoias. In winter it is not easy to reach, as the 2-mile road into the grove is closed. You have to hike on the snow.
Mariposa Grove is divided into upper and lower Grove. The largest tree (Grizzly Giant) is about 1800 years old and has seen the rise and fall of empires.
If you ever wanted to feel like an insect standing next to a tree, this is the place to go.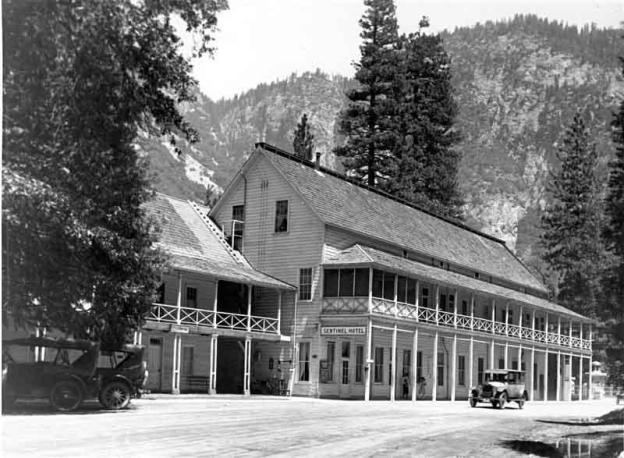 Tioga Pass
If you visit Yosemite in June or July, you should consider coming up here. Actually this area should be referred to as the backcountry. CA-120 crosses Yosemite from East to West and leads over Tioga Pass. The Road usually opens in late May and closes in October, but there are years when the Road is closed until July. Massive amounts of Snow make this area inaccessible in winter. If you come here in June or July you could experience the blooming of the Wildflowers, making the Meadows a wonderful patch of colors. Tioga pass itself is 9945 feet (3031m) high and offers some of the most spectacular views of the park.
Up here is the perfect place to get on one of the many trails and loose the crowds. Most visitors do not explore the vastness of Yosemite, so you can find yourself completely alone. Just be aware that this is also the place where you can find most Black Bears and Mountain Lions. Unfortunately (or fortunately for others), Grizzly bears are now extinct in the park.
If you drive through the park from East to west, take CA-120 towards Tioga Pass instead of driving towards Yosemite Valley at the intersection near Crane Flat.
Immediately after the Intersection, you will come to Tuolumne Grove, another place to see giant sequoias. Even though it is not as big and magnificent as Mariposa Grove, it is still well worth the visit, especially since you can access it all year round. It's about a hike of about 90 minutes (round trip). The trees are hard to isolate and photograph though.
About half way to Mono Lake, you will get to Olmstead Point (it is marked on the map you got at the entrance station).
Olmstead point offers a completely different angle to view the valley. You can see the backside of Half Dome from up here. Glacial erratics make a very interesting foreground (see picture below). The pine tree can make another very good subject (see picture above).
The incredible force of Glaciers cracking the granite and polishing the rock is a very interesting sight not to be missed.
Shortly after Olmstead Point you will get to Tenaya Lake. The deep blue and crystal clear waters with granite domes in the background surrounded by mountain forests are an unforgettable sight. It may look inviting to take a plunge into the water, but up here water is really cold. Unless you go ice swimming every year, try to resist the urge, your heart will thank you. There are a few picnic tables around here. Lucky you if you can get one, since this is a good place to take a rest from the hikes. Fortunately there are no motorboats on this lake, making a quiet and peaceful place.     Tenaya Lake Yosemite
Continuing West, you will get to Tuolumne Meadows. Here you can find a gas station (hopefully you don't need gas right now, as it is expensive), a Visitor Center and a BBQ Restaurant. I haven't tried it though, so you are on your own. Let us know how the food was by posting it in the reviews, as an attachment to this article or in the forums.
In July Tuolumne Meadows is blooming with an unbelievable display of wildflowers. After the Snow Melt, the Meadow is usually flooded in early July. After the water is gone, flowers will show for few weeks. In summer the Meadow looks much less appealing when the Gras has become brown. Nevertheless it is a good place for hiking. Many trails do not have any significant elevation, so why not take a relaxing stroll in the woods.
For photo shootings it is usually best to be here in the late afternoon. A good place for sunset is Tenaya Lake as you can capture the reflections of the golden lit Mountains in the water or Olmstead Point.
During our last visit on a busy holiday weekend, we hiked about 5 minutes to a river. We were able to spend the better part of an hour all by ourselves before some "Intruders" walked past "our" spot.
If you continue towards Mono Lake, you will now decent from the pass. There are plenty of lakes on your right side, inviting you to stop and spend some time. If you drive continuously, you can get to Mono Lake in about 1 hour from Tuolumne Meadows.
Use one of the lower gears to brake. It is a long way down and every time I have that distinctive smell of burning brake pads in my nose from someone ahead of me. It is irritating as everybody seems to think it's their own brakes. I have seen multiple cars pull over at the same time, people getting out and touching their brakes.
A few words of caution
If you are all by yourself in the back country, consider that help may not be close.
A large population of Black Bears lives in Yosemite. I had an encounter of my own with two of these wonderful animals crossing the road while I visited the park in 1996. Unfortunately my camera malfunctioned.
Bears have been known to break open cars to get food. Always wrap your food and pack it in such a way, that the bears cannot smell it. If you are camping and leaving open food containers around, that's just asking for trouble. Remember, Bears can run faster then you and climb trees. If you see a mother with cups, don't approach them.
Mountain lions are scared of anything really big. If you have children, pick them up and put them on your shoulders to prevent them from being attacked.
Bring enough film or memory cards. More than once have I seen people asking desperately around to buy them when all of a sudden the beautiful setting sun bathes the cliffs in red light and they ran out. On better days I shot a few hundred exposures.
Gas up. The park is big and gasoline is not available everywhere. If you come from San Francisco, get gas in Oakdale. There are still opportunities later if you don't mind spending more money.
Hotels
As usual, traveling during the weekend has its price. If you can afford to come here during the week you will get better deals, as less people will compete for the same room.
I have been able to get some good deals in El Portal (on CA-140 just outside the park).
There are a bunch of Hotels on CA-120, but they are much farther away from the park. If you can bankroll a stay in the Park, it is obviously the better choice.
Hotels in the Park (from very expensive to less expensive)
Ahwahnee Hotel
Yosemite Lodge
Wawona Hotel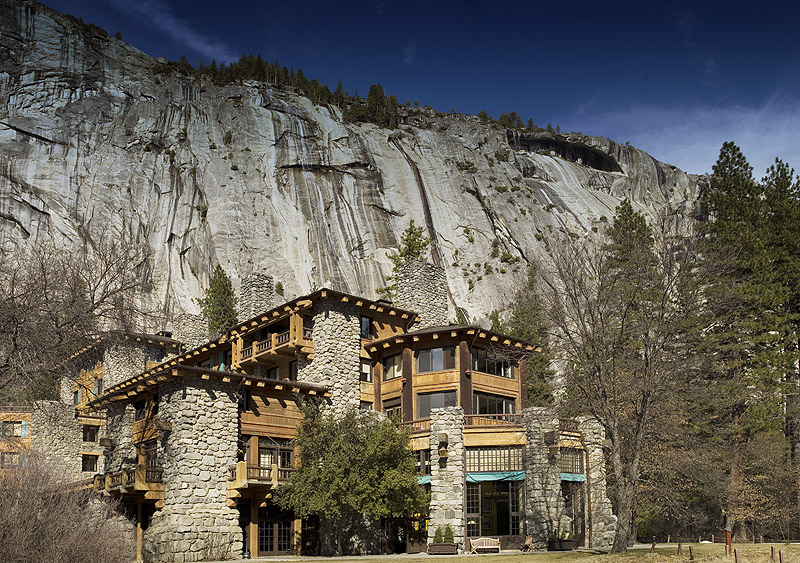 Restaurants
The Restaurant that belongs to the Yosemite View Lodge is pretty good, but you have to wait to get a seat. They also have a Pizzeria if you cannot wait.
The Restaurant that belongs to Cedar Lodge is only a little cheaper, but the atmosphere is not nearly as good. I would rather wait for a table.
Next to the Visitor Center in Yosemite Valley there is a small Burger place and a Sandwich place. Both are not very good, but I bet after a day of hiking you wont care much and a nasty burger will sound just as good as Filet Mignon.