Yosemite National Park – California
Yosemite National Park is one of the most visited parks in the U.S.A. It is here where Ansel Adams shot his most famous photographs after he fell in love with the awe inspiring landscape, the steep cliffs and the magnificent waterfalls.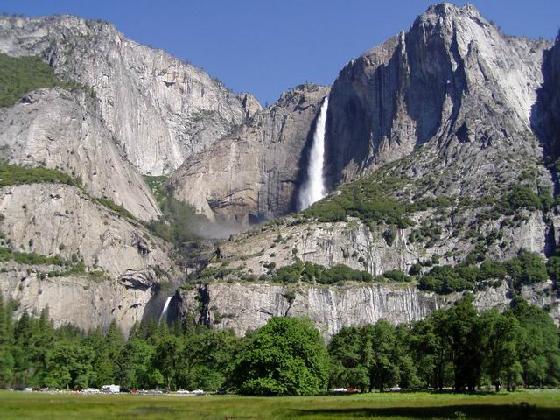 Yosemite is like no other place I have ever visited. I have been to the Park many times and it is still my favorite destination. Every time I come to visit it looks different and something new waits to be discovered. It is not surprising considering the size of the Park (750000-acre, 1200 square miles). While most of the over 4 million visitors only see Yosemite Valley, the park has much more to offer. Mountain Climbers try their skills on the 3593 foot (about 1100m) vertical granite wall of El Capitan and Rafters ride the wild waters of the Merced River. The park draws a large crowd of professional and hobby nature and wildlife photographers.
Location
The park is located about 200miles (3 hours) east of San Francisco (Airport Code: SFO) in the heart of the High Sierras. From San Francisco take I-580 east, I-205 East, I-5 North (2.2mi), CA-120 east. Follow CA-120 into the park.
Shortly before getting to the part where CA-120 winds up the mountain, there is an older road that goes right. If you don't miss this road, you can cut off maybe 10minutes going up a steeper, straighter road. If you have a camper in front of you, you will appreciate this shortcut (Craig Hadfield emailed me and let me know that its called "Old Priest Grade") Don't try this in summer with an older car though.
If you are coming from L.A. you will most likely enter the Park on CA-140. CA-140 meets CA-120 in Yosemite Valley.
Categories: Abacos, California, USA
Tags: Adventure Travel, Bridalveil Fall, California, california hotels, El Capitan, etraveltrips, Family vacations, Hiking, Historical site, Merced River, National Parks, National Parks vacation, Nevada Fall, sightseeing, travel, vacation, Vernal Fall, Yosemite Falls, Yosemite National Park, Yosemite Valley