The NFL is now the most popular sport in America. If you don't believe us, a trusty tracker by the name of Google will likely help to verify that fact.
Or you can just look around you. The reason why you don't see your friends much in the fall, contrary to popular belief, is not because of the cold weather. It's because the plans you make with them are likely far less appealing than game day.
If you want to improve your social life, it's best to recognize that football is quickly becoming as essential to American life as Thanksgiving. Whether you stick to watching the Superbowl for the commercials or you have a fantasy football league for the college season, here are some places to go in New York City that transcend the everyday sports bar experience.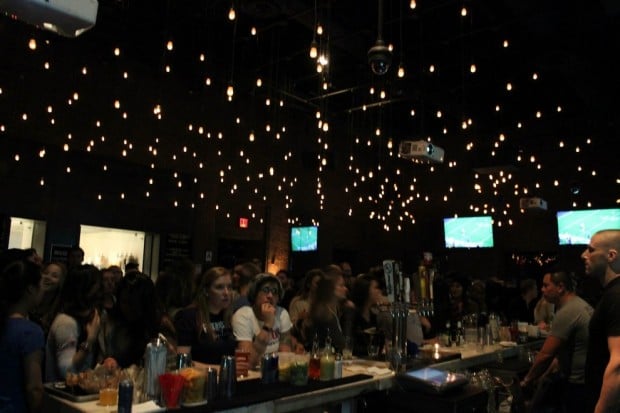 Hudson Common: a fancier way to get your game on
Photo courtesy of Hudson Common
Hudson Common
Outside the Hudson Hotel, you wouldn't necessarily expect to find a beer garden like Hudson Common.
You can nosh on white truffle parmesan popcorn or try one of their uncommon wing recipes like chicken parm. Game day snacks will never be the same!
Studio Square NYC
An open-air, Bavarian beer garden; 19,000 square feet; and thousands of football fans?
You may think this is a dream scenario. You may think it's a recipe for disaster.
Likely it's both, at Studio Square NYC.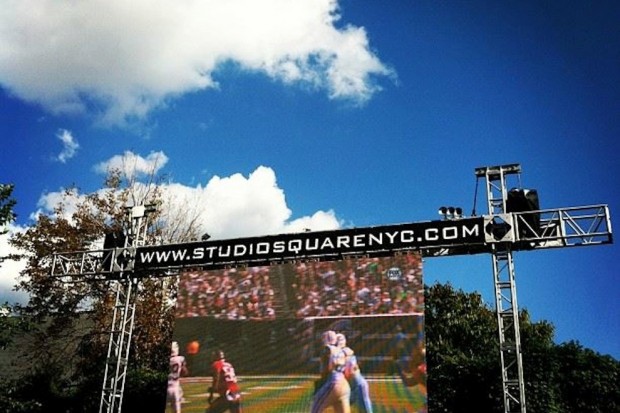 A beautiful fall day and an outdoor screen. What could be better?
Photo courtesy of Studio Square NYC
Jay Z combined his love for the high life with his love for sports with 40/40 Club.
Premium beers, six 165-inch viewing walls and over a dozen flat-screen televisions mean that you won't be craning your neck to see the score. This is upscale viewing at its best.
Tickets for watching the Superbowl are in the hundreds of dollars, but to be fair, it includes bottles of beer and lots of trimmings.
The Gutter
If your team fumbling makes you feel down in the gutter, well, go and try to do better than a gutterball.
The Gutter is a vintage-style bowling alley that will make your bowling shoes look like they fit right in.
NFL games play on the big screen Sundays and Mondays. You can even bring your own food.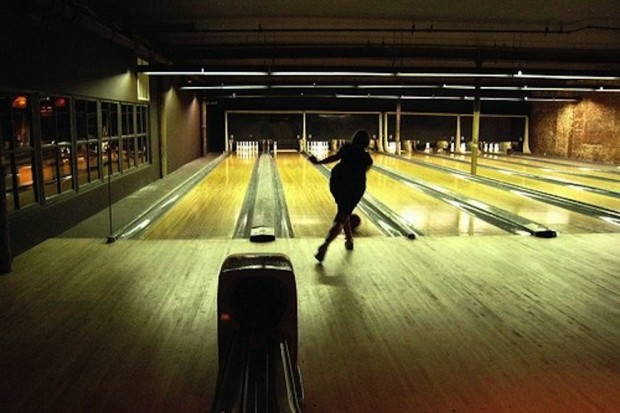 Get out your sports aggression. One pin at a time.
Photo courtesy of The Gutter
Standings
This may be your average, run-of-the-mill sports bar, but we had to include it.
Standings not only plays college sports, but it also gives out free food on certain days, like pizza or bagels. In New York City, this is astounding.
We repeat: free food.
The Ultimate Tailgate Party
Mario Batali is everywhere in New York. You might as well accept it. His ultimate tailgating party is set for October 17 this year.
It may be $150 a pop, but you will eat your weight in steak, ribs and wings. You will be entertained by the Aviators Drumline and meet current and former Jets players.
Who needs an actual game to tailgate?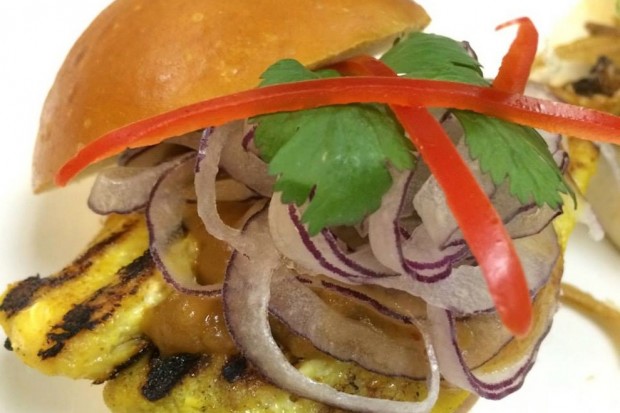 Now THAT is a game day burger
Photo courtesy of Beer & Buns
Beer & Buns
Don't want none unless you got buns, hon!
A restaurant located in the Court Hotel with Asian-inspired burgers and sliders, Beer & Buns gives you lots of lip-smacking options as you watch the game.
There's even a $250 burger — if you decide that you have too much money.
Hofbrau Bierhaus NYC
Because no one knows American football as well as the Germans, Hofbrau Bierhaus NYC should also make the cut.
That may be partially true, with fantastic beers and Fantasy Football draft parties at this Bavarian beer hall with communal seating and — Did we mention? — lots of beer.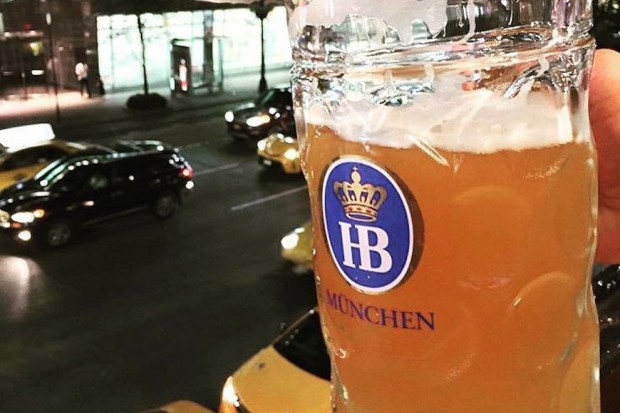 Excellent pairing: one stein with one NFL game. Repeat.
Photo courtesy of Hofbrau Bierhaus NYC
Finnerty's
Finnerty's not only organizes roundtrip bus rides to games, but it also offers BYOF (bring your own food).
Order in a pizza, and enjoy the game. It's just like being at home.
Johnny Utah's NYC
A bar. A restaurant. NFL fans. And the owners of a mechanical bull. Because it's always a good idea to get rowdy people together and have them try to stay balanced on a bucking fake animal.
It may not be wise, but it sure is a different angle for sports viewing here at Johnny Utah's NYC.