Sampling picks for best restaurants in Las Vegas. Everything in Las Vegas is larger than life. The hotels and resorts rank among the best in the world. The lavish casinos attract the highest high-rollers this side of Macau. The shows are spectacular. And the food—let's just say the food is among the best in the West.
I've been covering Sin City for more than ten years now, and, in that time, I've had the chance to get VERY familiar with some of the restaurants in town. A few weeks ago, some readers asked me to list my top five restaurants in Vegas. After much thought—and plenty of careful deliberation—I present to you the most recent version of my list.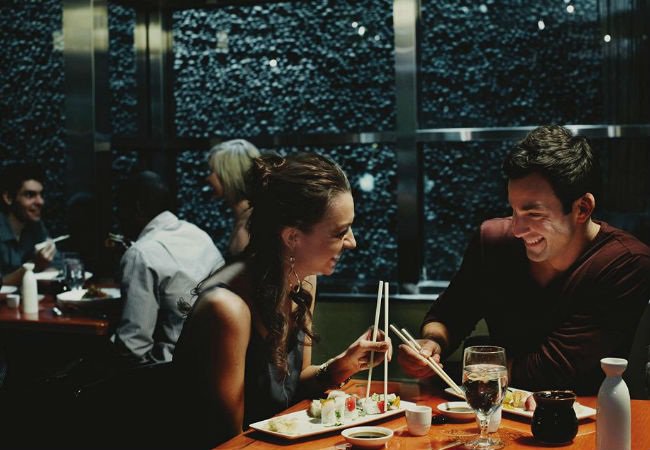 The new eatery from Food Network star, Giada de Laurentiis, is her first restaurant anywhere, and she's off to a spectacular start. The restaurant is located on the second-level of The Cromwell, a new boutique hotel across the Strip from Caesars Palace.
And with an arc of (retractable) windows that look southwest toward the fountains at Bellagio, the South Beach-white eatery arguably has one of the best views on the entire Strip.
Much like the decor, everything on the menu here is light. Salads incorporate fresh vegetables and hearty grains such as quinoa and farro. Appetizers come family-style, but in modest portions for all. Main courses follow this trend, too; Giada's signature dish, lemon spaghetti, is airy yet tangy and flavorful at the same time.
Heck, even the zeppoles, fried dough balls served for dessert, were amazingly not filling.
Because the restaurant is still so new (it opened in spring 2014), dinner reservations are hard to come by these days. As an alternative, try lunch, which is less crowded and more affordable. Lunch also is a great time to spot Vegas celebs; on a recent visit I dined next to food critic John Curtas and Carrot Top.
Categories: Abacos, Las Vegas, Nevada, USA
Tags: A Hole in the Head, Avicii, Bartolotta Ristorante di Mare, Encore Las Vegas, etraveltrips, Food Network star, Giada de Laurentiis, Hotel, Hugo's Cellar, Las vegas, Las Vegas eats, Las Vegas Nevada, Los Angeles, Lotus of Siam, Luxury Hotels, nevada, New York City, Sin City, Wynn Las Vegas, Wynn Resorts