Sampling picks for best restaurants in Las Vegas. Everything in Las Vegas is larger than life. The hotels and resorts rank among the best in the world. The lavish casinos attract the highest high-rollers this side of Macau. The shows are spectacular. And the food—let's just say the food is among the best in the West.
I've been covering Sin City for more than ten years now, and, in that time, I've had the chance to get VERY familiar with some of the restaurants in town. A few weeks ago, some readers asked me to list my top five restaurants in Vegas. After much thought—and plenty of careful deliberation—I present to you the most recent version of my list.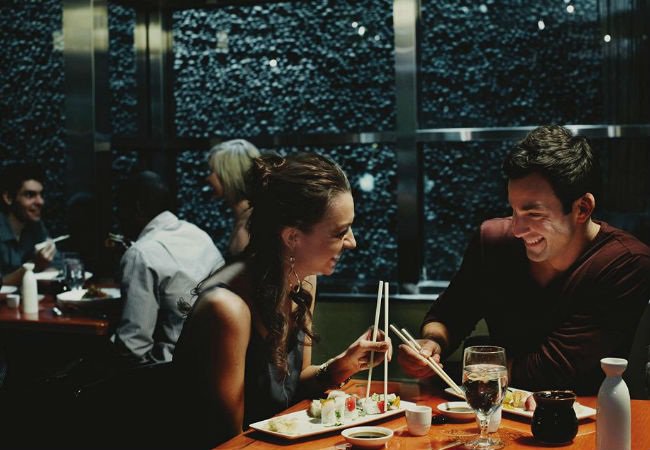 The new eatery from Food Network star, Giada de Laurentiis, is her first restaurant anywhere, and she's off to a spectacular start. The restaurant is located on the second-level of The Cromwell, a new boutique hotel across the Strip from Caesars Palace.
And with an arc of (retractable) windows that look southwest toward the fountains at Bellagio, the South Beach-white eatery arguably has one of the best views on the entire Strip.
Much like the decor, everything on the menu here is light. Salads incorporate fresh vegetables and hearty grains such as quinoa and farro. Appetizers come family-style, but in modest portions for all. Main courses follow this trend, too; Giada's signature dish, lemon spaghetti, is airy yet tangy and flavorful at the same time.
Heck, even the zeppoles, fried dough balls served for dessert, were amazingly not filling.
Because the restaurant is still so new (it opened in spring 2014), dinner reservations are hard to come by these days. As an alternative, try lunch, which is less crowded and more affordable. Lunch also is a great time to spot Vegas celebs; on a recent visit I dined next to food critic John Curtas and Carrot Top.
Bartolotta Ristorante di Mare
If you like fish, you'll love this Wynn Las Vegas eatery from James Beard Award-winning chef, Paul Bartolotta. Chef Paul flies his catch in from Italy numerous times each week, ensuring that the fish that ends up on your plate is fresh as can be. Stars of this piscine show include spiny lobster, slipper lobster, branzino (essentially European sea bass), and more.
In one preparation, Bartolotta cooks his fish in a crust of salt. In another, he pairs red shrimp with a homemade ravioli. Often, the chef himself strolls the dining room floor to meet-and-greet with guests and gauge their perspective about dishes and that worked and dishes that didn't work.
My favorite place to sit at this restaurant is the outdoor patio, which fans out in an arc and is separated from the main dining room by a semicircular pond. Because it's Vegas—and because you're at the Wynn—there's too much light to look up and see a night sky full of stars. Still, the fresh air feels good. If you close your eyes and just enjoy the flavors on your plate, you might even think you're in Italy.
Stack
This restaurant, inside the Mirage Resort & Casino, is my go-to place when I've got big parties in tow. It's got sass. It's got character. It's got a great bar with killer cocktails. And the food menu is innovative, varied and—most important in this town—affordable.
As the name of the eatery suggests, dishes are plated with vertical whimsy; French Fries appear in a tower (as if they were Lincoln Logs), and seafood appetizers come on a platter that stretches a few feet tall. When we go, we always order the mini Maine Lobster Rolls and the Pigs in a Blanket appetizers—both are fun takes on iconic dishes.
We also make sure that we pair our steaks (I prefer the Tomahawk Rib Eye) with some of the Stack signature sides. No. 1 on this list for me are the Adult Tater Tots, which come with bacon and brie.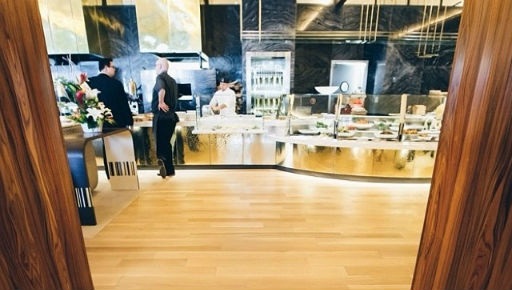 Looking in on Giada Vegas
Hugo's Cellar
Old Vegas is alive and well at Hugo's Cellar, a traditional steakhouse below the casino floor at the Four Queens Hotel and Casino downtown. Signature dishes here are prepared "tableside," which means that servers roll over carts and make stuff such as salad and Bananas Foster right there in front of you. The experience is kitschy, and at times teeters on cheesy and over the top. Still, there's no disputing the facts: The food is phenomenal and the service is second to none.
My personal favorite menu items here epitomize decadence: Lobster Bisque, and Jumbo Lump Crabcakes and Beef Wellington. I also thoroughly enjoy the Veal Oscar (in other words, the dish tastes too good for me to care about the political issues behind it).
Whatever you order at Hugo's, just be sure to leave enough time to enjoy it all. Between the entertainment and multiple courses, most meals take 3-4 hours. Consider yourselves warned.
Lotus of Siam
Authentic Thai food? In a Las Vegas strip mall? Thanks to chef and owner Saipin Chutima, this combination really does exist. The result: A meal you'll remember for a while, every time you dine.
Of course the catch with this restaurant is that it's off-Strip—unless you're staying at the Stratosphere Casino, Hotel & Tower and you've brought good walking shoes, you'll probably need to hire a taxi to get there.
Still, the mere smell of a bowl of Chutima's legendary Tom Kah soup is worth all the effort.
Other dishes are stellar, too—the Garlic Prawns, with whole cloves of garlic, are out of this world; while the Nam Kao Tod, crispy rice mixed with sour sausage, green onion, fresh chili, ginger, peanuts, and lime juice, is a crunchy-tangy counterpoint to just about any other dish you could possibly think about ordering.
The best item on the menu at Lotus of Siam is the Khao Soi Crispy Duck, which comes with egg noodles and a coconut sauce. This dish—this singular, unassuming dish—might be the best plate of food I've ever eaten in my entire life. As a result, I only eat duck once a year: During my annual pilgrimage here.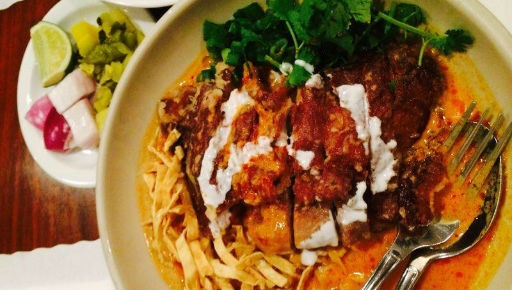 Khao Soi Crispy Duck at Lotus of Siam
For the sweet tooths…
I'd be remiss in concluding this article without mentioning my top three dessert places in town. The trio, in no particular order, comprises Luv-It Frozen Custard downtown, Kuma Snow Cream in Chinatown, and BLVD Creamery on the plaza in front of the Monte Carlo Resort and Casino.
Luv-It is traditional fro-cus, somewhere between frozen yogurt and gelato in consistency. They serve different flavors every week. Kuma's, from chef Jet Tila, is more of a cross between sorbet and Italian Ice; servers shave off different flavors from large cones, and top the portions with the same sort of toppings you'd find in a place that serves Bubble Tea.
Finally, BLVD is a modern spin on a traditional sweet shop, and has become famous for innovative flavors such as watermelon sorbet infused with jalapeno, sorbet made with Shock Top beer, and B.T.A., an ice cream with bacon, tomatoes and bits of avocado.
Don't be daunted by the zany flavors (or the prices). In Sin City, everything is worth the splurge.