10 Reasons to Get Married at a Caribbean All Inclusive Resort
Are you considering a destination wedding in the Caribbean? Although you have many venue choices, weddings at all inclusive resorts in the Caribbean come highly rated and recommended. Why?
1 – Picture Perfect Weddings
There are many wedding destinations around the world, including your own backyard, which would make for a memorable day. However, there are very few where you literally get a picture perfect wedding. With all inclusive resorts in the Caribbean, you get that. Resorts give you different ceremony locations to choose from.
Popular choices, due to their romantic nature and backdrop for pictures, are garden weddings and beach weddings. With the beach in the background, the clear waters, and a slight breeze, your destination wedding in the Caribbean can and will be picture perfect.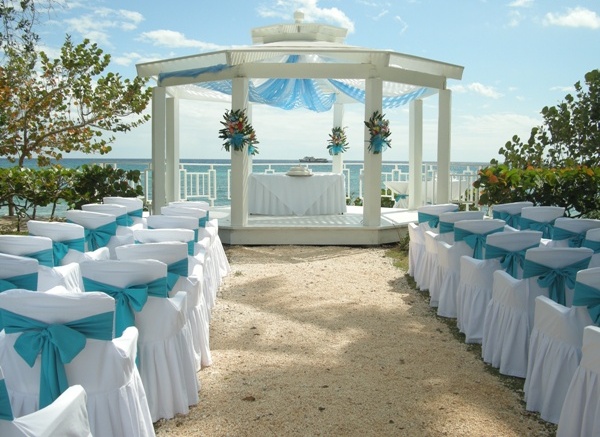 2 – The Tropical Weather
There are many reasons why the Caribbean is a popular vacation destination. One is the beautiful, tropical weather. This weather can help ensure you have a dream wedding ceremony and reception. Of course, there is always the possibility of rain, but the Caribbean tends to have more predictable weather than the United States. In fact, it is another added benefit of opting for a wedding ceremony at an all inclusive resort in the Caribbean. If you opt for a beachfront wedding and the weather does not cooperate, your resort should make necessary adjustments to ensure your day is perfect.
3 –Combined Weddings and Honeymoons
Combining your wedding and honeymoon may not sound appealing at first, but think of the possibilities. There is the potential to save thousands of dollars, the ease of planning, and more. With all inclusive resorts in the Caribbean, you won't feel as if you are shortchanging yourself. Luxury resorts are designed so that you never need to leave. They are jam packed full of fun activities, facilities, and more. Beachfront Caribbean resorts open up a world of fun, including scuba diving, snorkeling, windsurfing, and more. You will also find a collection of upscale and casual eateries right onsite. Best yet, many of these are considered inclusions, meaning you won't pay extra as they were already included in the cost of your stay. Even with a 7 night stay, you won't experience a moment of boredom!
Tags: Beach Vacation, Caribbean, Destination weddings, Romantic getaways