Ibiza is the most extreme of the islands, in landscape and visitors.
The Greeks called Ibiza and Formentera the Islas Pitiusas (Islands of Pine Trees). The landscape is harsh and rocky, and the island receives little rainfall. Alongside the hardy pines, the most common crops are olives, figs and almonds. Perhaps surprisingly, about half the island (especially the fairly unspoilt northeast) remains covered by thick woods. Indeed, driving around the back roads of the north is to plunge into a rural idyll – not what one associates with Ibiza at all!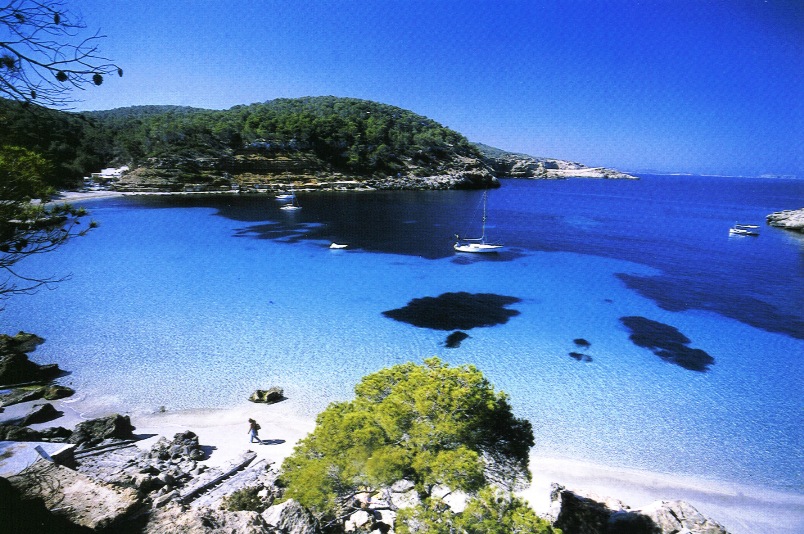 The island of Ibiza has a rich archaeological, historical, artistic and ethnological heritage, stretching back from prehistoric times to the Punic world, continuing through to the Islamic medieval age and the traditional rural world. Contemporary and religious art can be enjoyed in any of the island's museums.
The natural beauty of its countryside, a coastline characterised by a large number of beaches and small coves, some of which can only be reached by sea. Sea beds with prairies of Posidonia in the National Park of las Salinas, whose ecological richness was recognised when it was named World Heritage Site by UNESCO in 1999.
A wealth of possibilities which will doubtless ensure visitors have a pleasant stay on the islands. One mustn't forget the recently finished cycle routes which include road cycling and mountain bike routes stretching over a distance of 700km. Further features include the building of two sea stations, those of Santa Eulària and Sant Josep-Sant Antoni.
Hedonistic tourism would be an unthinkable concept without the pleasurable sensation of Ibiza's food and drink on the taste buds. Many restaurants have an element of added value that makes them much more attractive than those in any other tourist resort: their location. There are very few places in the world so full of wonderful restaurants, where you can eat with your bare feet resting on the sand, sitting in the shade of a Renaissance wall or in a romantic hideaway farmhouse set in the middle of the countryside.
Birthplace of the rave, Ibiza is home to some of Spain's most (in) famous clubs. The outrageous summer scene is complemented by a diverse collection of bars.
Away from the bars are the woods, coastal walking trails and quiet (if not deserted) beaches that allow you to elude Ministry of Sound–style madness. Places such as Santa Eulària d'es Riu and the small resorts and coves of the northeast are ideal for family holidays.