Beaches in Antibes France, Lying on one side of the Cap d'Antibes this city is old and famous for its culture and sightseeing but also for its beaches. On the other side of this peninsula lies Juan les Pins which is modern and famous for its nightlife! In between are the beaches and what gorgeous beaches they are! Mostly yellow sand but with a few pebbly spots, these beaches offer small coves and wonderful spots for snorkeling and most have good facilities to buy food, shower, rent loungers and find loos!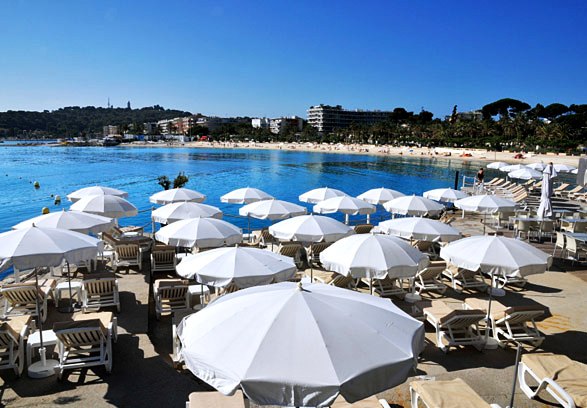 Here is our pick of the best beaches in and around Antibes.
1. Old Antibes Beach
This beach is always quite busy and as it's small, it can feel rather crowded but it's sandy and pretty with all the amenities you need. This is a sheltered beach with a 'break water' forming a secure swimming area making it a good beach for families with small children.
2. Plage du Ponteil
This is one of the main public beaches and it's a large sandy beach close to the old town with good facilities like showers, loos, snack bars and disabled access.
This is a free beach and is a great spot to drink in the beauty of the French Riviera. You can hire sailing and jet skiing equipment here or take a kayak for a sunset paddle.
3. Plage du Buse, Roquebrune-Cap-Martin
This peninsula is only a 20 minute journey from Nice on the train and the Plage du Buse is to be found on the Le Corbusier path! It's one of the least crowded beaches in the area and is very pretty offering clear water and a pebbly/sandy beach. No brollies for rent though but you can get snacks at the snack shack and star gazing at the luxurious villas makes up for the lack of facilities!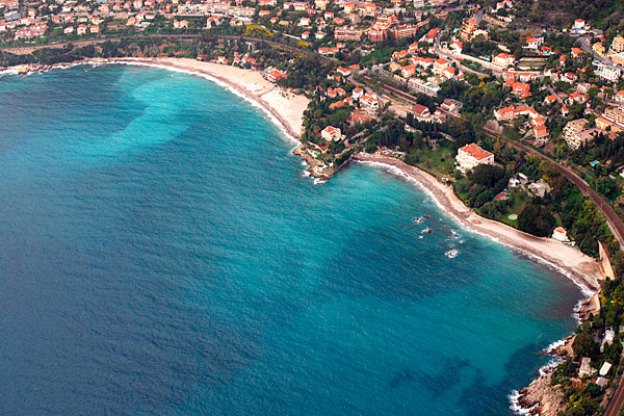 4. Plage Mala, Cap d'Ail
This beach is really little more than a sliver of sand and surrounded by high cliffs with stunningly blue clear sea.
To reach it takes a ten minute stroll down the hill from the Basse Corniche road until you see the breathtaking view. This beach was used by Tsar Nicholas II and his lover for romantic strolls and remains an almost unspoilt inlet on this beautiful coast line.
There are two sections to the beach – Le Reserve de la Mala and Eden Plage – and both offer seating, a bar, restaurant and music with bronzed attendants called 'plagistes' attending to your every need. If you prefer the public beach then continue down the stairs and settle lower down to enjoy an evening picnic and watch the sun set!
5. La Paloma Beach, Saint Jean Cap-Ferrat
This is a small pebble beach that offers the visitor a broad view of the coast and the mountains. There is a public section and a private section which is usually jam packed as the restaurant here specialises in seafood and candlelit dinners at the ocean's edge! It's romantic and so very tasty!
There are many beautiful and dreamy beaches in the area it's hard to choose which to visit first and we'd recommend that you seek out La Garoupe in Cap d'Antibes where Dick Diver from F. Scott Fitzgerald's 'Tender is the Night' raked seaweed from the sand and drive the 20 minutes to enjoy sunset at Theoule sur Mer with its white, sandy beaches and violet water.