Acapulco It is a C-shaped bay and a beautiful resort city in the Mexican Pacific. It's also a major seaport and a popular resort for tourism. Many tourists take long holiday weekends and cruises from the United States, Canada, the Mexican interior and countries in South America. Due to its stunning beaches, exuberant natural surroundings and wonderful climate, this port has been dubbed as the Pearl of the Pacific.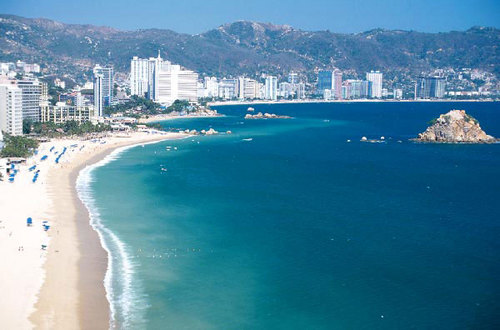 ACAPULCO TOURISM INFORMATION AND TRAVEL OVERVIEW:
The modern infrastructure has had very little impact on its original beauty and attractions. Acapulco offers an enormous range of attractions and activities along with calm sunny beaches and major hotel complexes, superb restaurants and wonderful nightclubs. The Nahua Indians, the Aztecs predecessors, lived in Acapulco around 3000 BC.
Even though an upscale vacation city, Acapulco tourism is still more reasonably priced than Cancun and is one of the best places to enjoy Mexican nightlife too including discotheques. Acapulco is truly a remarkable travel and tourism destination, adventure activities include bungee jumping, paragliding, swimming, Scuba diving, fishing and Surfing.
The town of Acapulco is very narrow, about one to half mile wide, surrounded by sea on one side and mountains on the other. With the semi circular bay of Acapulco, Mexico is considered to be the most beautiful bay of the world.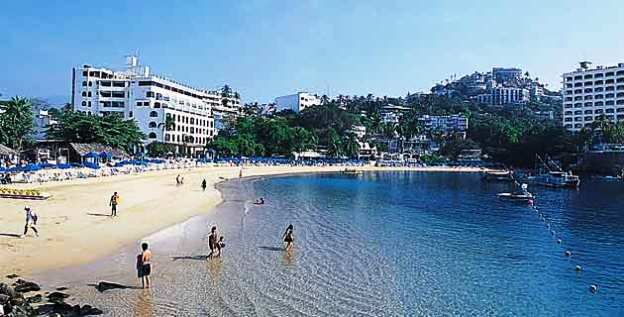 GETTING THERE:
Being a popular mega tourism area, getting here is very easy. Most major airlines fly into Acapulco City.
CRUISES:
You can also visit by taking a Cruise to Acapulco. There are several Cruise liners like Celebrity, Crystal, Cunard, and Princess Cruises which anchor off here.
TRANSPORTATION AND CAR RENTAL:
The city has many buses and taxi services that one can take. An important mode of transportation is the government subsidized 'Colectivo' cab system. These cabs cost 10 pesos per person to ride and operate on first come first serve rules. The bus system can be confusing to an outsider but cost under 5 pesos. Taxis are everywhere in Acapulco and un-metered, therefore the fare should be agreed before boarding. Yellow cabs are 10 pesos per person; buses are 4 pesos or 5 pesos and are air conditioned.
To rent a car you must be at least 25 years old and major credit cards are accepted here. It's usually difficult to drive in Acapulco as most hotels and attractions are on the main avenue ('Costera'), which follows the shore of the bay from one end to the other. International Drivers license is recommended although not always required.
WHEN TO GO:
The dry, hot months, October to May, are the best time to visit but the hotel room rates are also the highest. September to early November and March through May (not including Spring Break and Easter Week) are shoulder seasons and offer a good money-weather ratio.
POPULAR TOURIST ATTRACTIONS OF ACAPULCO:
Acapulco has everything a visitor could ever want – beautiful sunny beaches, a rich history (including pirates), vibrant nightlife, stunning scenery and brave cliff divers who jump in the ocean in the night with fire sticks in their hands.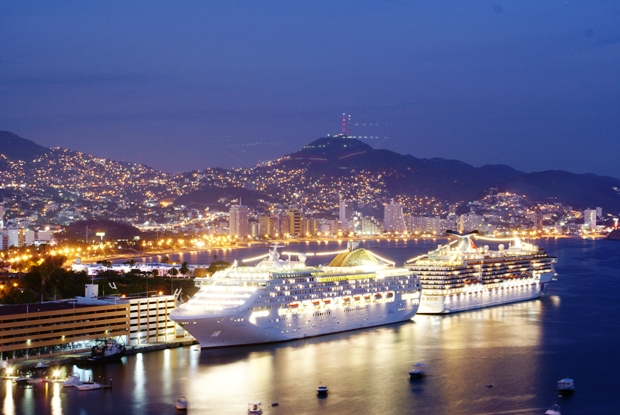 Acapulco cruise ships
• Beach Tourism:
Beautiful beaches on golden sand with palm trees and refreshing breeze. Swim in warm blue water, Water Ski, Sports fishing, Scuba diving, and wind Surfing.
• Roqueta Isle : Roqueta Isle is famous for scuba diving and snorkeling. Glass bottomed boats are available from "Caletilla" to Roqueta Isle to help you see the marine lives beneath through the clear water of the sea.
• Isla Roqueta Zoo:
It is the world's only zoo located on an island. Visitors must ascend a hill and walk among the tropical plants to see a variety of animals, including elephants, giraffes, monkeys, and an extensive assortment of snakes.
• Fort of Saint Diego – Museum: This architectural landmark was built to guard the port of Acapulco from pirate attacks in 1616. It has a collection of items from Asia and Europe.
• Centro Internacional (CICI) is a great water sports park with artificial wave pool, aquarium, dolphin and seal diving shows and more. This is a perfect place for a family outing.
• El Veladero (National Park):
The deciduous forest of this park serves as an important source of water to the city of Acapulco. Various birds and reptiles live in the 7,900acre park which is one of the only natural areas surrounding the city. Trails exist for hiking and horseback riding through the park.
• Delfines Paradise:
You may choose to swim with dolphins in their natural habitat. You can also learn about dolphins and interact with them on water platforms also.
• Tres Palos Lagoon:
Located about 20 miles southeast of Downtown Acapulco its an incredible way of experiencing the Mexican wildlife, right beside the tourist destination of Acapulco. This freshwater lagoon is home to several species of fauna and flora, especially tropical birds.
• Cliff Divers at Night:
Fearless cliff divers of La Quebrada can be experienced from club La Perla restaurant which overlooks the cliffs of La Quebrada where the brave cliff divers dive into the ocean in the dark.
• Coyuca Lagoon:
This fresh water lagoon is one of the most important natural attractions. This picture perfect lagoon is thick with palms, water hyacinths and native flora.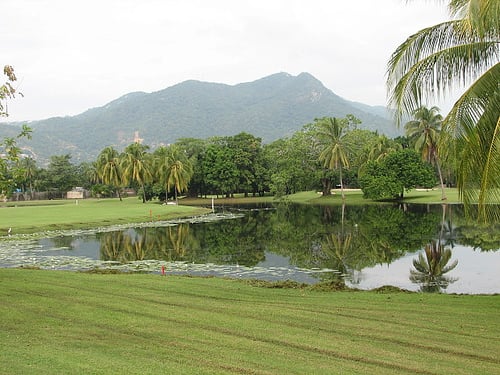 GOLF – Acapulco Tourism :
18 hole Acapulco Princess Golf Course, Acapulco Princess Golf Course and Pierre Marques Golf Course.
• Acapulco Princess Golf Course: Ave Playa Revolcadero, Granjas del Marques, Acapulco, (Ph: 1.800.441.1414)
• Pierre Marques Golf Course: Ave Playa Revolcadero, Granjas del Marques, Acapulco, (Ph: 1.800.441.1414)
• Mayan Palace Acapulco Golf Course: Av. Costera de las Palmas Lote C-1-C, Acapulco, (Ph: 1.800.292.9446)
SHOPPING:
It is am important part of Acapulco Tourism.
La Gran Plaza Mall:
Located along the main road "Costera". It is the largest mall in Acapulco and has a nice movie theatre and a food court.
Plaza Bahia:
Smaller than La Gran Plaza, also located along the "Costera". It has a cinema, and some pool tables and a bowling alley.
Artisans' Mall:
An open-air mall located across from Plaza Bahia, you can find many inexpensive arts and crafts and souvenirs.
Zocalo
It is in the older part of the city. You will find hundreds of shops selling all kinds of gifts, crafts, jewelry, clothing and other local goods.
TOP HOTELS:
Grand Mayan, Las Brisas , Mayan Palace, Camino Real Acapulco Diamante, Etel Suites, The Fairmont Pierre Marques, Mayan Sea Garden, Elcano Hotel, The Fairmont Acapulco Princess, Quinta Real Acapulco. You will find good food of most cuisines, tipping is 15 to 20 percent for good service.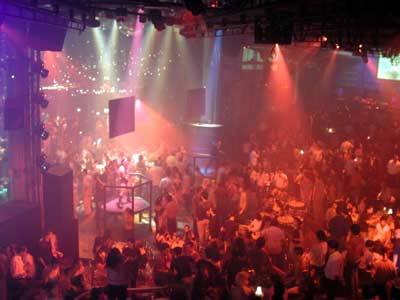 NIGHTLIFE:
Acapulco tourism offers wonderful nightlife. You will find Drinking Bars, Disco, clubs, and discotheques for all music preferences and for all ages. Of the American favored clubs, the top three are Palladium, Mandara, and Privado, all located within a mile of each other and play a combination of American and Mexican songs. The price varies due to the time of the year, but generally 40-50 US Dollars.
Most places are open until sunrise. Dancing at one of the hillside clubs have a full view of the bay through floor-to-ceiling windowpanes is an experience unique to Acapulco. Other places include Hard Rock Café, El Alebrije, Disco Beach, Baby'O, Zucca, Joy, Baby Lobster Bar, Nina's, Mangos, Pepe's Piano Bar. The best time to enjoy the nightlife scene will be in the very early morning hours, as things are most exciting after midnight, and until about 4 a.m.
SPA:
Acapulco offers one of the best Spa in Mexico, take a dip in the hot tub, or enjoy sauna and massage. Villa Vera SPA is one of the largest and most sophisticated. Others include Alory and Willow Stream at the Fairmont.
CLIMATE:
Acapulco is generally hot and fairly humid. Most of the rain falls from June to October, when you can expect a little rain each day, with occasional tropical storms. The winter months of December to April are cooler and dry, whilst May and November are also very pleasant months to visit. January through March ­ only dip to around 73 degrees Fahrenheit. Highs year round average 88 degrees.
TOURIST OFFICE:
Regional Mexico, Acapulco tourism information office is located at:
38-A Costera Miguel Alemán, Acapulco, Tel: 52 744 484 8555
For information contact the Mexico Tourism and Travel Board at 800-446-3942 or visit www.visitmexico.com.
CURRENCY:
Mexico Peso
Most hotels and restaurants accept Credit Cards and US Dollars. ATMs are readily available and accept foreign bankcards. If you are taking travelers cheques then you should consider getting them in U.S. dollars for better acceptance and exchange rates in this popular Mexico tourism destination.
RECOMMENDATION & SAFETY:
Tourists visiting Mexico should focus on total personal hygiene from washing hands and brushing teeth regularly, drinking bottled water and not to buy food from street vendors. Medicine should be kept to ward off the malarial infection. Acapulco tourism information office can also give you useful tips.
Also tourists should beware of drug traffickers and avoid if any of them tries to contact you. Police of Mexico is everywhere. At night you will see prostitutes along the La Condesa strip but prostitution is not legal here. Avoid the timeshare unless you are sure as they are often scams. Avoid people who try to be over friendly and over generous. Visit travel.state.gov for most up to date security recommendations.
Tip of the day
Tip #10. Drink bottled water. All water contains different sets of microbes and mineral deposits, just that your body is used to some and not to others. So water which is safe to the locals may not always be safe for you. If you cannot find bottled water, then at least try to thoroughly boil it and let it cool before drinking.