Rio de Janeiro is the second largest city in Brazil, on the South Atlantic coast. Rio is famous for its breathtaking landscape, its laidback beach culture and its annual carnival. The harbour of Rio de Janeiro is comprised of a unique entry from the ocean that makes it appear as the mouth of a river. Additionally, the harbor is surrounded by spectacular geographic features including Sugar Loaf mountain at 395 m (1,296 feet), Corcovado Peak at 704 m (2,310 feet), and the hills of Tijuca at 1,021 m (3,350 feet). These features work together to collectively make the harbor one of the Seven Natural Wonders of the World .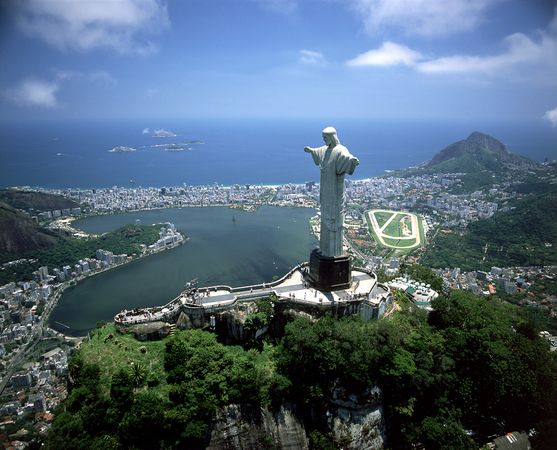 Rio de Janeiro will host many of the 2014 FIFA World Cup games, including the final, and the 2016 Summer Olympics and Paralympics, becoming the first South American city to hold either the Summer or Winter Olympics. Corcovado – The Statue of Christ This is one of the main beauty spots in the city, standing 2,330 feet above sea level and providing a sweeping panoramic view of sea and mountain, a world famous vista. The mountain is crowned with the statue of Christ, 98 feet high with a 26 foot pedestal containing a chapel that can hold 150 people. The top of the Corcovado can be reached by electric train or by car. Address: Railroad Station – Rua Cosme Velho, 513 – Cosme Velho – Phone: (55 21) 2558-1329 Visiting hours: Daily 8:30am – 6:30pm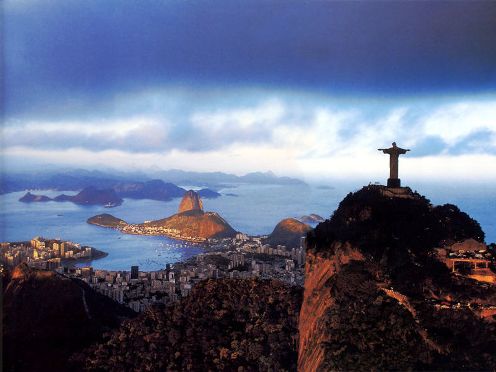 Pão de Açúcar – Sugar Loaf This natural symbol of Rio de Janeiro can be seen at the entrance to Guanabara Bay. There are two stages in the cable-car trip to the top of the rock. The first is from the station at Praia Vermelha to Urca Hill, which rises 705 feet above the bay, and the second links Urca Hill to the top of Sugar Loaf, 1,300 feet high. Each stage lasts three minutes. For tourists seeing Rio from the air, there is now a Tourist Heliport located on the top of Urca Hill. Address: Cable Car Station – Av. Pasteur, 520 – Praia Vermelha – Phone: (55 21) 2546-8400 Visiting hours: Daily, 8am – 10pm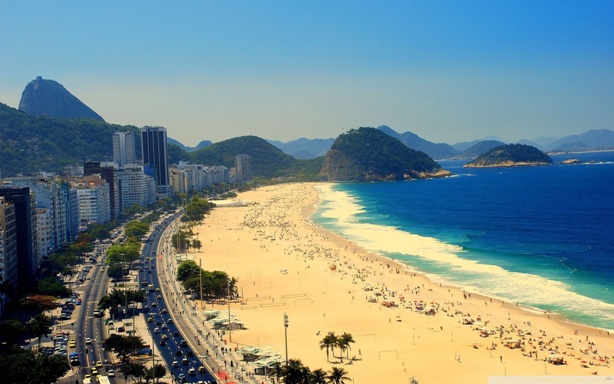 Lapa Arches and Santa Tereza Located in the Largo da Lapa Square,the center of RSee the Videoio's turn-of-the-century nightlife, the Lapa Arches hold their place in history as the most monumental work undertaken in colonial Rio. This magnificent structure contains 42 arches in two tiers. Originally built as an aqueduct to supply the city with water, today they carry another outstanding attraction: the scenic tramlines linking the Carioca Station downtown to the picturesque Santa Teresa district, a vibrant artistic community, with a great range of bars, restaurants, museums, cultural centers and artist's studios.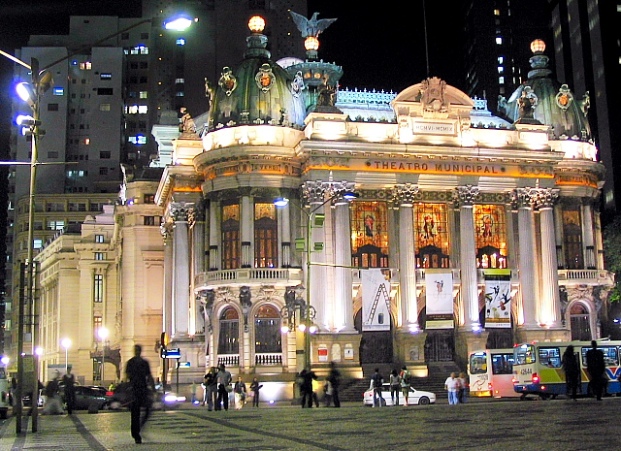 Teatro Municipal – Municipal Theatre Designed and built by A. Guilbert and Francisco de Oliveira Passos, the theatre was inaugurated on July 14, 1909. The main murals are by Eliseu Visconti – the ceiling and back drop – by Rodolfo Amoedo. Mosaics are by Henrique Bernadelli. Address: Pça. Floriano, s/nº – Downtown – Phone: (55 21) 2544-2900 – Guided
visit: Mon/Tue and Thu/Fri , 9am – 4pm