Amanyara Resort in the Turks and Caicos Islands
Set on the beautiful island of Providenciales in the Turks and Caicos Islands, Amanyara is a secluded haven embracing the untrammelled elements of the Caribbean. Bordering the pristine reefs of Northwest Point Marine National Park, acclaimed for some of the world's best wall and reef diving, the resort draws its name from the Sanskrit-derived word for 'peace' and yara, the word for 'place' in the language of the Arawak Amerindians.
Offering 40 timber-shingled Guest Pavilions tucked along the coast and a number of Aman Villas, the resort enjoys a contemporary layout and design, open to the sights and sounds of the turquoise sea.
Upon arriving at Amanyara you will be transported to a world of sea breezes and reflecting pools. Nestled on the tip of a 5,000 acre nature reserve, the headland gives way to a pristine sandy beach on one side and the stunning ironshore with its natural rock bridges and craggy bays on the other. An environmental paradise.
Surrounded by the third largest coral reef system in the world, the Turks and Caicos archipelago is a haven for marine life, birds, flora and fauna. Much of the land and water were made nature reserves long ago, leaving the islands to remain as they have always been, beautiful by nature.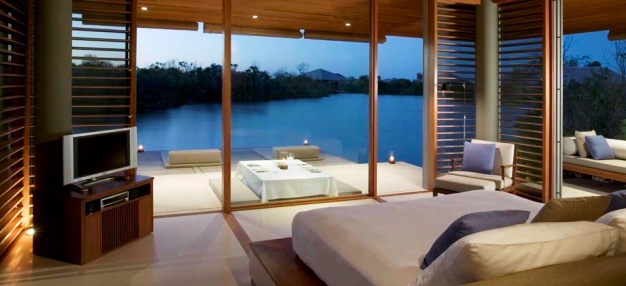 The buildings have low roof lines that converge with the landscape, embracing lakes, ponds and an oceanfront setting that includes low rocky headlands and sweeping white sand beaches. Entry to the resort is through a large reception pavilion that opens onto a grand formal reflecting pond that is landscaped with mature trees.
All 40 timber shingled Pavilions are identical in layout and design and fall into three categories based on their location and views. The Pavilions are of contemporary design with a dramatic overhanging roof line that creates shaded outdoor areas on the three terraces. Large glass doors can be opened on three sides to catch the cooling sea breezes.
Categories: Abacos, Caribbean, Turks & Caicos Islands
Tags: Adventure Travel, Amanyara Resort, Amanyara Resort in the Turks and Caicos Islands, Bahamas, Beach Vacation, British West Indies, Caicos Island, Caribbean, Caribbean vacation, Daylight Saving Time, etraveltrips, Family vacations, Hotel, Luxury Hotels, Providenciales, travel, Turks, TURKS AND CAICOS ISLANDS, Turks and Caicos Vacation