Bar Americain  With a menu that ranges from Shrimp-Tomatillo, Crab-Coconut and Lobster-Avocado Shellfish Cocktails to Smoked Chicken with Hatch Green Chile Spoonbread and Black Pepper Vinegar, Bobby combines his American menu with the energetic fast pace of the time-honored European brasserie.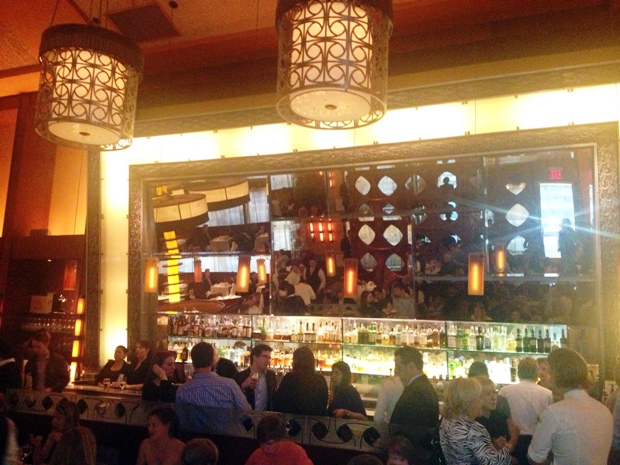 The 200-seat restaurant, designed by Rockwell Group, features traditional brasserie elements while mixing "Hollywood" banquettes in the dining room. Bar Americain's mezzanine provides an ideal vantage point for people watching with a slight respite from the bustle of the main floor below.
Iron Chef Bobby Flay brings his adventurous style of American nouveau cuisine to Bar Americain, located in midtown west. Like his flavors, the décor is bold with a wide-open dining room, diamond patterns repeated along the bar and floor, and large disk-shaped lights. Flay is known for his focus on regional dishes, and the restaurant delivers with entrees such as Gulf shrimp and grits and smoked chicken with hatch green chile spoonbread and black pepper vinegar sauce. The raw bar has selections ranging from crab-coconut and shrimp tomatillo to yellowtail poke with Hawaiian flavors.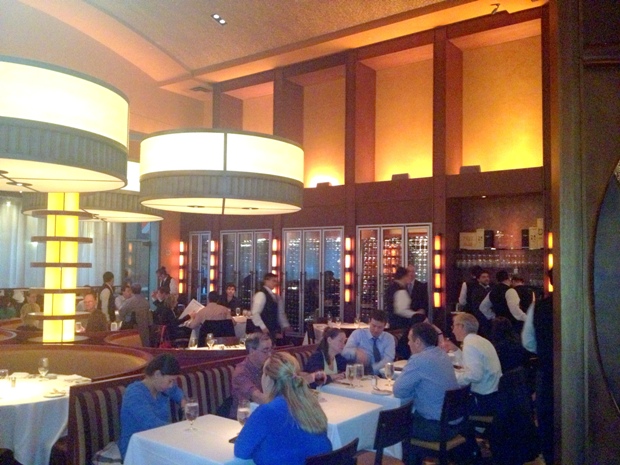 Neighborhood: Midtown West
Cost: $$$ ($15+)
Features: Brunch Specials
Good For: Dates, Meet for a Drink, Happy Hour Scene
Insider Tips: Dress to Impress, Trendy, Tourists
BarAmericain.com
212 265 9700 152 West 52nd Street
New York, NY
Bobby Flay, "Cioppino" from Eater on Vimeo.