Arizona Navajo and Hopi Reservations
The largest Native American reservation in the country covers over 27,000 square miles in northeastern Arizona and smaller adjoining parts of Utah and New Mexico. A world unto itself, the Navajo Nation is large enough to contain the smaller Hopi Reservation and world-famous sights such as Monument Valley and Canyon de Chelly National Monument, with vast land to spare. It is home to some 250,000 tribe members who are spread thinly across the high desert, rivers and mountains of Diné Bikéyah, as the Navajo call their homeland.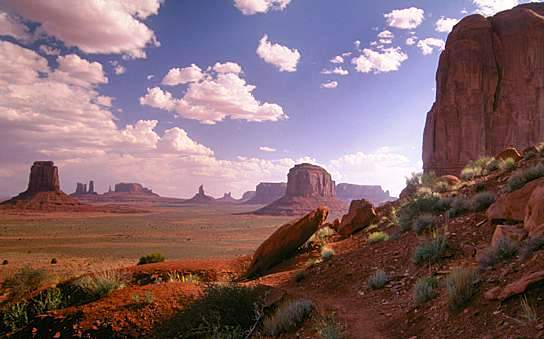 Many still live in the traditional ways, farming or herding sheep, horses and cattle, and conducting ceremonies in eight-sided buildings called hogans to nurture a state of spiritual harmony known as hozho.
Gallup, New Mexico, is the commercial centre of 'the rez', but Window Rock, Arizona, is its administrative hub. Here you'll find the tribe's council chamber and police headquarters, as well as a small zoo (involved in reintroducing the wolf to the Arizona wild) and the Navajo Nation Museum, Library and Visitor Centre, with displays on tribal history, geology and archaeology. On the way in or out of town, stop by the Hubbell Trading Post, known for its Navajo, Hopi and Zuni crafts. The trading post today is more a living museum than a store, continuing its traditional role as a place for meeting people and exchanging news.
Tuba City, Arizona, is one of the most diverse communities on the reservation, with many Anglo and Hopi residents as well as members of other native tribes. It sits in one of the most eye-catching stretches of the Painted Desert, and is home to the historic Tuba Trading Post, a two-storey showroom built in 1870 that's one of the best places to shop for jewellery and other crafts.
Categories: Abacos, Arizona, USA
Tags: Arizona, Historical site, Hopi Reservations, National Parks, Native Americans, Navajo