Down on Florida's southern Gulf coast, Old Florida lives on. Of the more than 100 sunny, carefree coastal islands, the best-known of them are Sanibel and Captiva, connected to the mainland by a three-mile causeway and with a reputation for palm-stencilled sunsets, unparalleled tarpon fishing and some of the country's most romantic beaches, as well as best seashell-hunting.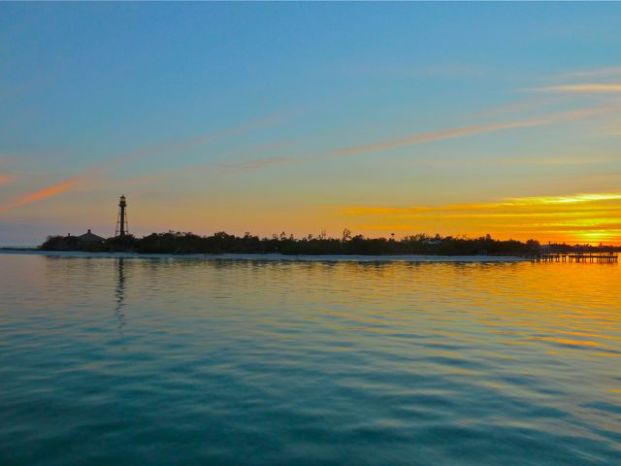 This may be the only warm-weather vacation spot where tourists pray for a storm, since a good northwest wind can fill the white sand beaches with shells. On any given day, a visitor can expect to find 50 or more different varieties, most in one piece thanks to the gentle coastal slopes and lack of offshore reefs. Fanatical collectors wake before dawn and patrol the beaches with flashlights, scrunched over in what has become known as the 'Sanibel Stoop' or the 'Captiva Crouch'. To see the rarest of shells, visit Sanibel's Bailey-Matthews Shell Museum, whose collection of more than 150,000 specimens is the most comprehensive of its kind in the U.S.
Take a break from all that shell-stooping and visit Sanibel's J.N. 'Ding' Darling National Wildlife Refuge, a cool preserve of 6,354 acres of mangrove estuary, cordgrass marshes and West Indian hardwood hammock. Famous for its birdwatching, the refuge provides habitat to over 170 species, including bald eagles, wood storks and peregrine falcons. Footpaths, bicycle trails and kayak and canoe routes criss-cross the area, or you can visit by car along Wildlife Drive.
If you're not feeling detached enough from the mainland and its everyday demands, visit Captiva and Sanibel's three most interesting neighbour islands, located in Pine Island Sound, all of them car-free and accessible only by boat. Cayo Costa State Park is an uninhabited barefoot Eden with deserted beaches and a collection of shells that is arguably the best around. Cabbage Key, a 100-acre, down-to-earth, real-life Margaritaville, is said to have inspired Jimmy Buffett's song 'Cheeseburger in Paradise'.
At the other end of the spectrum, Gatsby-esque Useppa Island is a privately owned club that welcomes overnighters (as well as day trippers who come for excellent seafood lunches) at its genteel Collier Inn, where American President Teddy Roosevelt used to go on holiday with his tarpon-fishing friends. Today, Boca Grande, on nearby Gasparilla Island, hosts an annual big-purse tarpon tournament.