Aruba is an island in the Caribbean.It is about 15 miles north of the Venezuelan coast.It is also an autonomous dependency of the country the Netherlands.
This wonderful island is about 19 miles or 30 kilometers long and 9 kilometers or 6 miles across.The island s widest point measures an area of 70 square miles or 184 square kilometers.
It is a river less and flat island that is very popular for its white sand beaches.In addition, the island s tropical climate is constantly moderated by trade winds from its nearest ocean which is the Atlantic.The temperature in the area is almost always about 81 degrees Fahrenheit or 27 degrees Celsius.You will find numerous luxury hotels in Aruba.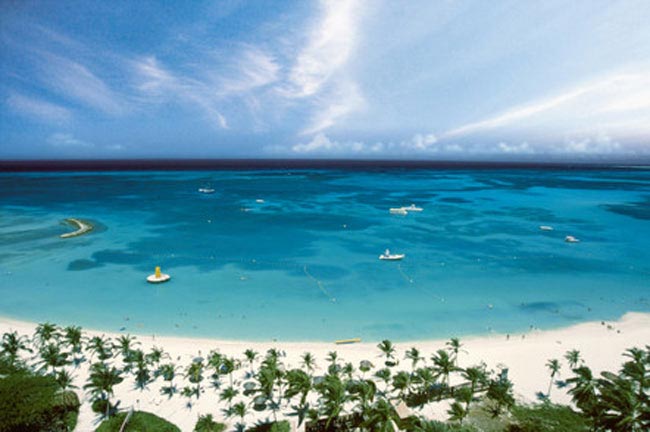 The island of Aruba is further divided into southwest and northeast coasts.The southwestern coast has beautiful white sand beaches as well as warm waters and turquoise seas while the northeastern coast has some white sand beaches along with rocky coastlines, rough seas and treacherous currents.The northeastern coast of this island is exposed to the ocean of the Atlantic.In addition, the capital city of this island is Oranjestad.Its other cities comprise of Barcadera, Paradera, Savaneta, Noord and Saint Nicolaas.

The island of Aruba is a place of culture and contrast along with an outstanding feature which is fun in the sun.The best place to relax and enjoy a perfect Caribbean holiday is to stay at this wonderful luxury resort.The resort offers a lot of holiday beach activities such as pool lounging and para sailing.It is the ultimate place for entertainment, romance and action.Hotel amenities include a complimentary fitness center which offers bikes, free weights, treadmills and universals.
Aruba Luxury Hotels
There are numerous 5 star Aruba hotels scattered along the area.You can also find all inclusive hotels and all sorts of hotels in Aruba where you can relax, enjoy and be in tune with nature.Below are some of the top luxury hotels in Aruba.
This resort or hotel can be found at 230 JE Irausquin Boulevard, Aruba.For inquiries, reservations and other concerns, you can contact the resort at 011 297 58 63600.
Holiday Inn Resort has a total of 600 rooms that provide its guests with almost everything in order to make the visit pleasurable, relaxing and exciting.It also offers voice mail and in room movies.In addition, the hotel houses 6 restaurants, theme nights, live entertainment, bars, shopping stores, casino, spa and children s activities.
This hotel is located at 79 JE Irausquin Blvd, Palm Beach.For more information about reservations, packages and other concerns, you can contact them at 297 5863900.
This place is elegantly designed and strategically located on Palm Beach.It also offers spectacular views of the Caribbean.The expanse of golden soft sand invites travelers to enjoy the breeze from the ocean or to enjoy swimming in one of its 2 fresh water swimming pools.
Enjoy quite an attractive combination when you visit our all-inclusive Palm Beach Aruba hotel: a beach that rivals with any in the Caribbean, with emerald waters and fine white sand, along with top quality tourist infrastructure. Whether its strolling under the high palm trees, relaxing under the sun, dipping into the limpid waters or practising a wide variety of watersports, this place has a bit for everyone.
Renaissance Aruba Resort & Casino
Right in the heart of Oranjestad, the Renaissance Aruba Resort & Casino caters to all Aruba vacationers. Two distinct hotel choices offer both style and a tropical elegance. The Renaissance Marina Hotel is a hip, adult-exclusive destination for travelers over 18; complete with adult-only amenities and pool. The Renaissance Ocean Suites offers family-friendly accommodations, facilities and kid's activities.
This Aruba hotel offers the best shopping in Aruba with top brand name boutiques right in the resort. Guests enjoy top restaurants, the Okeanos Spa, 24-hour casino and exciting nightlife. The resort also features the only private beach in Aruba on Renaissance Island, where guests can indulge in a treatment at the exclusive Spa Cove.
The Renaissance Convention Center is a smart choice for Aruba conventions and for themed business events. Whether seeking the ideal Aruba honeymoon or wedding, traveling for business or on a family vacation, the Renaissance Aruba Resort & Casino is the perfect choice.