Barcelona is not the cheapest European city break alternative, but possible the most exciting one! And, with a little planning and inside knowledge you can have a first-class holiday on a "coach" budget.
Barcelona Accommodation
Saving on accommodation in Barcelona is quite uncomplicated and will leave you with two options (bar camping sites):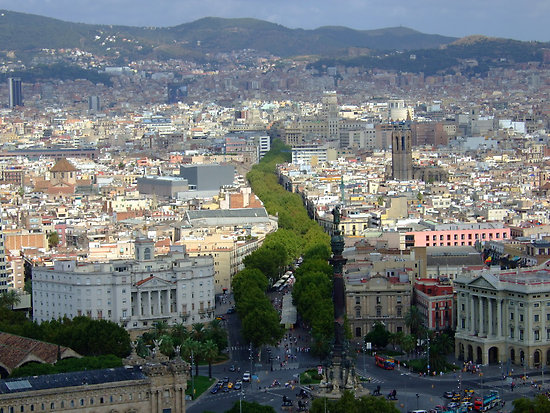 hostels and self catering apartments. on vacation alone hostels is a good option. Despite a not so consistent level of quality in general you can find, for less than 40 euros, rooms of a good standard; a night. When traveling in a group a vacation rental is your best deal. This allows you to save on accommodation and save on food while still enjoying the famous Catalan cuisine!
Eating in Barcelona
When planning your food intake on a limited budget in Barcelona the "menu del dia" (lunch deal) will be a keyword. For 10€ you can get a very decent three course meal at lunch time in any "barrio" in Barcelona.
This often includes drink. Therefore taking your main meal at lunch (2 pm – 4 pm) is the smart choice and in the evenings snack in the tapas restaurants.
Entertainment in Barcelona
Skip the expensive discos (15€ entrance) and go for the smaller bars and clubs where you can experience good DJs, impromptu jams and lesser known bands for free.
Gracia, El Raval and Barri Gotic are good neighborhoods to go in search of these types of establishments. Harlem Jazz Club in the Old Town is an option for less formal jazz gigs and more convenient ticket prices. The Jamboree at Plaza Reial (also in Barri Gotic) is another.
Here you'll find weekly jams and a nice variety of different styles of music. For a nightly experience that is both fun and different the outdoor moving screenings in the summer is a great alternative. The best setting is probably on the hill of Montjuic by the old fortress. Visiting the city during a "fiesta" (like the "Merce" in September) is another guarantee of free fun – outdoor concerts, parades, fireworks and lots more!
Parks & Sightseeing in Barcelona
Parks are always a great refuge for the "financially challenged" on vacation. The two main ones are the Ciutadella Park in el Born and the world-famous Park Guell above the Gracia district. The first is home of the museum of modern art, otherwise it is a nice spot to seek shade under the palm trees. The second is, naturally, on of Barcelona's greatest tourist attractions due to its fantastic design (by Antoni Gaudi) and spectacular views.
Furthermore, we suggest enjoying the views from the top of the Montjuic hill and the Tibidabo "mountain" – both accessible through cheap public transport.
Barcelona Transportation
Transportation in Barcelona is thankfully cheap. The Barcelona Metro runs every third minute in the middle of the day, covers the whole metropolitan area (including l'Hospitalet and Badalona) and ticket of ten trips costs around 7€. The buses cover a large area whereas the trams have a more limited range, but both offer transportation for the same price of a ticket.
In conclusion, despite its standing as one of the world's top three city break destinations, a weekend, or a vacation break in Barcelona does not need to take a "huge chunk" out of your savings!  Flights come cheap from most European destinations (and quite often from the US as well), and choosing accommodation and vacation fun wisely can cut down substantially  on your costs without cutting down on fun and comfort!