Motorcycle Tours in South Africa is the best way to experience South Africa in an unforgettable way is on a motorbike. The country has all the necessary ingredientsµ: favorable climate, dazzling scenery and good quality roads stretching far and wide across the country. Furthermore, once you get off the highway routes (as true bikers will surely want to do), the  roads are not highly congested either.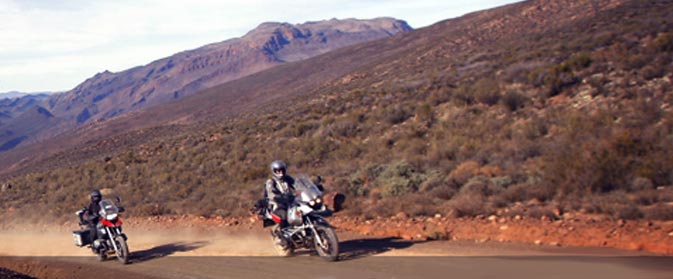 South Africa has some of  the most incredible motorcycle riding available on the planet today.  There are many operators that offer different tours all over South Africa, from day rides and weekends away to seven day or even three  weeks long trips. There is something for motorbikes of every taste. Many  tours combine off-road adventures and interesting on-road rides to  create exceptional experiences, with perhaps a touch of luxury here and  there. Here is an overview of several notable
tours:
– A  one-day tour round the Cape Peninsula with a visit to the penguins at  Boulders Beach and a spectacular ride through the scenic Chapmans Peak.
– A  five-day tour from Pretoria to Hazyview (also known as bikers'  paradise) and back, with rides around the breath-taking mountain passes  of the Mpumalanga Meander.
– A one week tour of Lowveld around  Johannesburg that includes stunning mountain passes, as well as day a on  a "'Big Five" game park.
– A ten-day tour from Cape Town that  involves staying in exclusive hotels around Western Cape, with the  thrill of the open road by day and the luxury and comfort at night.
– A  twelve-day tour that starts in Johannesburg and ends in Cape Town, with  many places to see and visit en route, from the Lowveld bushveld to the  untamed Wild Coast south of Durban and the world-famous Garden Route.
– A  three-week long tour around the entire circumference of South Africa on  which one can see the entire South African coastline, next to the  Indian and Atlantic Oceans, and visit the great coastal cities of  Durban, East London, Port Elizabeth, and Cape Town.Most operators also offer specialised or customised tours, usually for groups of motor bikers.
Almost all tour operators rent motorbikes, although some allow you to bring your own machine and will adjust the price of the package accordingly.  Typically, packages include accommodation and either one or two main meals a day. All fuel, all road toll-fees, and entrances to game parks  and other places of interest may also be included.
Some operators offer recorded DVD and custom photos with every tour.
Items you will need for your motorcycle tour:
A  motorcycle driver's licence.  If you want to rent a bike, bear in mind  that some operators set the minimum age limit at 21, 24 or even 28  years. International travellers need to bring an international licence. For  tours encompassing neighbouring countries, you will need a valid  passport with corresponding visas.
It's a good idea to bring along personal accident and medical insurance documents.Helmet, gloves and other protective travel gear, as well as a good pair of sunglasses. Helmets are mandatory in South Africa.
Tinted visors are  legal and can be worn.Motorcycle tours are usually undertaken  in dry season, but bring along a raincoat, just in case.  Also pack some  casual clothing; while dress code is informal in most places, long  trousers are de rigueur for men in many restaurants.A good sun-block and an insect repellent, along with swim suits, beach towel, sandals, shorts, will also be needed.