Motorcycle Tours in South Africa
Motorcycle Tours in South Africa is the best way to experience South Africa in an unforgettable way is on a motorbike. The country has all the necessary ingredientsµ: favorable climate, dazzling scenery and good quality roads stretching far and wide across the country. Furthermore, once you get off the highway routes (as true bikers will surely want to do), the  roads are not highly congested either.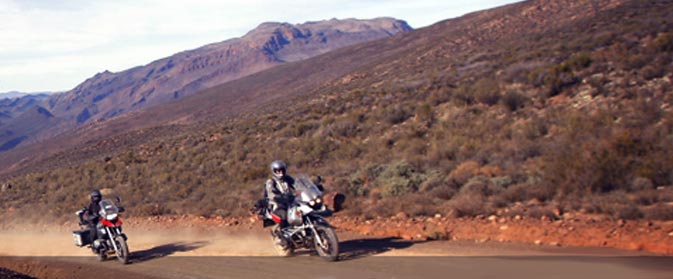 South Africa has some of  the most incredible motorcycle riding available on the planet today.  There are many operators that offer different tours all over South Africa, from day rides and weekends away to seven day or even three  weeks long trips. There is something for motorbikes of every taste. Many  tours combine off-road adventures and interesting on-road rides to  create exceptional experiences, with perhaps a touch of luxury here and  there. Here is an overview of several notable
tours:
– A  one-day tour round the Cape Peninsula with a visit to the penguins at  Boulders Beach and a spectacular ride through the scenic Chapmans Peak.
– A  five-day tour from Pretoria to Hazyview (also known as bikers'  paradise) and back, with rides around the breath-taking mountain passes  of the Mpumalanga Meander.
– A one week tour of Lowveld around  Johannesburg that includes stunning mountain passes, as well as day a on  a "'Big Five" game park.
– A ten-day tour from Cape Town that  involves staying in exclusive hotels around Western Cape, with the  thrill of the open road by day and the luxury and comfort at night.
– A  twelve-day tour that starts in Johannesburg and ends in Cape Town, with  many places to see and visit en route, from the Lowveld bushveld to the  untamed Wild Coast south of Durban and the world-famous Garden Route.
Categories: Africa, South Africa
Tags: Atlantic Ocean, Bike tours, Boulders Beach, Cape Town, Durban, etraveltrips, etraveltrips.com.Travel, Garden Route, Hazyview, Port Elizabeth, sightseeing, south africa