There are thirty-seven beaches on the beautiful Caribbean island of St. Martin/St. Maarten with locations almost evenly divided between the French and Dutch owned sides of the area. Although both languages are "officially" used, English is almost universally spoken. The American dollar is the currency of choice on the Dutch side of the island.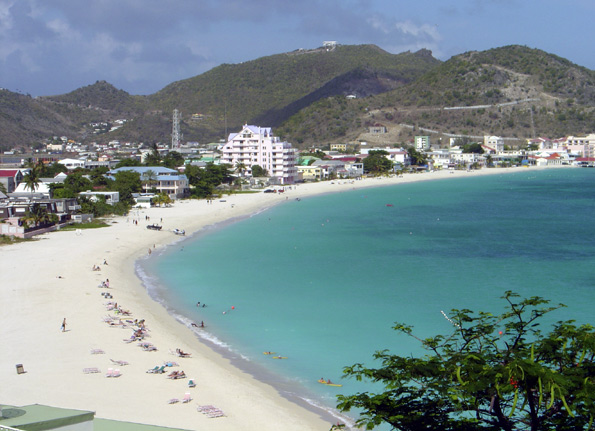 Euros are the accepted currency on the French side, though you do not have to buy Euros as restaurants will exchange the bill into U.S. dollars.
It would be wise to have a master or visa card with you as many restaurants do not accept other types of credit cards.
While most credit card issuers will assess fees as high as 3% for charging internationally, there are few that do not assess a foreign currency at all. It may be worthwhile for you to get one of those cards if you are planning to spend a lot on your visit.
Regardless of which side of the island you choose to reside on during your vacation, there is sure to be a lovely ocean front villa that will accommodate your every need. The spelling of your lodging will let you know which side of the island you are on. For the Dutch half, you will be staying in a St. Maarten villa, while the French might insist it is better known as a St. Martin rental.
The activities featured at the various beaches depend largely on their geographical location. Because of the location of the island, a vacationer can choose between either Caribbean or Atlantic waterfront vacation rentals.
The east side of the island is the windward side, facing the Atlantic Ocean. This is where windsurfing, parasailing and other sports that require something more than a soft breeze can be found. Orient Beach claims bragging rights on this side of the isle as it is often referred to as the Riviera of the Caribbean.
It features an extensive clothing-optional section as well as several excellent eateries, fun shops and excellent snorkeling opportunities. If you plan ahead and love what this area has to offer, St. Martin rentals are available here, and many are situated right on the sand.
Just southeast of Orient Bay lies Le Galion, a perfect beach for families with small children. Protected by a reef, the water remains shallow for yards and can safely accommodate the little ones. However, you must always watch children in the ocean as the sea can be very changeable.
For older siblings and parents, kite-boarding, wind surfing and snorkeling equipment are all available for rent, as are kayaks and paddle boats. A nearby butterfly refuge adds another dimension of beauty to your St. Martin vacation to the area near Le Galion.
At the far Eastern tip of the island the area next to the Pelican Resort and the Atrium time share resort lies Simpson Bay Beach. The area known to locals as Kim-Sha Beach is where the water activities are available and where you can rent equipment for active water sports such as windsurfing, jet skiing, sailing and scuba diving.
Those who would prefer to watch the sunset rather than sunrise should find themselves at Maho Beach which faces the west or sunset.
You will find excellent snorkeling at Friar's Bay and Grand Case and Pinel Island. Pinel is off the northeastern coast in the village of French Cul de Sac. Boats will take you to the island where you can relax for the day. Chaises and food are available for you. Grand Case Beach features calm clear water, white sand and some of the best restaurants in the area.
Whether one chooses St. Martin's or St. Maarten's for an idyllic Caribbean stay, vacation property rentals are available at any time of year and will fit any budget and time frame. It would be difficult, indeed, to find a more exquisite, relaxing and fun-filled vacation than can be enjoyed on this delightfully diversified little isle.