North America is the ATV and/or dirt bike rider's dream. There are miles and miles of trails all over the continent, with an amazing variety of landscapes. With such a large amount of territory to cover, picking the best dirt biking trails in North America seems like an impossible task, but we did our best to choose a five trails where your ride will be thrilling…guaranteed. Read on to learn our choices for the best dirt biking trails in North America.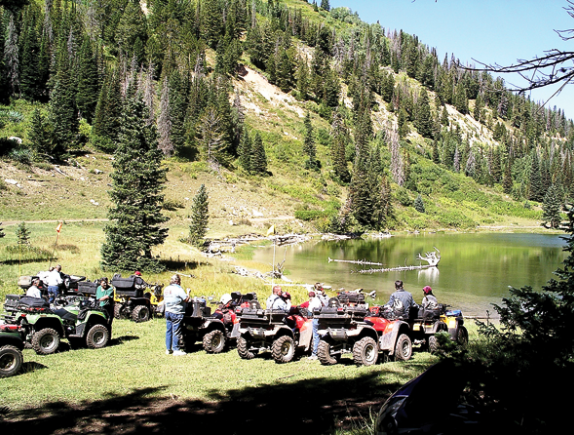 1. The Paiute ATV Trail (Utah, USA)
Strap on your motorcycle goggles and get ready for over 2000 miles of primary and designated side trail. Utah's Paiute Trail features unbelievable rock formations, gorgeous lakes, and wild forests with a diverse variety of wildlife living inside. With so much to see and so much ground to cover, the Paiute ATV trail is a must-ride for any serious dirt biker.
2. Taylor Park (Colorado, USA)

If you have a few days, or better yet a few weeks, consider exploring Colorado's Taylor Park. The area is huge – but there's tons to do. The Park has cabins for rent, a marina where you can rent boats, and a reservoir for fishing. You can also explore one of the many still existing historical mining structures along the trails while out riding.
3. Coal Creek Trail System (Tennessee, USA)
Fire up your motorcycle GPS, because you're going to need it for the more than 100 miles of trails that make up the Coal Creek trail system in Tennessee. Coal Creek features intense hill climbs, mud pits, and fast dirt roads – trails that will satisfy the needs of any type of rider.
4. Ride the Rock Tour (Newfoundland, Canada)
We couldn't make a list about the best trails in North America and leave out Canada! Affectionately called "The Rock," Newfoundland, Canada, is known worldwide for its grandiose landscapes, and the Ride the Rock trail tour covers it all. The multi-day trip takes riders from coast to coast, across the whole island of Newfoundland, along the abandoned Newfoundland railway. It's an amazing way to see the island and view awesome landscapes you'll never forget.
5. Charlevoix Region, (Quebec, Canada)
With over 11000 miles to ride on, the Province of Quebec offers the largest network of dirt bike trails in North America. There are so many dirt bike riding trails in fact, you might have a hard time choosing where to start! A great place to begin your ride however, is the Charlevoix region. The popular tourist destination features splendid mountains and a glorious view of the sparkling St-Lawrence River. Exploring the province off-road on your dirt bike or ATV is unparalleled. Just start riding on the one of the many scenic trails you'll find in the area and enjoy!
Dirt bike riding is a great way to travel and discover a region. And while your area may offer some great trails, don't be afraid to go out and explore some new ones on our top 5 list!