When coming up with a list of some of the best beaches in Florida it is kind of a daunting task. There are just so many to choose from, as well what criteria you use to pick which one wins? Clearly any list of beaches is going to have to make up some of the best places to stay for every budget and for every type of vacation. That is a monumental task.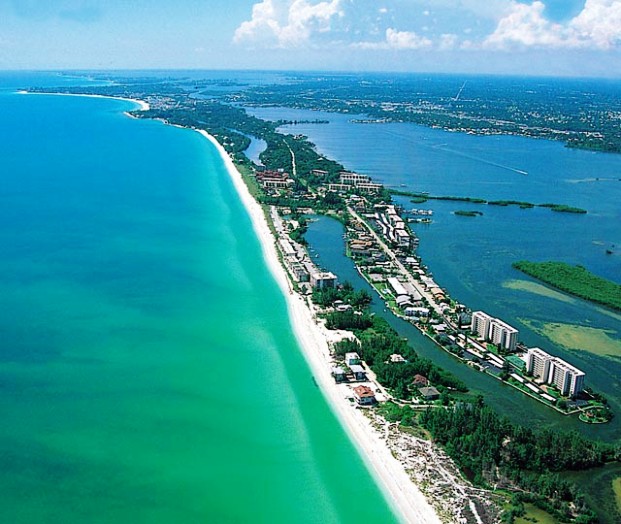 So I will start from what I believe to be the best beaches in Florida for the cost, the ease of use, and the serene views and pristine white sands. Of course some of this list may be similar to other lists out there, there are so many of them around it just makes sense that we would agree on some points.
1. Siesta Key Beach
I vote Siesta Key Beach as the best beach in Florida. This has been shown to be the case in numerous shows and online lists. Clearly those who thought this beach was the best had their reasons but I will list mine here. This beach is by far one of the cleanest in all of Florida; you will find it hard to find any debris around when you visit.
As well the hotels and restaurants in the area are some of the best in Florida. One of the culinary capitals of Florida has to be the Sarasota/Bradenton area as some of the best chefs migrate there to work. The hotels are a wide range in price from the nearby Ritz Carlton to the least expensive Motel 6 and other smaller establishments. Ideally you may want to stay in a quaint bed and breakfast while you are here. Those amaller spots are not so plentiful but they sure do have charm when you can find one.
2. Bradenton Beach
Just a stone's throw away from Siesta Key Beach is Bradenton Beach. This is more for everyone as there really are not too many high class hotels and exclusive hotels in the area. What you will find is a clean beach that just about everyone can visit, and many do.
3. Miami Beach
You cannot have a list of the best beaches in Florida without including Miami Beach. This is by far one of the most famous beaches in Florida if not the world.
The area is replete with art deco hotels and other architectural gems that you will not find anywhere else. Miami Beach certainly has a personality all to its own. Some of the best restaurants in South Florida are just a couple blocks away from this beach.
As well this is one area where many models and other celebrities like to hang out. So you may be in luck and catch one of your favorite stars out and about or trying to relax.
4. Panama City Beach
Panama City Beach became famous as a favorite spot for many spring breakers to go and have fun. Most of the time of the year this town can be pretty laid back and quite relaxing. If you happen to go during spring break then you are sure to run into many rowdy teenagers and other problematic people.
Since this town is geared towards the younger crowd you will not find too many expensive restaurants and hotels in the area. They are certainly available if you want to use them, they are just not plentiful as in some other towns in Florida.
6. Daytona Beach
The beach is famous for many other things besides cars and racing. There are the many very friendly and beautiful people that are always enjoying activities at the beach. With 23 miles to play on people have found an almost unlimited amount of activities.
Sunbathing, surfing, frisbee, sandcastle building, people watching, volleyball, swimming, running, bicycling, car cruising, bikini watching, kite flying, picnicing, riding floats, riding motorbikes, looking for shells, sailing, jet skiing, skim boarding, fishing, enjoying beauty contests, eating "beach dogs" or snowcones, walking the boardwalk, playing video games, enjoying the skyride, sail boarding, enjoying free concerts, comparing tans, meeting new friends, or take a romantic walk on the beach at night with the moonlight sparkling on the water.
Now typically most lists of the best beaches in Florida comprise of at least 10 different beaches. This is just not a fair comparison. As well many people just want to be able to pick from the best of the best beaches around and these are by far some of the best beaches in all of Florida. Just ask any Florida resident and you will see some of these beaches on their own list.
Discover more of the Florida beaches and plan the ultimate discount Florida vacations and truly enjoy all that Florida has to offer.