Orlando is one of the top golfing destinations in the world. Whether it's the sunshine, the naturally beautiful courses or simply the huge choice, Orlando is the place to go.
Take a look at our suggestions for the best golf courses in Orlando.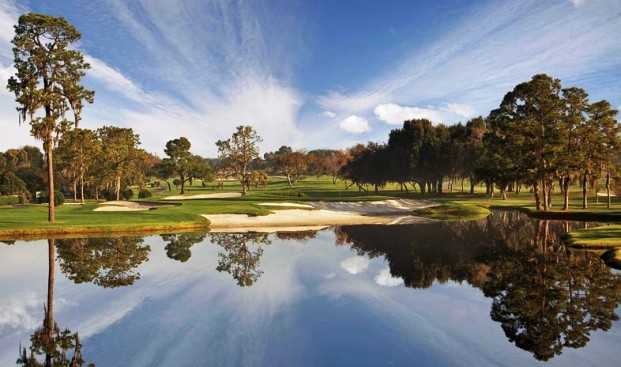 Disney's Magnolia Golf Course – Fragrant blossoming magnolia trees make this course truly unique. The course offers natural features to offer a paradise to golf players of all players. Magnolia Golf Course has a 4 starrating by Golf Digest.
Bay Hill Club & Lodge – Play at one of the most popular courses on the PGA Tour … where Arnold Palmer lives and plays! This breathtaking course sweeps across 270 acres and features 27 holes of tour championship golf.
Disney's Osprey Ridge Golf Course – Dramatic golf holes and a breathtaking backdrop – this championship golf course is rated 4 and a half stars by Golf Digest. Osprey Ridge is a tranquil course for serious and recreational golfers.
Disney's Lake Buena Vista Golf Course – A classic country club course with picturesque surroundings. Tee off next to pastel villas and sparkling lakes. Disney's Lake Buena Vista Golf Course is rated 4 stars by Golf Digest.
Championsgate – ChampionsGate Golf Club features two premier 18 hole championship golf courses designed by golfer, Greg Norman. Just 15 minutes from Disney and yet you'll feel you are hundreds of miles from civilisation.
Disney's Palm Golf Course – Experience the natural beauty of the Florida woodlands with shimmering lakes, tropical sands and swaying palm trees. Disney's Palm Golf Course has received a rating of 4 stars by Golf Digest.
Waldorf Astoria Golf Club – A challenging golf course to test your skill. This 18 hole Rees Jones designed championship course, uses the land's existing contours to offer its players a naturally beautifully course.
Shingle Creek Golf Club – This course takes its name from the creek which crosses the property. Shingle Creek offers a stunning tropical landscaping and a challenging but flexible game.
MetroWest Golf Club – Minutes away from Universal Orlando Resort, MetroWest provides a fair, yet demanding challenge to players of all levels. MetroWest Golf Club has received numerous awards being Orlando's best golf experience.
Keep it local – If you are flying into Orlando, and want to play golf at a golf course close to the airport, you could try Eagle Creek, Kissimmee Bay or Remington. All just minutes from Orlando International Airport, these courses are perfect for a few rounds on your arrival or departure.