The Cheyenne, Wyoming Cowboy State's capital city was once nicknamed Hell on Wheels, and during the annual ride-'em-cowboy Frontier Days you'll understand why. The rodeo and its surrounding celebration of all things Western was first held in 1897, a mere 15 years after William F. Cody, aka 'Buffalo Bill', created the rodeo tradition with his travelling Wild West Show.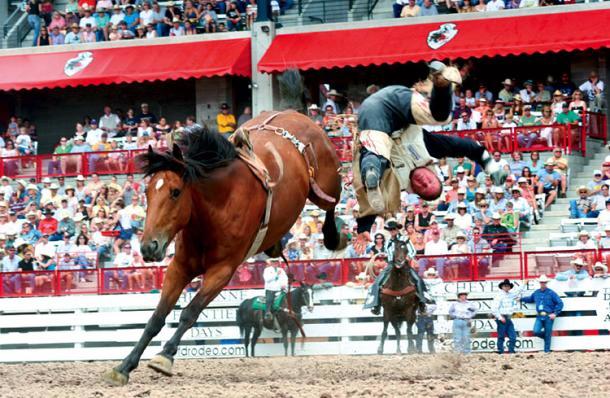 Today, it's a no less vital 10-day carnival of rodeos, wild-horse races, marching bands, concerts, inter-tribal Indian dancing, a chuck wagon cook-off and a parade that's been led by some memorable names over the years—Buffalo Bill himself in 1898, and an enthusiastic Teddy Roosevelt in 1910. The event's rollicking, can't-be-contained atmosphere extends to its famous free pancake breakfasts, at which 30,000 guests consume more than 100,000 flapjacks (cooked on military ranges, though not really mixed in a cement truck, as legend has it), 475 gallons of syrup and 520 gallons of coffee.
In the burgeoning world of rodeo, Frontier Days is known as 'The Daddy of 'em All', and for good reason. Frontier Days brings upwards of 500,000 visitors to Cheyenne every year, many decked out in their finest Western wear, plus more than 1,800 of the toughest cowboys and cowgirls from across the nation.
If you have a hankering for more genteel pursuits, Frontier Days has a more sophisticated side. For more than 20 years, the celebration has included an art show and sale featuring the work of dozens of Western and wildlife artists, carvers and Navajo weavers. Cheyenne's Victorian opulence is on display today in the stretch of 17th Street known as 'Cattle Baron's Row'.
To experience the magnificent residential architecture at length and in detail (think ornate woodwork, exquisite stained glass and period decor), and to indulge like a gentleman rancher from another age, arrange a stay at Nagle Warren Mansion B&B, situated in the meticulously restored home of a former governor and U.S. senator.