Bustling and lively, Brasserie Les Halles is a typical Parisian brasserie serving fresh and simple dishes of France's everyday cuisine. For centuries, the old market district of Paris, Les Halles, fed people from all walks of life with food stalls, restaurants, brasseries, bistros and cafes, open at all times day and night.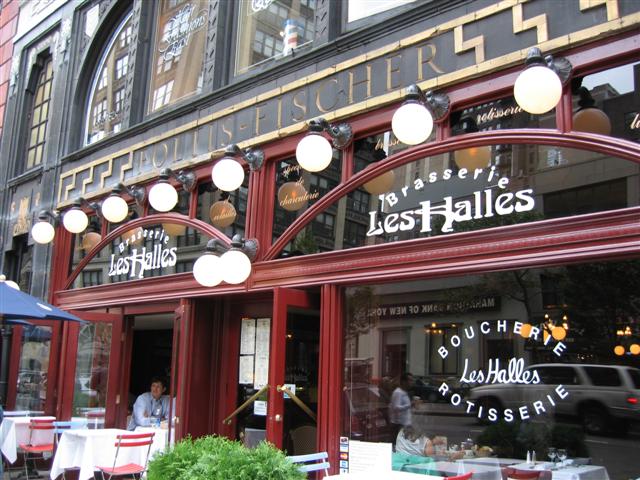 Brasserie Les Halles is the home base of Chef-at-large Anthony Bourdain, author of the best selling Kitchen Confidential (Bloomsbury, May 2000) host of the TV Show, No Reservations. Bourdain is also the co-author of the Brasserie Les Halles Cookbook> (Bloomsbury, 2004) with proprietor Philippe Lajaunie.
This Gramercy Park restaurant captures the spirit of Paris far more successfully than most. Maybe it's the overlapping, worn posters, many of which announce past Les Halles events. Maybe it's the butcher counter up front that sells French-cut entrecôtes, boudins and andouillettes. Maybe it's the scarred wood tables. Or maybe it's the classic brasserie waitstaff making steak tartare at your table and brandishing bottles of inexpensive red wine around the dining room.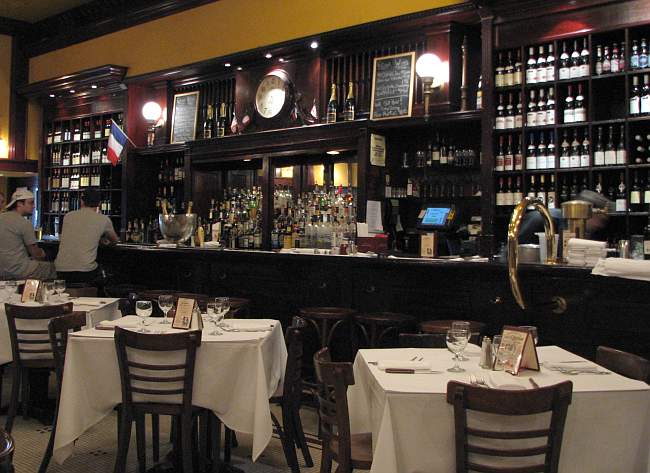 Whatever it is, the formula works, and Les Halles wisely never changes. If there's a heaven devoted to carnivores, this may be it—other dishes like the salads and fish can be good but overall the food is hit-or-miss. We recommend l'entrecote du boucher—a robust rib-eye steak, the short ribs braised with Alsatian beer and wine, and the house-made pâté.
Brasserie Les Halles
411 Park Ave S
New York, NY
(212) 679-4111
Click the link below to visit the website
http://leshalles.net/brasserie/